US and NATO allies prepare ideas for strengthening defenses in countries closer to Russia
By
Stars and Stripes
March 15, 2022
---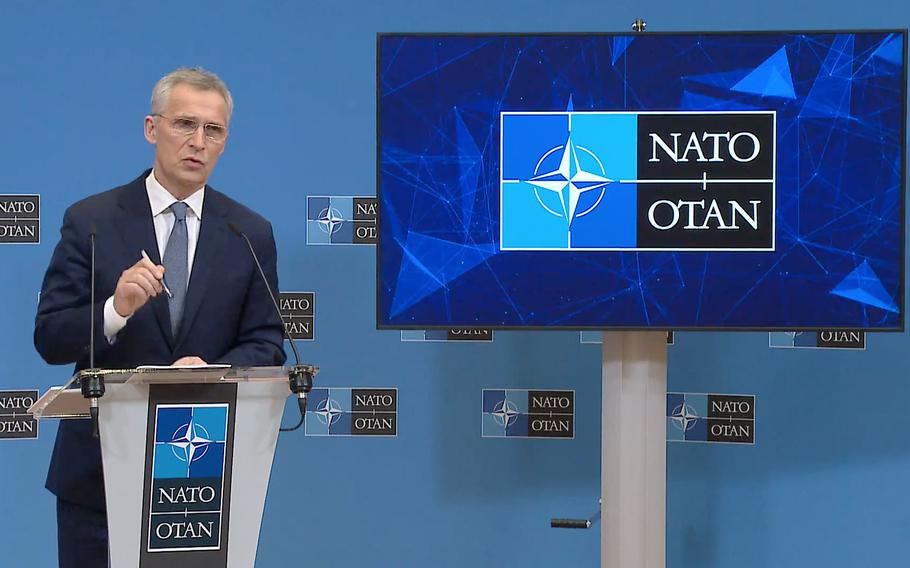 NATO will map out ideas for adding substantially more military force to member countries on the alliance's eastern flank, top officials said Tuesday on the eve of a meeting of defense chiefs.
Secretary-General Jens Stoltenberg delivered remarks as U.S. Defense Secretary Lloyd Austin was en route to NATO headquarters in Brussels for talks Wednesday. Participants will focus on Russia's war on Ukraine and the implications on the trans-Atlantic security pact.
Stoltenberg said allies must prepare for "major increases" in spending to facilitate more robust defense.
"On land, this could include substantially more forces on the eastern part of the alliance," Stoltenberg told reporters, adding that more air and missile defenses also will be required.
NATO defense ministers are expected to direct military commanders to draft force plans to be adopted when heads of state meet in Madrid in June, he said.
During the past month, the U.S and other NATO states have deployed forces to the east, sending thousands of extra troops to Romania, Poland and the Baltic countries of Estonia, Latvia and Lithuania.
Discussions in Brussels will center on what medium- and longer-term force posture changes could be required next to guard against potential Russian aggression, Julianne Smith, the U.S. ambassador to NATO, told reporters.
"This is an evolving story," Smith said of NATO's planning. "This is not over by any means."
While the U.S. and other allies mull over ways to boost defenses, what isn't under consideration is a NATO no-fly zone in Ukraine, she said.
For weeks, Ukrainian leaders have called on the alliance to impose such a zone over Ukrainian airspace, a move that could put allies in the position of having to shoot down Russian planes that violated the airspace.
Calls for NATO to do more have extended to parts of the alliance itself.
On Monday, Estonia's parliament passed a resolution calling on NATO to enact a no-fly zone in Ukraine, which some former U.S. government and military officials also have advocated for in recent days.
But President Joe Biden has already ruled out such a move, and there is no indication that allies are prepared to reconsider. The fear, Smith said, is that such a maneuver would risk a wider war with Russia.
"That would take us in the wrong direction. ... Where the alliance has landed is to take that option off the table," Smith said.
---
---
---
---