Roughly 3,000 US troops to move to NATO countries near Ukraine amid rising tensions with Russia
By
Stars and Stripes
February 2, 2022
---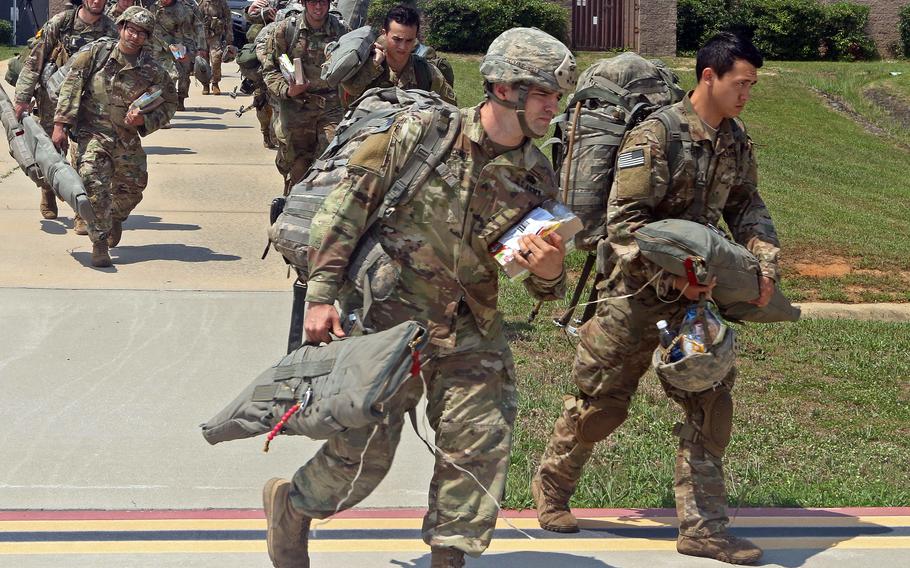 WASHINGTON — More than 3,000 U.S. troops will move to ally countries in Europe amid rising tensions on the Continent as Russia continues amassing troops along the Ukrainian border, chief Pentagon spokesman John Kirby said Wednesday.
The U.S. will send about 2,000 troops from Fort Bragg, N.C., to Poland and Germany and reposition about 1,000 service members from an infantry Stryker squadron in Germany to Romania in the coming days, he said.
"The United States stands shoulder to shoulder with our NATO allies," Kirby told reporters at the Pentagon. "The current situation demands that we reinforce the deterrent and defensive posture on NATO's eastern flank."
In December, Russia began amassing about 100,000 troops at its border with Ukraine, and this month started adding troops to Ukraine's northern border with Belarus for what Russia said were exercises with that country.
NATO nations, including the U.S., have expressed concern in recent weeks that the buildup could mean Russia intends to invade Ukraine, as it did in 2014 when Russia annexed the Crimean Peninsula.
Poland and Romania are among four NATO countries, along with Slovakia and Hungary, that border Ukraine to the west. Kirby said the deployment should signal America's commitment to NATO and collective defense, as well as to allow the U.S. to "be prepared for a range of contingencies."
"These are not permanent moves, they are moves designed to respond to the current security environment," Kirby said. "Moreover, these forces are not going to fight in Ukraine. They're going to ensure the robust defense of our NATO allies."
Kirby did not say when the troops will deploy, though the forces placed on high alert last week are ready to deploy within five days when called upon to support U.S. allies.
"We are making it clear that we're going to be prepared to defend our NATO allies if it comes to that," he said. "Hopefully it won't come to that."
Deploying troops
Fort Bragg's 82nd Airborne Division is deploying about 1,700 troops from an infantry brigade combat team and other "key enablers" to Poland, the Pentagon said in a statement Wednesday. Another 300 from other elements of the 18th Airborne Corps at Fort Bragg will form a joint task force headquarters in Germany.
"Collectively, this force is trained and equipped for a variety of missions to deter aggression and to reassure and defend our allies during this period of elevated risk," the Defense Department said in the statement.
The 82nd Airborne maintains one of its brigades of paratroopers on short-notice deployment status at all times, making up the bulk of the U.S. military's Immediate Response Force, according to Army officials. The IRF, which also includes some Air Force troops, is tasked to deploy within hours to respond to trouble around the globe.
Recently, the 82nd's troops deployed for the drawdown in Afghanistan, where they were the final American forces to leave Kabul, ending the United States' 20-year conflict in that country on Aug. 31, Pentagon officials said at that time.
The 1,000 troops moving to Romania are part of the 2nd Calvary Regiment, a mounted unit stationed at Rose Barracks in Vilseck, Germany, according to the statement. They will join about 900 U.S. troops already in Romania who are on regular rotational deployments.
"[The regiment] will send a combined arms force equipped with wheeled, armored fighting vehicles to deter aggression and enhance our defensive capabilities in front-line allied states during this period of elevated risk," the Pentagon said. "These forces will augment the more than 900 U.S. service members already on regular rotation in Romania."
Though the U.S. is sending forces to the countries without the NATO Response Force, other allies also plan to send troops to the region, Kirby said.
"In the case of Romania, we know the French are going to be preparing to deploy troops there [and] we will find ways to complement that force presence in full consultation with Romania," he said.
The moves follow President Joe Biden comments Friday night that he intended to send a small amount of U.S. service members into Eastern Europe as tensions increase with Russia over its buildup of troops around Ukraine.
The Fort Bragg troops were part of the roughly 8,500 U.S. troops placed on alert for a possible deployment in Europe last week to join the NATO Response Force, which has not been activated. However, the deployments announced Wednesday are separate from the NATO force and are part of agreements between the U.S. and Poland and Romania.
"Some of the forces designated for the response force have not been activated, but if there comes a time where we might want to deploy some of them, as well, in a more bilateral-related relationship, we're certainly not going to close that option off," Kirby said.
More deployments possible
Since Jan. 24, the Pentagon has placed more troops on prepare-to-deploy orders in addition to the 8,500 tapped last week, Kirby said before declining to provide further detail.
"You can expect that that could continue to happen going forward," he said. "We're going to constantly look at the conditions in the region and consult with allies and partners. If we feel we need to make additional forces more ready, we'll do that."
The NATO response force consists of about 40,000 troops from multiple countries in the alliance that can quickly respond to threats by sea, air and land, Kirby said. About half of those troops make up a "very ready joint task force" with combined arms and other military capabilities.
The incoming U.S. troops announced Wednesday will not be under NATO control. The U.S. already has about 4,000 service members in Poland on a regular rotational basis. Some of those troops are part of the NATO battle group in Poland, which is a multinational force of roughly 1,000 troops.
The U.S.-led multinational battle group is one of four that NATO sent to Estonia, Latvia, Lithuania and Poland after Russia invaded Ukraine in 2014 and annexed its Crimean Peninsula after deadly protests toppled the country's former pro-Russian government.
Since then, NATO forces have maintained a presence in the eastern part of the alliance and, in recent days, some NATO member countries aside from the U.S. have announced additional upcoming deployments to the region, according to the alliance website.
"There were no NATO forces in the eastern part of the alliance before 2014," according to NATO's website. "Their presence makes clear that an attack on one ally will be considered an attack on the whole alliance."
The U.S. could send additional troops to eastern Europe in the future, Kirby said, adding the deployment announced Wednesday "is not the sum total of the deterrence actions we will take or those to support our allies."
"We are continuously reviewing our posture so there may soon be additional posture decisions to announce including movements that are part of ongoing military exercises," Kirby said.
Though Biden has said he will not send combat troops into Ukraine, Kirby did not rule out the possibility that U.S. forces could be sent into the country to conduct evacuations.
"Our troops are multimission capable and they will be prepared for a range of contingencies," he said.
However, the State Department in recent weeks has said the U.S. does not plan to launch a military evacuation mission and urged American citizens in Ukraine to leave the country on their own as soon as possible.
Though no combat troops will move into the country, about 100-200 Florida National Guard special operators have been in Ukraine since December on an advise-and-assist mission training Ukrainian troops. There had been no change to that mission as of Wednesday, Kirby said.
The U.S. also continues sending security assistance packages including Javelin anti-tank missiles, grenade launchers and other artillery, the most recent of which arrived in Ukraine on Friday, he said.
The U.S. has sent $650 million in security assistance to the country during the past year — and $2.7 billion total since 2014, according to the State Department.
Hope for diplomacy
While the upcoming deployment represents the first military movement that the U.S. has taken in response to the Russian threat, the Biden administration continues to prefer a diplomatic resolution, Kirby said.
"We do not know if Russia has made a final decision to further invade Ukraine [but it] clearly has that capability," he said. "The department has continued to support diplomatic efforts led by the White House and the State Department to press for resolution. We do not believe conflict is inevitable."
Still, Kirby said the upcoming deployments "are unmistakable signals to the world that we stand ready to reassure our NATO allies and determined and defend against any aggression."
"The measure of success here is that the NATO's eastern flank is appropriately postured and prepared to defend itself … and to make it very clear secondarily, not only to our allies but to [Russian President Vladimir Putin] that we take our NATO commitments seriously."
The U.S. last week sent a written response to Russia's demands that NATO bar Ukraine from membership in the alliance and for the West to remove foreign troops and military equipment from Eastern European countries that joined NATO since 1996.
The document did not bend to those requests but offered some room for negotiation on other matters such as arms control and nuclear weapons management, according to the State Department.
Putin criticized the response during a rare news conference Tuesday, saying it did not aptly consider Russia's position.
"In Ukrainian documents it says that they want to take back Crimea and if they have to they will use military force there," Putin said. "So let's imagine Ukraine is a NATO state and they start the separation — so now do we have to start a war against the NATO alliance? Did anyone think about that? I don't think so."
However, the U.S. and the alliance have stood firm that it will not close its doors to any European country seeking membership.
"That should be up to Ukraine, who they associate with. And any membership in NATO is going to be a decision between the sovereign state in question and NATO," Kirby has said. "And it's not something that Mr. Putin gets to have a veto on."
Russia is now "preparing different versions of reaction" from military to diplomatic responses for Putin's review, Russian Foreign Minister Sergey Lavrov said last week, according to the Russian government-owned Tass news agency.
"Mr. Putin can go a long way to serving [conflict prevention] by taking seriously the proposals that we have put forward diplomatically and by de-escalating — removing some of those troops away [from Ukraine's border,]" Kirby said.
Stars and Stripes reporter Corey Dickstein contributed to this report.
---
---
---
---