US forces in Europe could be deployed to Eastern Europe soon as Russia-NATO tensions increase, Pentagon says
By
Stars and Stripes
January 31, 2022
---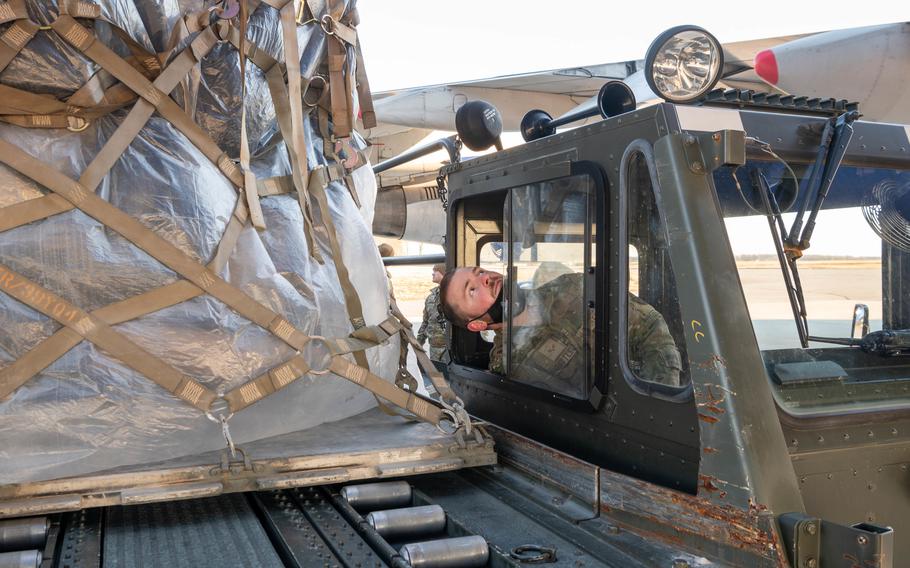 WASHINGTON — Some U.S. troops in Europe could be moved to NATO countries farther east on the Continent as Russia continued to amass forces over the weekend in Belarus and along its border with Ukraine, chief Pentagon spokesman John Kirby said Monday.
President Joe Biden said Friday night that he soon intends to send a small amount of U.S. service members into Eastern Europe as tensions increase with Russia over its buildup of troops around Ukraine.
Kirby said Monday that Biden was referring to potential agreements with individual ally countries for more forces, which could be separate from the roughly 8,500 U.S. troops recently placed on alert for a possible deployment in Europe with the NATO Response Force, which has not yet been activated.
"What the president was talking about was the potential for additional U.S. troops to bolster the capabilities of some of our eastern flank NATO allies," Kirby told reporters at the Pentagon. "We're in active consultations with allies about their needs."
Four NATO countries border Ukraine — Poland, Slovakia, Hungary and Romania. However, Kirby did not specify which NATO countries might have U.S. troops deploy there.
In December, Russia began amassing troops at its border with Ukraine, and this month started adding troops to Ukraine's northern border with Belarus for what Russia said were exercises with that country last week.
NATO nations, including the U.S., have expressed concern in recent weeks that the buildup could mean Russia intends to invade Ukraine, as it did in 2014 when Russia annexed the Crimean Peninsula.
Biden's announcement Friday came about five days after Defense Secretary Lloyd Austin placed the roughly 8,500 troops in the U.S. on high alert to be ready to deploy to Europe.
Affected troops must be ready to deploy within five days should they be called upon to support U.S. allies and the NATO Response Force, which consists of about 40,000 troops from multiple countries in the alliance that can quickly respond to threats by sea, air and land, Kirby said last week.
The U.S. also has "tens of thousands" of troops already in Europe from Poland to Italy, Kirby said. Those troops could be tapped to support agreements with countries in Eastern Europe should a decision be made to do so.
"An option available to us is to use U.S. forces that are already in the European theater — you don't necessarily have to flow in forces from the states or from even other theaters," he said. "We're taking a look at the whole menu of opportunities available here in units available and then we'll work that out individually with each NATO ally as appropriate."
Kirby also said the U.S. continues to see Russia amass troops along Ukraine's northern and western borders as Vasily Nebenzya, Russia's representative to the United Nations, on Monday denied malintent.
"The military action of Russia against Ukraine that they're all assuring us is going to take place in just a few weeks' time, if not a few days' time — there is no proof confirming such a serious accusation whatsoever being put forward," Nebenzya said at a U.N. Security Council meeting. "However, that is not preventing people from whipping up the hysteria to such an extent that an actual economic impact is already being felt by our Ukrainian neighbor."
Russia over the weekend continued supplying additional ground forces to Ukraine's borders with Russia and Belarus, Kirby said. The U.S. has estimated approximately 100,000 Russia troops are now flanking Ukraine.
"These are combined arms capable forces, so it's not just infantry, for instance. It's artillery, it's air defense," he said. "[Russian President Vladimir Putin's] got a full range of military capabilities available to him which only continue to increase the number of options available to him if he decides to move militarily."
However, Nebenzya on Monday denied reports more than 100,000 Russian troops are flanking Ukraine.
"Where did you get the figure of 100,000 troops that are deployed as you stated on the Russian-Ukrainian border? Although that is not the case, we have never cited that figure. We've never confirmed that figure," Vasily told the U.N. Security Council.
Additionally, Kirby said the U.S. is "watching closely" as Russia has been increasing its naval activity in the Atlantic Ocean and Mediterranean Sea, where the USS Harry S. Truman carrier strike group is participating in an exercise and operating under NATO control for the first time since the Cold War.
"[There has been] nothing hostile necessarily to report to or to speak to, but [the Russians] have put to sea more ships, they are exercising at sea, they are clearly increasing the capabilities they have at sea should they need it," he said.
Biden has said he will not send U.S. troops into Ukraine to fight Russian troops, though about 100-200 Florida National Guard members have been in the country since December on an advise-and-assist mission training Ukrainian troops.
The U.S. also continues sending security assistance packages including Javelin anti-tank missiles, grenade launchers and other artillery, the most recent of which arrived in Ukraine on Friday, Kirby said.
The U.S. has sent $650 million in security assistance to the country during the past year — and $2.7 billion total since 2014, according to the State Department.
---
---
---
---