Number of US troops tapped for possible deployment to Europe could increase to more than the 8,500 already on alert
By
Stars and Stripes
January 25, 2022
---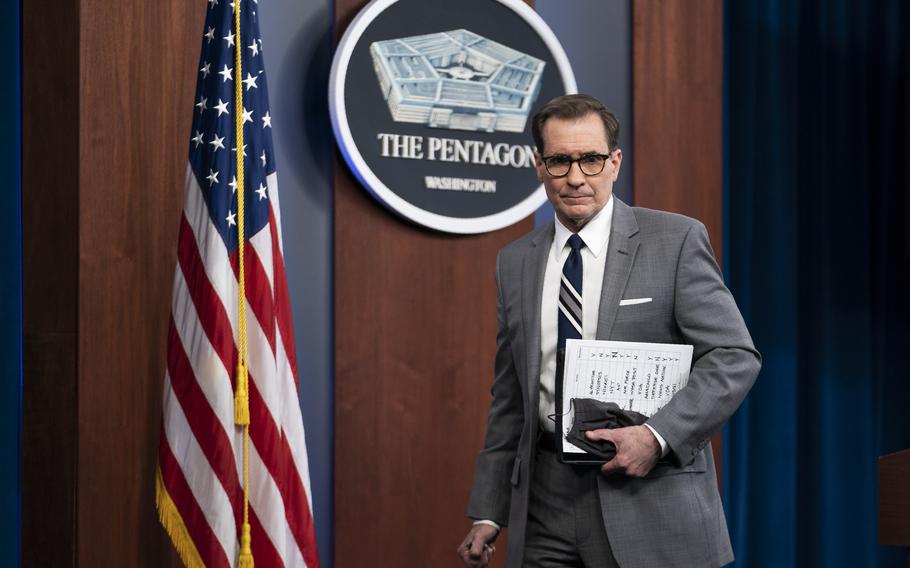 WASHINGTON — The United States could send more troops to Eastern Europe in addition to the 8,500 already placed on high alert in response to Russia's military buildup along its border with Ukraine, chief Pentagon spokesman John Kirby said Tuesday.
Kirby made an announcement Monday that roughly 8,500 troops based in the U.S. have been told to be ready to deploy within five days if called upon to join NATO forces in response to Russian troop amassing around Ukraine.
But he said Tuesday that plans are still in flux and more troops could be called upon for a possible deployment as the U.S. remains "in active consultations with allies and partners about capabilities they might need and might desire."
"I'm not going to rule out the possibility that there will be more such direction given to additional units at home or even abroad in terms of their readiness posture," Kirby told reporters at the Pentagon.
Tensions have been simmering as Russia has spent weeks sending more than 100,000 troops to its western border with Ukraine and last week into Belarus for what it claims are military exercises.
"We have seen a consistent accumulation of combat power by the Russians in the western part of their country around the borders with Ukraine and Belarus," Kirby said, noting the climb in the number of Russian troops there has been steady.
Russian President Vladimir Putin has said he wants NATO to bar Ukraine from membership in NATO, a concession to which the U.S. will not agree, Secretary of State Antony Blinken said last week.
The Russian Foreign Ministry on Friday said it also wants the West to withdraw troops and military equipment from countries added to the alliance in the past 25 years, such as Bulgaria and Romania. But Biden last week said the U.S. will increase troop presence "in Poland, in Romania, etc." should Russia invade Ukraine.
The Pentagon has yet to name the units placed on high alert as the notification process remained ongoing Tuesday. Kirby said the Defense Department must wait until all troops have been notified and allow time for them to inform their family members before telling the public.
The U.S. military does upgrade alert statuses from time to time, though publicly announcing such a change is not common. Kirby said that's why it is taking the Defense Department time to release the unit information.
"It's not typical that we talk about [changing ready-to-deploy timelines] as much as we've been talking about it, so usually units have a little bit more time to make those notifications," he said.
The bulk of the already announced 8,500 troops would be dedicated to the NATO Response Force, which consists of about 40,000 troops from multiple NATO countries, Kirby said. It includes land, air, sea and special operations forces that "the alliance can deploy on short notice, wherever needed."
A portion of the 8,500 U.S. troops might be used independently outside of NATO's control to support partner countries in the region, but no decisions have been made, Kirby said.
"As for any movement … unilaterally by the United States to bolster the defensive capabilities of a NATO ally, that would be the result of individual conversations that we would have with those allies and partners," he said.
To date, the U.S. has not sent troops to Ukraine to assist against a possible Russian attack, according to Kirby, though more than 100 Florida National Guard special operators are in the country on an advise-and-assist mission to help train Ukrainian troops.
Additionally, the USS Harry S. Truman aircraft carrier strike group is participating in a NATO exercise in the Mediterranean Sea until Feb. 4. It marks the first time since the Cold War that a full U.S. carrier group has come under NATO command, according to NATO statement Monday.
Other NATO members have recently announced upcoming deployments to the region. Denmark, Spain and the Netherlands each plan to send sea and air support to the region, while France "has expressed its readiness to send troops to Romania under NATO command," according to the NATO statement.
Though the Defense Department is readying troops for possible deployment, President Joe Biden's administration remains hopeful for a diplomatic end to the tensions without having to send in troops, Kirby said.
"We still think there's time and space here for diplomacy and dialogue to work," he said. "There's going to be at least another round of talks here and I think it's important to not forget that the fact that we placed troops on heightened alert … in and of itself is not the silver bullet that's going to solve this."
For example, the State Department this week is crafting a written response to Russia's military buildup on the Ukraine border that could address "the potential for progress on reciprocal steps" that the countries could take, State Department spokesman Ned Price said Monday.
Biden and his administration also continue to speak with allies and partners regarding the developing situation, most recently speaking with the European Commission and European Council presidents, NATO Secretary General Jens Stoltenberg and the German, French, Italian, Polish, British leaders via video call Monday afternoon.
"The leaders … discussed their joint efforts to deter further Russian aggression against Ukraine, including preparations to impose massive consequences and severe economic costs on Russia for such actions as well as to reinforce security on NATO's eastern flank," the White House said in a readout of the call Monday.
---
---
---
---