Pentagon readies 8,500 US-based troops for possible Eastern Europe deployment as tensions with Russia simmer
By
Stars and Stripes
January 24, 2022
---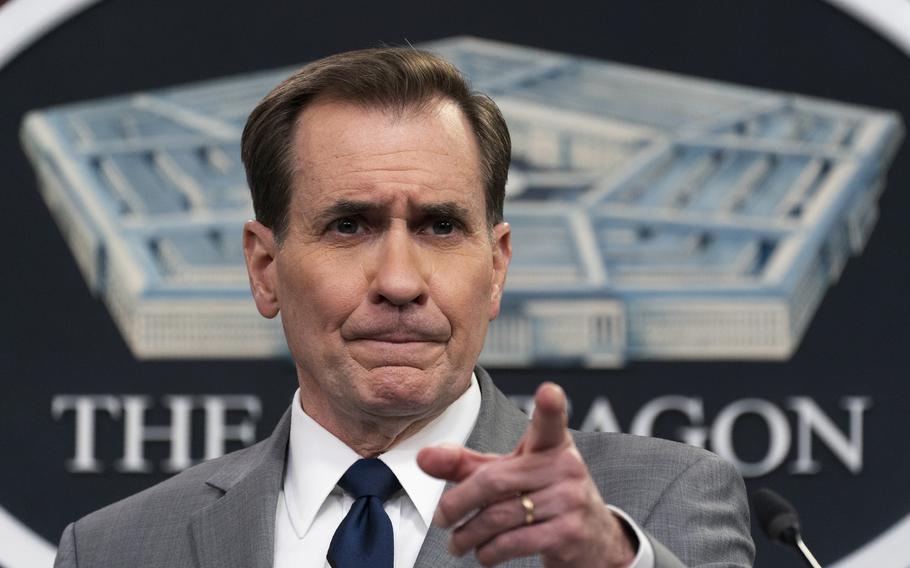 WASHINGTON — The Pentagon on Monday began placing 8,500 troops on heightened alert for possible deployment to Eastern Europe should NATO request help deterring Russia from invading Ukraine.
Defense Secretary Lloyd Austin ordered the affected units, which primarily include ground forces, to be ready to deploy within five days should the alliance activate its NATO Response Force, chief Pentagon spokesman John Kirby told reporters at the Pentagon.
"This will ensure … the United States would be in a position to rapidly deploy additional brigade combat teams, logistics, medical, aviation, intelligence, surveillance and reconnaissance, transportation and additional capabilities into Europe," he said.
The response force consists of about 40,000 multinational troops from NATO countries, Kirby said. It includes land, air, sea and special operations forces "that the alliance can deploy on short notice, wherever needed."
"Other nations are going to have to contribute as well, but for our part, unilaterally, we wanted to make sure that we were ready in case that call should come and that means making sure the units that we contribute to it are as ready as they can be on as short of notice as possible," he said.
Other NATO members have recently announced upcoming deployments to the region. Denmark, Spain and the Netherlands each plan to send sea and air support to the region, while France "has expressed its readiness to send troops to Romania under NATO command," according to a NATO statement Monday.
Kirby said he could not say what kind of Russian action could prompt deployment and NATO would make that decision.
"What we're telling these units to do is to be ready to go on a shorter timeline than what they were before," he said. "We are not deploying them now. We are not saying diplomacy is dead."
The heightened alert order is the latest in the U.S. and NATO's ongoing tensions with Russia since the country began stacking troops along its border with Ukraine last month, triggering fears Russia might invade the country.
White House Press Secretary Jen Psaki on Monday said a Russian invasion of Ukraine could be imminent as the country has amassed more than 100,000 troops along its border with Ukraine and in neighboring Belarus.
"While we can't get into the mind of [Russian] President [Vladimir] Putin, we are seeing the preparations that they're making at the border," she said. "We have been very clear -- and President [Joe Biden] has been direct -- that military action by Russia could come at any one at any time."
All 8,500 troops on alert are based in the United States, though Kirby did not say which units were preparing for the possible deployment noting that some had not yet been notified as on Monday afternoon. He also did not rule out American troops in Europe could be moved to new locations on the Continent should tensions over Ukraine escalate.
Most of them are active-duty troops, Kirby said, but he couldn't "rule out that there won't be reservists involved in this as well."
Some of the units "just by nature of who they are and where they are" were already under orders to be ready to deploy within 10 days if needed, he said. The alert requires the troops to be ready to leave in five days.
Other units not already on an alert status could have more work to do to make the preparations, Kirby said.
"It sends a very clear signal to Mr. Putin, that we take our responsibilities to NATO seriously," he said. "And we are also working with the international community to implement severe consequences for Mr. Putin, if he were to [invade] again in Ukraine."
To date, the U.S. has not sent troops to Ukraine to assist against a possible Russian attack, according to Kirby, though more than 100 Florida National Guard special operators are now in the country on an advise-and-assist deployment to help train Ukrainian troops. That mission has not changed.
Tensions simmer
The heightened alert order came the same day as the USS Harry S. Truman aircraft carrier strike group kicked off its participation in a NATO exercise in the Mediterranean Sea. It marks the first time since the Cold War that a full U.S. carrier group has come under NATO command, according to NATO statement Monday.
While Kirby on Friday said the exercise, dubbed Neptune Strike 2022, was long-planned, he did not say why NATO members decided to continue with the exercise given the tensions with Russia.
"There was due consideration given about tensions right now about our exercise posture and after all that consideration and discussion with our NATO allies, the decision was made to move ahead," he said.
Tensions have been on the rise since Russia has spent weeks sending approximately 100,000 troops to its western border with Ukraine and last week into Belarus for what it claims are military exercises. A senior State Department official on Jan. 18 warned the Belarus exercise might be a "ruse" to allow Russia to invade Ukraine from its northern border with Belarus.
Meanwhile, the U.S. and other NATO allies have been engaging in diplomatic discussions with Russian officials to come to a peaceful resolution.
Putin has said he wants NATO to bar Ukraine from any future membership in the alliance, a concession to which the U.S. will not agree, Secretary of State Antony Blinken said Friday after discussing the issues with Russian Foreign Minister Sergey Lavrov in Geneva, Switzerland.
The Russian Foreign Ministry on Friday said it also wants the West to withdraw troops and military equipment from countries added to NATO in the past 25 years, such as Bulgaria and Romania.
Biden last week said the U.S. will increase troop presence "in Poland, in Romania, etc." should Russia invade Ukraine.
The United Kingdom on Saturday said it had intelligence that indicated Russia aimed to install a pro-Putin leader in Ukraine "as it considers whether to invade and occupy" the country, the British government said in a statement.
"The information being released today shines a light on the extent of Russian activity designed to subvert Ukraine, and is an insight into Kremlin thinking," U.K. Foreign Secretary Liz Truss said in the statement. "As the U.K. and our partners have said repeatedly, any Russian military incursion into Ukraine would be a massive strategic mistake with severe costs."
U.S. officials on Sunday declined to confirm the U.K.'s intelligence reports.
Hopes for diplomacy
Even as the Pentagon readies troops for potential deployment, Ned Price, spokesman for the State Department, insisted Monday that the United States was first focused on diplomacy and dialogue with Russia.
"We prefer the path of diplomacy. We believe it's the only responsible way to pursue a de-escalation and to put an end to Russia's ongoing aggression," he said. "But just because we are ready and engaged in the path of diplomacy and dialogue doesn't mean we aren't preparing with defense and deterrence."
Despite the heightened alert status, Kirby echoed the same the sentiment about finding a diplomatic end to the tensions with Russia.
"I don't think anybody wants to see another war on [the] European continent, and there's no reason why that has to occur," he said. "This can be solved very easily by the Russians de-escalating by moving some of these forces away, which they haven't done."
The State Department's next step is writing to the Russia this week, Price said. The written response to Russia's military buildup on the Ukraine border could address "the potential for progress on reciprocal steps" that the countries could take, he said.
Biden's administration is gathering feedback from European allies before writing to Russia. Biden had a video call scheduled Monday afternoon with leaders of France, Germany, Italy, the United Kingdom, NATO and the European Union.
"We have shared those ideas with our European allies and partners, we are taking their feedback and incorporating that feedback," Price said.
The Pentagon's alert came a day after the State Department on Sunday ordered families of U.S. Embassy employees in the Ukraine capital of Kyiv to leave the country and authorized the employees themselves to leave should they so choose.
Oleg Nikolenko, a spokesman for the Ukraine Foreign Ministry, wrote Monday on Twitter that the U.S. decision to pull diplomats' families from the country is "premature," warning "it is extremely important to avoid activity that could be used in the information space to increase tensions in society and destabilize the economic and financial security of Ukraine."
Price said Monday that the State Department was more focused on the safety of Americans there than whether the action would cause panic in Ukraine.
The White House on Monday also urged Americans in Ukraine to make plans to leave the country, as "there is not an intention or a plan for any military evacuation," Psaki said.
"We are conveying very clearly that now is the time to leave and that there are means to do that," she said. "Of course, there's commercial airlines [and] you can depart over land."
The statement came after two senior State Department officials on Sunday warned reporters that the U.S. "will not be in a position to evacuate U.S. citizens" from Ukraine should Russia invade.
The officials declined to say how many U.S. citizens are in Ukraine, citing changing numbers and the government's lack of requirement for Americans to register their presence abroad.
Reporter Nikki Wentling contributed to this report.
---
---
---
---