Biden says he plans to move US troops into Eastern Europe; Milley warns of 'horrific' casualties if Russia invades Ukraine
By
Stars and Stripes
January 28, 2022
---
WASHINGTON — President Joe Biden said Friday that he will soon send a small number of U.S. troops to Eastern Europe as Russia continues amassing an historic amount of forces along its border with Ukraine.
"I'll be moving U.S. troops to Eastern Europe in the NATO countries in the near term — not a lot," Biden told reporters Friday evening at Joint Base Andrews, Md., after returning from a trip to Pittsburgh.
Defense Secretary Lloyd Austin on Monday placed roughly 8,500 troops in the U.S. on heightened alert to be ready to deploy to Eastern Europe within five days should the U.S. decide to send troops to support its NATO allies as tensions with Russia increase.
"We haven't actually moved any troops [into Europe.] We put troops on higher alert," he said. "If and when we do move troops, the purpose of those troops deploying would be to reassure allies, or directly in support of NATO."
It was unclear Friday whether the troops that Biden plans to send are among those placed on high alert in the U.S. or those who are already stationed elsewhere in Europe.
Russian President Vladimir Putin has positioned more than 100,000 troops along Ukraine's eastern border with Russia and northern border with Belarus, leading NATO countries — including the U.S. — to suspect Putin might be considering an invasion.
"If war were to breakout on the scale and scope that is possible, the civilian population will suffer immensely," Army Gen. Mark Milley, chairman of the Joint Chiefs of Staff, said Friday.
An invasion of Ukraine would cost countless lives as Russian forces continue to amass along the country's eastern and northern borders in numbers not seen in 30 years, the general said.
"Given the type of [Russian] forces that are arrayed, the ground maneuver forces, the artillery, the ballistic missiles, the air forces — all of it packaged together, if that was unleashed on Ukraine ... it would result in a significant amount of casualties," Milley told reporters at the Pentagon during a news briefing alongside Austin.
He said Ukraine is the second largest country in Europe with several densely populated cities such as Kharkiv and its capital, Kyiv.
"You can imagine what [an invasion with casualties] might look like in dense urban areas, all along roads, and so on and so forth," Milley said. "It would be horrific. It would be terrible."
Russia has been building up its forces along its border with Ukraine since last month, and began adding troops to Ukraine's northern border with Belarus last week for what it said were military exercises.
There are almost as many Russian troops flanking the country as there are in the Ukrainian active-duty force of 150,000 troops, Milley said.
"This is larger in scale and scope in the massing of forces than anything we've seen in recent memory, and I think you'd have to go back to the Cold War days to see something of this magnitude," he said.
More so, Ukraine's "flat, open plains" and "abundance of rivers and lakes" with high water tables that freeze also make "optimal conditions for cross-country, tracked and wheeled vehicle maneuvers" so armed forces can move easily throughout the country should an invasion occur, Milley said.
However, Kremlin spokesman Dmitry Peskov said: "Russia does not pose a threat to anyone," calling reports of a potential Russian invasion an "empty and groundless escalation of tensions," Russia's government-owned Tass news agency reported Friday.
Among those placed on high alert Monday are soldiers from the 82nd Airborne Division at Fort Bragg, N.C., the 101st Airborne Division at Fort Campbell, Ky., and the 4th Infantry Division at Fort Carson, Colo., along with troops from unspecified units at Davis-Monthan Air Force Base, Ariz., Fort Hood, Texas, Robbins Air Force Base, Ga., Joint Base Lewis-McChord, Wash., Fort Polk, La., Fort Stewart, Ga., and Wright-Patterson Air Force Base, Ohio.
The "bulk" of those troops would join the NATO Response Force should it be activated, while others could be sent to U.S. allies near Ukraine, chief Pentagon spokesman John Kirby said this week.
The NATO Response Force consists of about 40,000 troops from multiple countries in the alliance, Kirby has said. It includes land, air, sea and special operations forces "that the alliance can deploy on short notice, wherever needed."
Austin said it remains unclear what Russia's next steps will be, but the Russian military presence around Ukraine offers Putin "multiple options … including the seizure of [Ukrainian] cities and significant territories, but also of course ... provocative political acts like the recognition of breakaway territories."
"In terms of what Putin thinks and the way he feels about things, that's hard to predict," he said. "If you look at the forces that he has moved into the region and that he continues to move into the region, there was no provocation that caused him to move those forces."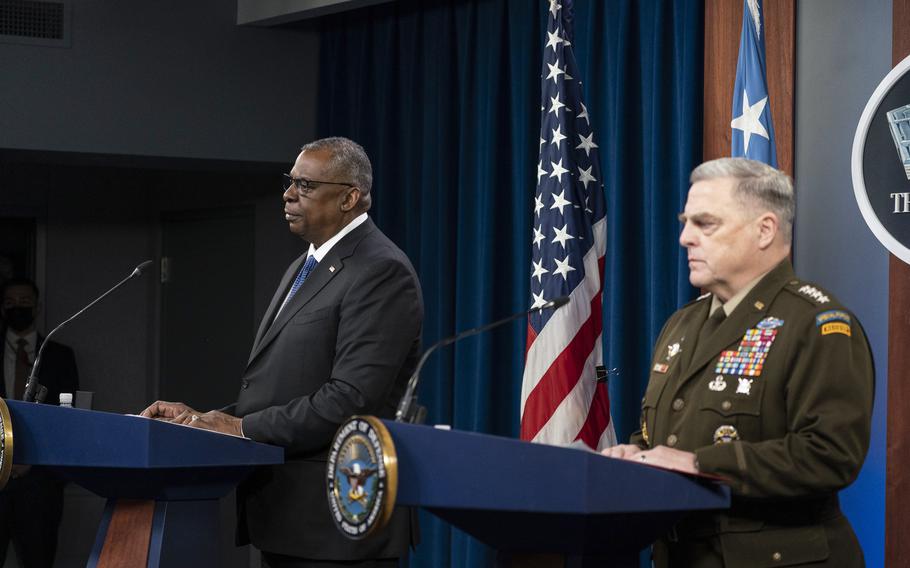 'Conflict is not inevitable'
Austin said the U.S. remains hopeful for a peaceful, diplomatic resolution and "conflict is not inevitable."
"There is still time and space for diplomacy," he said. "The United States in lockstep with our allies and partners and has offered Russia a path away from crisis and toward greater security."
The U.S., NATO and Russia have been engaged in diplomatic negotiations since Russia demanded last month that the alliance bar Ukraine from NATO membership and the West withdraw troops and military equipment from countries added to NATO in the past 25 years, such as Romania and Bulgaria.
The U.S. on Wednesday sent a written response to Russia's demands, Secretary of State Antony Blinken said. Without specifying its contents, he said the document did not bend to those requests but offered some room for negotiation on other matters such as arms control and nuclear weapons management.
Peskov on Thursday criticized the response: "We can't say that they took our concerns into account or showed any readiness to take our concerns into consideration," according to a Tass report.
Russia is now "preparing different versions of reaction" to the response for Putin's review, Russian Foreign Minister Sergey Lavrov said Friday, according to Tass. It will ultimately be up to Putin to decide what's next.
"What we will do, should the West fail to hear the voice of reason, the president has said it already: should our attempts to agree to mutually acceptable principles of security in Europe fail to bear fruit, then we will take response measures," Lavrov said in the Tass report.
The foreign minister said those response measures "can be wildly different," ranging from military to diplomatic actions.
NATO preparations
President Joe Biden said Tuesday that while he has "no intention of putting American forces or NATO forces in Ukraine," the U.S. has a responsibility to reassure its Eastern Europe allies of its commitment to their security.
"In Eastern Europe, there's reason for concern. [Russian troops are] along the Russian border. They're on the Belarus border," Biden told reporters. "So, everyone from Poland on has reason to be concerned about what would happen and what spillover effects could occur."
Four NATO-member countries flank Ukraine to the west, including Poland, Slovakia, Hungary and Romania.
In 2014, Russia invaded Ukraine and annexed its Crimean Peninsula after deadly protests toppled the country's former pro-Russian government. In response, NATO sent four multinational battlegroups to Estonia, Latvia, Lithuania and Poland.
"There were no NATO forces in the eastern part of the alliance before 2014," according to NATO's website. "Their presence makes clear that an attack on one ally will be considered an attack on the whole alliance."
Since then, NATO forces have maintained a military presence in the eastern region of the alliance. In recent days, some NATO countries — aside from the U.S. — have announced additional upcoming deployments to the region, according to the website.
Denmark, Spain and the Netherlands each plan to send sea and air support including frigates, and F-16 and F-35 fighter jets to the region, while France "has expressed its readiness to send troops to Romania under NATO command," according to a NATO statement earlier in the week.
Austin on Friday said the U.S. and NATO are "unified in opposition to Russia's attempts to undermine those core values and threaten peace and security in Europe."
"Any Russian attack or further incursion into Ukraine would not only ignite conflict — it would also violate the bedrock principles of sovereignty, territorial integrity and self-determination," he said. "The latter is something that we're taking very seriously both as a strong partner of Ukraine and as one of 30 members of NATO."
Though the U.S. has no plans to send additional troops to Ukraine, there are between 100-200 Florida National Guard troops in the country on an advise-and-assist mission to train the Ukrainian military.
The U.S. also continues to support Ukraine with security assistance packages, pledging $200 million worth of equipment to the country in December alone. The latest shipment arrived Wednesday and included 300 Javelin anti-tank missiles, according to the U.S. embassy in Kyiv.
Austin said the U.S. has also recently sent Ukraine "other anti-armor weapons, grenade launchers, large quantities of artillery and small arms, ammunition and other equipment."
"The United States remains committed to helping Ukraine defend itself through security assistance material," he said. "Since 2014, we've committed more than $2.7 billion in security assistance to Ukraine. That includes more security assistance to Ukraine in the past year — $650 million — than at any a previous time."
---
---
---
---