Russian ambassador urges Japan to avoid sanctions over Ukraine
By
Stars and Stripes
February 2, 2022
---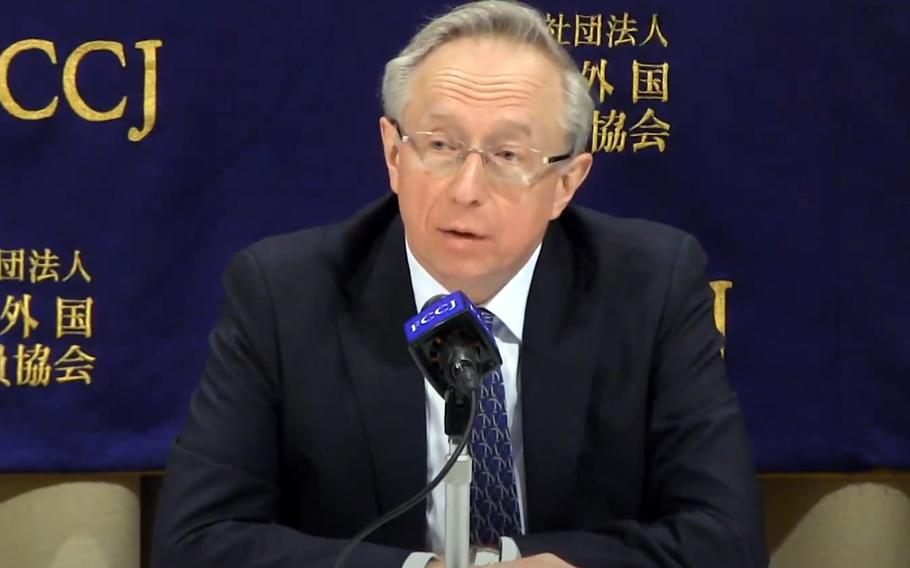 TOKYO – Russia's ambassador to Japan is urging the country's leaders to reject proposals to sanction Moscow over its dispute with Ukraine, calling the possibility "counterproductive" to Japanese-Russian relations.
Sanctions against Russia or the Russian leadership by Japan would "contradict" agreements between the two countries and harm their relationship, Russian Ambassador to Japan Mikhail Galuzin told reporters Wednesday at the Foreign Correspondents' Club of Japan in Tokyo.
Galuzin held a 1 ½ hour news conference to clarify Russia's stance on the buildup of Russian troops along its shared border with Ukraine. Moscow has steadily massed military forces along the border since December, and the U.S. government now estimates 100,000 Russian troops are flanking the country on its north and west.
Galuzin was critical of "strong actions" proposed by the Japanese government, referring to a Jan. 21 virtual meeting between U.S. President Joe Biden and Japanese Prime Minister Fumio Kishida.
Biden and Kishida are "committed to work closely together to deter Russian aggression against Ukraine" and pledged "strong action" against Russia in the event of an attack on Ukraine, according to a readout of the meeting from the White House.
"I want to emphasize that we consider the statements from the Japanese government about so-called strong actions against Russia as counterproductive for the atmosphere of Russian-Japanese dialogue," Galuzin said Wednesday. "I would like to express my sincere hope that the responsible approach towards the future of Russian-Japanese relations will finally prevail in Tokyo."
A spokesperson from Japan's Ministry of Foreign Affairs was not immediately available Wednesday for comment.
The U.S. and other NATO members believe Russia's buildup suggests an imminent invasion of Ukraine, similar to Russia's 2014 annexation of the Crimean Peninsula. Biden told Ukrainian President Volodymyr Zelensky on Jan. 27 that a Russian invasion is a "distinct possibility," according to the BBC. At a Jan. 19 news conference, Biden warned of punishing economic consequences for Russia if it attacks Ukraine.
Galuzin denied that Moscow intends to invade Ukraine, dismissing the idea as a rumor fabricated by NATO.
"No Russian official, in no way, has threatened an incursion into Ukraine," he said. "The rumors about this alleged incursion into Ukraine were born on the Western side."
Galuzin also disputed reports that Russia is concentrating troops at the Ukrainian border. All Russian troops are in their respective garrisons, he said. He also questioned the U.S. estimate of 100,000 Russian troops, noting that Russia has not commented on that figure.
"I would like to say that the relocation of Russian troops within the Russian national territory, it's a purely domestic affair," he said. "We have the right to locate our troops within our national territory without asking any permission from anybody."
---
---
---
---