House approves bill to boost number of visas for Afghan interpreters
by
Sarah Cammarata
Stars and Stripes
July 22, 2021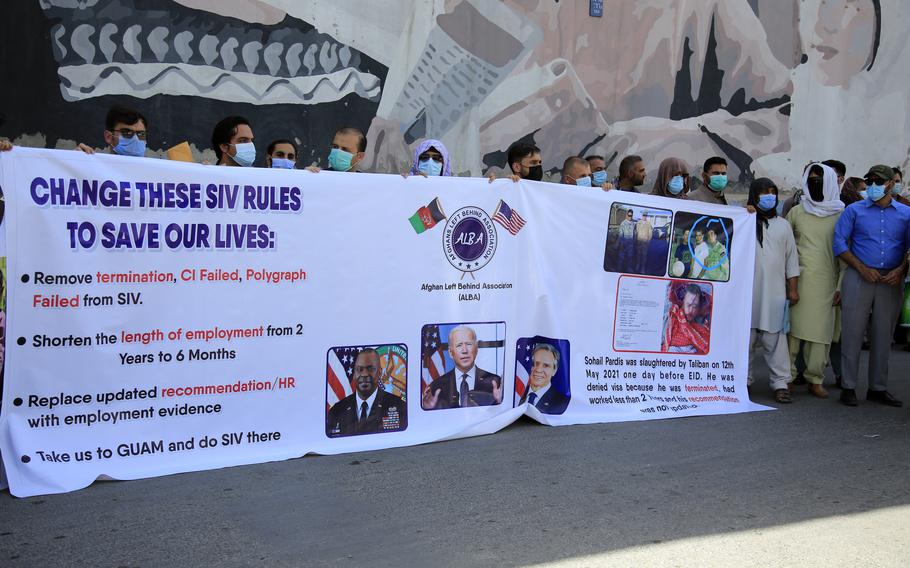 WASHINGTON — The House on Thursday approved legislation that would increase the number of visas for Afghan interpreters who worked with U.S. personnel, a potential lifeline for thousands waiting for application approvals as Taliban fighters continue to seize more territory in Afghanistan.
The bill from Rep. Jason Crow, D-Colo., would streamline the Afghan Special Immigrant Visa program by boosting the number of visa slots by an additional 8,000. It would also speed up the process by removing the requirement that applicants must prove they are under threat as a result of their work with the U.S. government during the nearly 20-year war in Afghanistan.
The measure passed overwhelmingly by a vote of 407-16.
"The phrase life and death gets tossed around a lot in this chamber. But this bill is truly that for thousands of our Afghan friends. The Taliban is intent on hunting down and killing Afghans who have served alongside Americans the past 20 years," Crow said on the House floor ahead of the vote.
"Some members of this body, including me, may not be here today without the service and sacrifice of Afghans who answered the call to serve shoulder to shoulder with us," said Crow, a former Army Ranger who served three tours of duty in Iraq and Afghanistan.
The Averting Loss of Life and Injury by Expediting SIVs Act, or ALLIES Act, will now move to the Senate.
The Biden administration announced this week that some of the Afghans who are nearing the end of the visa process will be evacuated to Fort Lee, Va. Chief Pentagon spokesman John Kirby said some of the roughly 2,500 Afghan refugees could be housed at Fort Lee, which is about 30 miles south of Richmond.
About 18,000 Afghans are seeking a Special Immigrant Visa, according to the State Department. Many translators and other partners who worked with the U.S. said it can take years for an application to be approved.
The White House announced last week that it will start evacuation flights this month for these individuals and their families.
The legislative process to expand the visa program, which grants safe passage to the U.S. and a pathway to citizenship, could take too long, advocates and lawmakers have warned.
President Joe Biden initially ordered the remaining U.S. troops in Afghanistan to depart by Sept. 11, but the president announced an updated timeline in a speech last week. The U.S. military mission in Afghanistan will end by Aug. 31, effectively ending America's longest war.
As the withdrawal of U.S. troops from Afghanistan is nearly complete, the Taliban is rapidly making gains across the country. Lawmakers and advocates fear that Afghans who helped the U.S. and NATO forces will face retaliation.
Army Gen. Mark Milley, chairman of the Joint Chiefs of Staff, told reporters Wednesday about 212 of Afghanistan's district centers are now under Taliban control.
Crow's bill would also allow family members of deceased SIV applicants to continue through the process if the applicant is killed before a visa approval. It also clarifies that Afghans who worked with the U.S. under cooperative agreements and grants also qualify for the program, including Afghans who performed human rights and governance work.
"The United States made a commitment to our allies in this conflict and these individuals have lived up to their end of the bargain. Now we have an obligation to honor our promises to them," said Rep. Mike Waltz, R-Fla., a former Green Beret who served more than 20 years in the Army.