Afghans who worked for US media are at risk and should receive visas, dozens of news outlets say
by
Phillip Walter Wellman
Stars and Stripes
July 21, 2021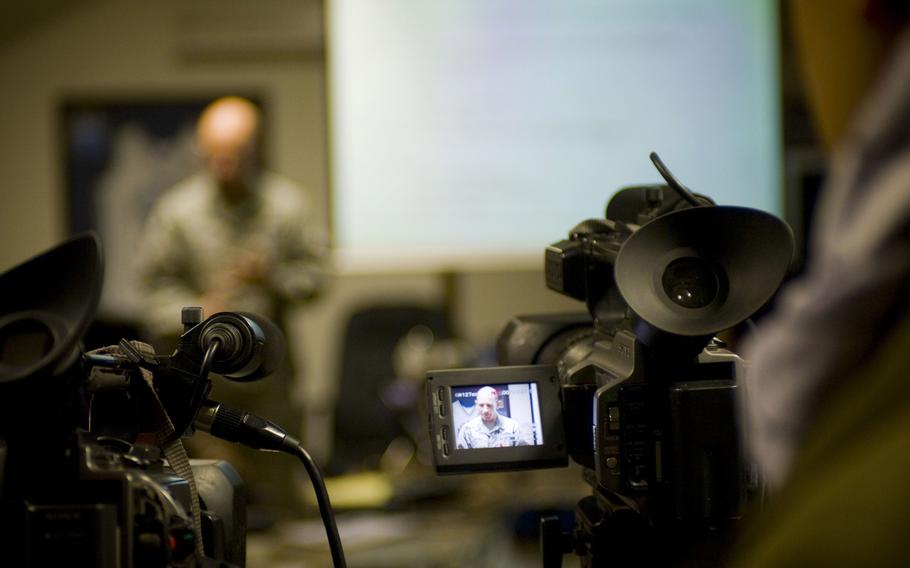 KABUL, Afghanistan — Afghans who helped American news companies report on the war are in danger and should be able to apply for emergency U.S. visas, media organizations said in a letter to the Biden administration.
The letter comes amid fear that the Taliban will target U.S.-linked media workers once the withdrawal of foreign forces is completed next month.
Some of the Afghan journalists worried about their safety had embedded with U.S. forces over the course of the nearly 20-year war, while others provided coverage as interest in the war waned and news outlets deemed it too costly to maintain a foreign staff in the country.
While a program exists to provide visas to Afghans who supported the U.S. military and government, no similar program exists for other members of society linked to U.S. organizations, said the letter signed by two dozen media groups and press freedom advocates, including ABC News, Fox News and National Public Radio.
"Without the assistance of the U.S. government, many of these Afghans face grievous harm and death for having done nothing more than lent their labor and skills to making certain the world knew what was going on in their country while U.S. troops were there for the past twenty years," the letter said.
Afghanistan is one of the most dangerous places in the world for journalists, with over a dozen media workers killed since last fall. Last week, Indian photojournalist Danish Siddiqui, who worked for Reuters news agency, was killed while embedded with Afghan forces in southern Kandahar province.
In April, Human Rights Watch accused the Taliban of intimidating and killing journalists as part of a wave of assassinations that also targeted judges, lawyers and activists.
The insurgents have denied involvement in the killings — which remain unclaimed — and have since said they would not target Afghans who worked for U.S. news organizations or the U.S. military once international forces leave. But many doubt the Taliban's sincerity.
"They say they've changed, but they are not abiding by their promises and killed many Afghan journalists who worked with international media," said Iqbal Sapand, who worked for NBC News as a cameraman and fixer from 2007-2011 and now freelances for international news outlets, including ABC News.
Much of Sapand's work was focused on showing American audiences the effects of the war.
"We are concerned that when the time comes, the Taliban will want revenge and search for those who worked with international media that didn't broadcast their propaganda," Sapand said, adding that he would apply for a U.S. visa if given the chance.
Some journalists have already quit their jobs and fled to other countries.
"It's not just one or two people," said Ahmad Mangali, a local producer for NBC News, who regularly embedded with U.S. troops. "There are many who have been working closely with American news companies over the years and think they will be facing problems."
Mangali said he'd like to stay, pass his knowledge on to younger Afghans and keep open his media company, which employs 20 people.
However, if the situation worsens, Mangali said he'd appreciate the opportunity for asylum and believes journalists who helped inform Americans of their longest war deserve it.
Earlier this month, the Biden administration said it was looking into a quick visa pathway for vulnerable Afghans besides those who helped the military, including journalists, female politicians and other activists.
Efforts to provide Special Immigrant Visas to Afghans who supported the U.S. military and government have received bipartisan support.
About 20,000 Afghans have already applied for SIVs. The U.S. plans to evacuate the applicants by the end of next month, with the first flights scheduled for next week. About 2,500 will go to military bases in the U.S., while the others may be sent to third countries for the duration of the application process, chief Pentagon spokesman John Kirby said Monday.
The first group of applicants will be flown to Fort Lee, Va., Kirby said.
The letter Tuesday said fewer than 1,000 visas would likely be needed to help at-risk media workers.
In 2008, federal legislation extended special immigration consideration to Iraqis who has worked with U.S. media.