Pentagon to house 2,500 Afghan refugees at stateside military bases, first group goes to Fort Lee
by
Caitlin Doornbos
Stars and Stripes
July 19, 2021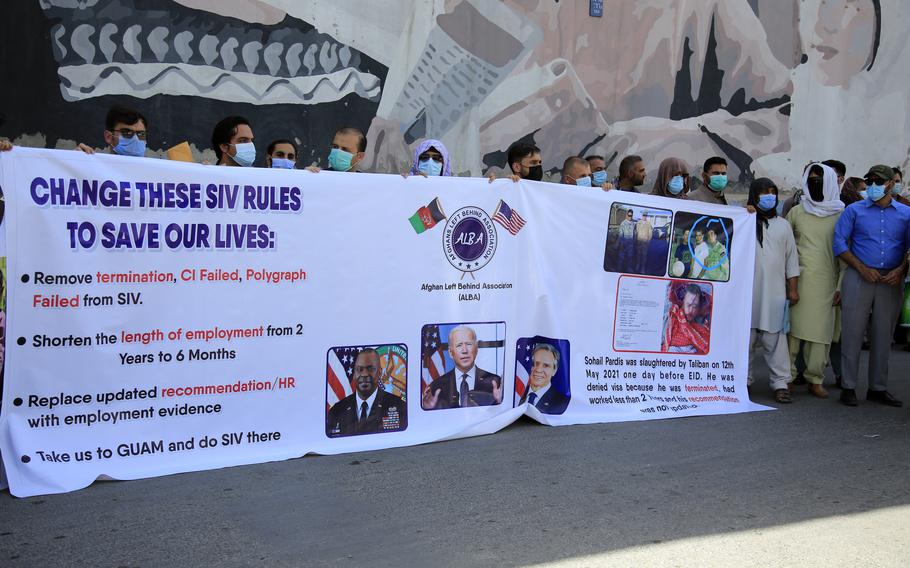 WASHINGTON — The Defense Department will house and support about 2,500 Afghans seeking refuge in the United States at stateside military bases starting with Fort Lee, Va., chief Pentagon spokesman John Kirby said Monday.
The State Department made the request over the weekend that the Defense Department house 700 special immigrant visa applicants and their families at stateside bases, Kirby said.
The 2,500 refugees will not arrive in the United States all at once, he said. Some of them might not end up at Fort Lee, as the Pentagon continues to evaluate other stateside installations that could host Afghan visa applicants.
Kirby did not say when the applicants would begin arriving in the U.S., but officials have said evacuation efforts out of Afghanistan would begin late this month.
The news comes after President Joe Biden on July 8 announced plans to evacuate an estimated 20,000 Afghan translators and others who helped Americans during the war in Afghanistan as the U.S. military drawdown nears completion.
Only Afghans who have completed the security-vetting portion of the visa process will be transported to the U.S., Kirby said. Most will stay at the base near Richmond, Va., for "just a few days" as they complete the final stages of their visa process.
"This initial group of SIV applicants would be able to, while at Fort Lee, safely complete the final steps of the SIV process, such as final medical screenings and final administrative requirements," he said.
The Pentagon is still working to identify overseas locations — including U.S. installations abroad — that could host Afghan evacuees who are working through earlier stages of the visa application process.
Individuals and families will stay in available barracks rooms or family housing units at Fort Lee. Aside from housing, Kirby said the Pentagon will provide "food and water, proper sustenance, appropriate medical care … and as much comfort as we can provide them in the short span of time that they're going to be there."
"They, for instance, are making sure that [visa applicants] have access to religious facilities if they need it, that kind of thing," he said.
Kirby declined to say whether Afghans who have not had their visas approved will be able to leave the base, saying he couldn't speak to the "security and movement requirements" yet.
It was also unclear how the initiative will be funded, though Kirby said the State Department will work with the Office of Management and Budget to cover the costs.
Sen. Mark Warner, D-Va., whose home state will host the applicants, applauded Biden's decision to "help the thousands of other Afghans and their family members who remain at risk because of their support for the U.S. mission in Afghanistan."
"Virginia has a long history of standing up for our military and those who have risked their lives for our country," Warner said in a statement Monday. "For two decades, thousands of Afghans have put their own lives and safety in danger in order to work with U.S. and allied personnel to fight [al-Qaida], the Haqqani Network, [the Islamic State] and other terrorist groups."