Evacuation flights for Afghan allies to begin in late July
by
J.P. Lawrence
Stars and Stripes
July 14, 2021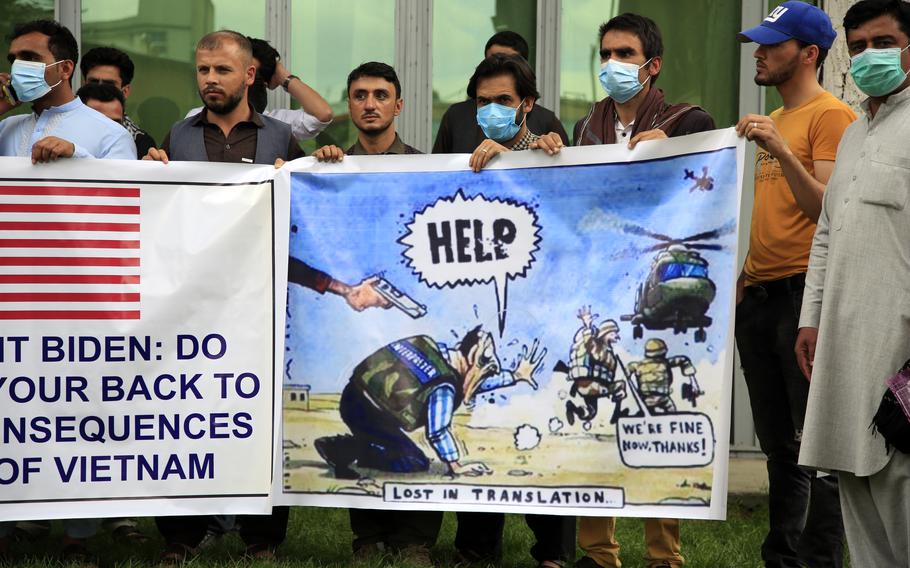 KABUL, Afghanistan — Flights to evacuate Afghans who assisted the U.S. military are set to begin during the last week of July, a senior Biden administration official said Wednesday. 
Operation Allies Refuge will provide relocation flights for Afghan citizens and their families, said the official, who spoke on condition of anonymity because they were not authorized to speak publicly. 
Priority will go to those who have already applied for visas to come to the U.S. through the Special Immigrant Visa program. 
The official declined to provide further details on when the flights will depart, or where evacuees will be sent to, citing security concerns. 
Advocates for Afghan SIV applicants in Congress and among veterans groups welcomed Wednesday's announcement. 
Rep. Seth Moulton, a Massachusetts Democrat on the House Armed Services Committee, said the U.S. needed to follow through on its promise to keep allies safe in exchange for their help. 
"I'm glad to see President (Joe) Biden following through on that promise," Moulton said in a statement on Twitter. 
The Biden administration's announcement comes amid fears of retribution for Afghans who assisted the U.S. and its allies during the last two decades of conflict in Afghanistan. Deadly Taliban offensives have swept the country as the U.S. drawdown from its longest war reaches its end. 
More than 18,000 applicants have applied for the SIV, which allows those facing threats after aiding the military and U.S. agencies to immigrate with their families.  
The SIV program has suffered from yearslong application delays, understaffing, poor coordination and outdated technology, a State Department Inspector General report last year said. 
A COVID-19 outbreak at the U.S. Embassy in Kabul also led to the suspension in mid-June of all visa interviews. The Interviews did not restart until a month later. 
Moving families out of Afghanistan would allow them to be screened and processed for asylum away from the violence there, advocates have said.  
Some lawmakers have said that the U.S. territory of Guam, which has hosted refugees of America's wars before, could be an ideal landing spot for the applicants.  
But the Biden administration has narrowed its discussions on potential waiting areas to the central Asian countries of Kazakhstan, Tajikistan and Uzbekistan, Bloomberg reported in early July. 
Moving applicants and their families to central Asia would provide them with fewer rights than they would have in Guam, said Sunil Varghese, policy director for the legal advocacy group International Refugee Assistance Project.
"We urge the Administration to relocate evacuees to a location on U.S. soil, where evacuees have access to U.S. courts, including immigration courts," Varghese said. 
The administration is weighing using State Department-chartered commercial planes rather than military aircraft to transport the applicants, a second administration official, who spoke on condition of anonymity to discuss internal deliberations, told The Associated Press. But the U.S. military would be ready to assist if the State Department made the request, the official said.
Tracey Jacobson, a veteran diplomat with expertise in central Asia, will helm the initiative, the official said. Jacobson will lead a unit at the State Department that will include representatives from the departments of Defense and Homeland Security. 
Advocacy groups for SIV applicants said they are still waiting for details on who will be flown out of the country as part of Operation Allies Refuge, but said the move is a step in the right direction. 
"This effort will immediately save lives," said James Miervaldis, chairman of the advocacy group No One Left Behind.