Former Navy SEAL Gallagher says new book reveals realities of special operations work
by
Caitlin Doornbos
Stars and Stripes
June 29, 2021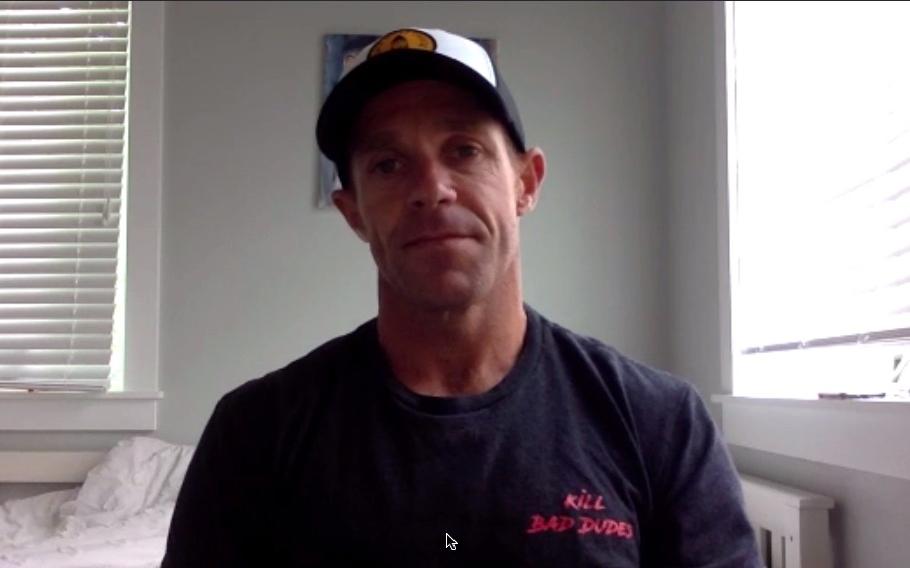 WASHINGTON — In his new book, notorious ex-Navy SEAL Eddie Gallagher — acquitted of nine war crimes in 2017 — writes like he's speaking to battle buddies hardened by the brutality of war.
"For some, killing becomes an addiction, but I consider it a good addiction needed to win wars," Gallagher writes in his book, released Monday. "For me, getting into firefights and killing the enemy was the biggest high I ever experienced."
That's the reality of Gallagher's 20-year career in special operations, he told Stars and Stripes.
Gallagher made national headlines in September 2018 when members from his platoon accused him of shooting Iraqi civilians and stabbing a captured teenage Islamic State fighter to death, leading to 10 charges of war crimes. He was acquitted on all but one — posing with the teenager's corpse in a photo he sent to friends — and was reduced in rank after his conviction, from chief petty officer to 1st class petty officer. Then-President Donald Trump reversed the decision shortly after, and his rank was restored.
The book, "The Man in the Arena," largely focuses on his life and career, rehashing his case and taking aim at SEALs from his platoon he claims plotted to accuse him of war crimes.
"Those two spent more time and energy trying to turn the platoon against me than they did trying to kill ISIS," he wrote about Special Warfare Operators 1st Class Dylan Dille and Dalton Tolbert, who served in his platoon and told Naval Criminal Investigative Services of Gallagher's alleged killings of civilians and the ISIS teen.
Gallagher, wearing a T-shirt reading "Kill Bad Dudes," told Stars and Stripes he hoped his book would show civilians an honest view of warfare and offer fellow veterans a relatable narrative.
"I wrote it like I always talked when I was in the military," Gallagher said. "I hope the reader, if they're civilian, can at least absorb that information better than me trying to … talk in such a militarized manner."
The book is dark, depicting the brutality that special operators faced fighting ISIS in 2017. It attempts to explain the conditions that led to Gallagher's trophy photo with the dead ISIS teen. An accompanying text, "Got him with my hunting knife," led to the accusations, but his lawyer said it was not a confession, but dark humor.
Gallagher writes of praying to keep his platoon safe — and for God to "allow us to take out as many enemy fighters as possible."
"To a non-warfighter, that last part may sound callous — praying for God to help you kill people — but that's why you aren't a warfighter," Gallagher wrote.
Gallagher, 42, said it's that kind of morbid honesty that he hopes will move readers to "gain a better perspective on special operations and the guys that actually do the job."
"Just because our job involves killing doesn't make us a psychopath. We're not broken or damaged," he said. "That's just some of the things that I hope you will take into perspective that special operators have to deal with.
Twitter: @CaitlinDoornbos