After war crimes acquittals, Gallagher cashes in on notoriety with clothing line and endorsements
by
Caitlin Doornbos
January 2, 2020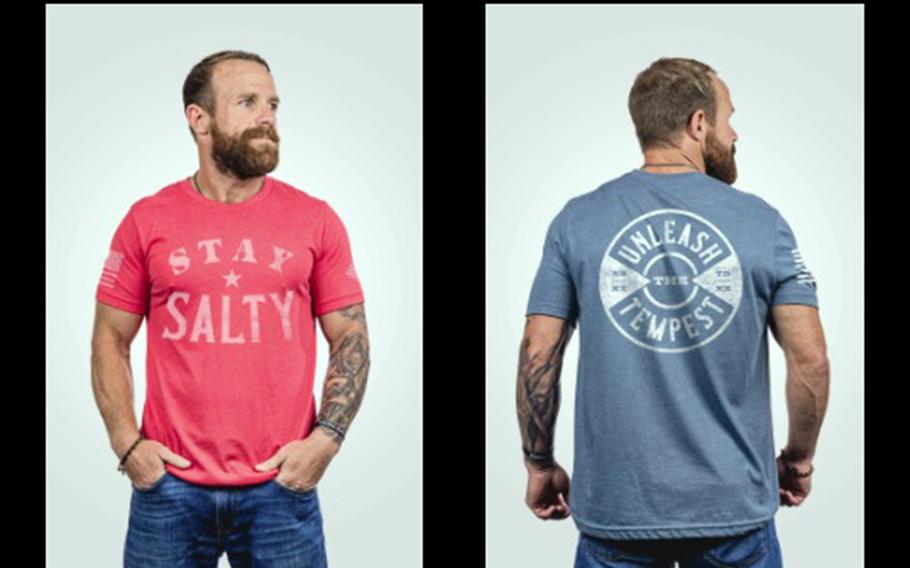 Eddie Gallagher, the former Navy SEAL acquitted this summer of murdering an Iraqi captive, is cashing in on his newfound notoriety with an apparel line.
Gallagher in September 2018 faced 10 charges including premeditated and attempted murder based on accusations that he shot at Iraqi civilians and stabbed a captured teenaged Islamic State fighter to death a year earlier.
He was ultimately convicted of one charge, posing with the teenager's corpse in a photo he sent to friends. Gallagher was reduced in rank after his conviction, a decision President Donald Trump reversed.
Now, the square-jawed, tattooed former chief petty officer poses in photos of a different kind: advertisements for his new clothing line through veteran-owned Nine Line Apparel.
Gallagher briefly met Nine Line's CEO Tyler Merritt during a deployment. When the news of Gallagher's prosecution broke, Nine Line reached out to support him and later "came up with the idea of a brand and to create a partnership," Gallagher said in a statement on the Nine Line website.
The collaboration created Gallagher's Salty Frog Gear brand under Nine Line. The company describes the apparel as "a coastal lifestyle brand with an edge."
"SFG provides functional, versatile, and affordable apparel solutions for your next outdoor adventure with specialty garments flexible enough for a fishing trip at sea or a weekend afternoon on the range," the company wrote on its website.
On the website, Gallagher is seen flexing in T-shirts reading "Unleash the Tempest" and "Stay Salty."
In another photo, he models a hoodie with a logo featuring a trident, a design similar to the trident pin that SEALs wear, juxtaposed with a star and five stripes. On its right sleeve is a reversed American flag, how service members wear their flag patches in uniform. Its front pocket features a special compartment to hold a beer bottle.
Also available is a $34.99 whiskey glass and $54.99 decanter emblazoned with "SFG" and the trident symbol.
In a promotional video, Gallagher wears Nine Line apparel in a shooting range firing rifles and pistols in slow motion.
The apparel company is not the only product to which Gallagher is lending his endorsement. His social media pages are also dotted with support for other veteran-owned businesses, such as Black Rifle Coffee Co.
In a Dec. 15 post, he posed with an assortment of Redcon1 workout vitamins and supplements with military jargon-inspired names such as Total War and MRE Lite protein powder.
doornbos.caitlin@stripes.com Twitter: @CaitlinDoornbos