Trump ordered Defense Secretary Esper to make sure Navy SEAL Gallagher kept Trident pin
by
Caitlin M. Kenney
November 25, 2019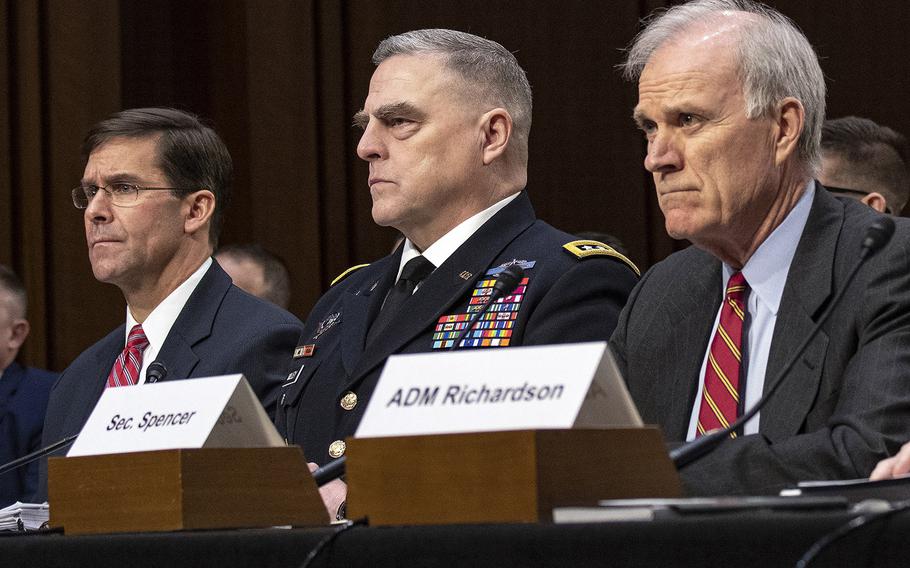 WASHINGTON — President Donald Trump directed Defense Secretary Mark Esper to ensure that Chief Petty Officer Eddie Gallagher would keep his Trident pin and retire as a Navy SEAL, the Pentagon's leader said Monday.
"I spoke to the president on Sunday; he gave me the order that Eddie Gallagher will retain his Trident," Esper said to reporters Monday at the Pentagon.
Gallagher was convicted of posing with the corpse of an Islamic State fighter in Iraq in 2017.
He will retire at the end of this month, according to Esper, and the review board process to determine whether Gallagher should remain a Navy SEAL will no longer continue.
"It is also my view that while I believe strongly in process, the issue should not now be thrown into the laps of a board of senior [noncommissioned officers] to sort out. As professional as they are, no matter what they would decide, it would be criticized from many sides, which would further drag this issue on, dividing the institution," Esper said.
The order from the president about Gallagher came as Esper had sought approval from Trump to ask for Navy Secretary Richard Spencer's resignation Sunday evening. Esper had "lost trust and confidence" in Spencer when he learned of his private proposal with the White House to guarantee that Gallagher would retire as a SEAL, according to a statement Sunday from Jonathan Hoffman, chief Pentagon spokesman.
Esper told reporters that he and Gen. Mark Milley, chairman of the Joint Chiefs of Staff, had found out about the secret offer after a meeting Friday with the president.
"Chairman Milley and I were completely caught off guard by this information and realized that it had undermined everything we've been discussing with the president," he said.
Media on Saturday reported that Spencer was threatening to resign if Gallagher was not put through a review board process. The former Navy secretary shot down those reports on Twitter, saying he never threated to resign.
Esper stated Monday that Spencer did tell him that he likely was going to resign if forced to make Gallagher keep the Trident pin.
"It was conveyed to me —I had every reason to believe that he was going to resign, that it was a threat to resign," he said.
Spencer's contradictory statements in public and in private and in his acknowledgement-of-termination letter also are baffling to Esper.
"This is my issue with trust and confidence. I cannot reconcile the personal statements with the public statements with the written word. And that's why I lost trust and confidence," Esper said.
kenney.caitlin@stripes.com Twitter: @caitlinmkenney