Air Force revises number of Afghans rescued on 'record' flight after earlier omitting 183 children
Stars and Stripes
August 20, 2021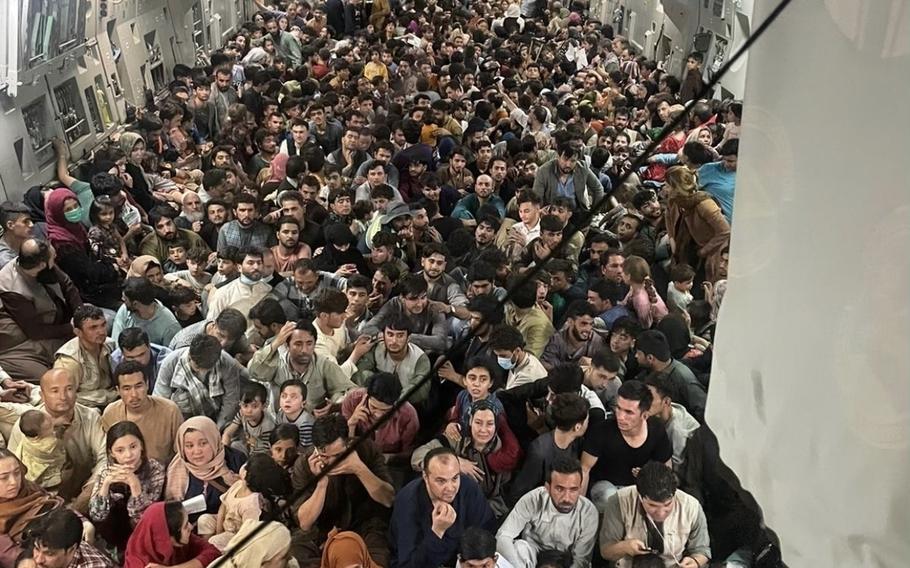 An Air Force cargo jet did indeed rescue more than 800 Afghans from Kabul earlier this week, Air Mobility Command said Friday, after accounting for 183 children omitted from the original count of evacuees flown out aboard the aircraft.
The U.S. began evacuating government personnel, American citizens and vulnerable Afghans last weekend as the Taliban swiftly took over Afghanistan after 20 years of war.
The total number whisked away Sunday aboard the Air Force C-17 Globemaster III was 823 passengers, "a record for this aircraft," AMC said on Twitter. "The initial count of 640 inadvertently included only adults."
The count was based on the number of bus seats filled when the passengers departed the aircraft, the command said, and didn't account for the children sitting on others' laps.
A photo of the crowded cargo bay of the 174-foot-long aircraft and details of the flight were first published Monday by Defense One and confirmed by AMC in a tweet on Tuesday.