US Embassy in Kabul pauses visa services as coronavirus cases surge
by
Phillip Walter Wellman
Stars and Stripes
June 12, 2021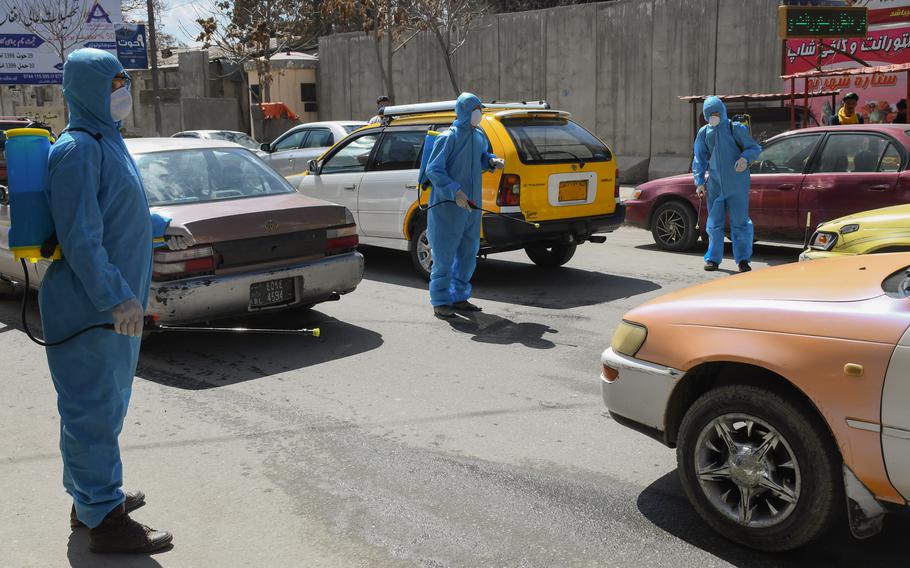 KABUL, Afghanistan — The U.S. Embassy here is halting all visa operations in response to a spike in coronavirus cases, adding to growing concerns among Afghans who worked for the U.S. government that they won't be able to emigrate to the U.S. before foreign forces fully withdraw.
The indefinite suspension will start Sunday, the embassy said in a statement Friday.
The move comes amid a deadly third wave of coronavirus throughout Afghanistan that has claimed the life of one embassy worker. More than 3,400 people have died from the virus in the country since the pandemic began last year.
"We acknowledge and regret the inconvenience to applicants as we seek to protect the health of our staff and applicants to ensure we can fully support visa and other consular services going forward," the statement said.
Those who had appointments scheduled for the coming days will be able to reschedule as soon as visa operations resume, the embassy said. No expected resumption date was given.
The withdrawal of American troops and military equipment from Afghanistan is more than halfway finished, U.S. Central Command said this week. In April, President Joe Biden announced that all foreign forces would be out of the country by Sept. 11, but U.S. and NATO officials have since said the pullout could be completed as early as next month.
As the withdrawal progresses, the State Department has been working to process a backlog of some 18,000 Afghan special immigrant visa applications that were held up last year because of the pandemic. 
The SIV program allows Afghans who worked for the U.S. government, their spouses and their children, to emigrate to the U.S. Many of the applicants, which include military translators, are said to be at great personal risk for supporting the international coalition.
"I don't think it's a good decision by the embassy to suspend the visa process now," an SIV applicant in the eastern city of Jalalabad, who asked to remain anonymous for security reasons, told Stars and Stripes.
The applicant said he lost his finger during a bomb blast while translating for American forces several years ago, and that the Taliban have since issued a statement accusing him of being a spy for Washington and calling for his arrest.
"We're facing huge threats already," the man said in a telephone interview Saturday, referring to SIV applicants. "And we think it will be even worse for us once foreign forces leave. We are calling on the U.S. to speed up the [visa] process."
Similar sentiment has been echoed in Washington.
Following news of the imminent suspension of visa operations, Rep. Michael McCaul, R-Texas, the ranking member of the House Foreign Affairs Committee, called on Biden to consider using humanitarian parole for SIV applicants, who he described as having "a bullseye on their backs."
Humanitarian parole allows temporary entry into the United States in emergency situations to those who would otherwise be not be granted entry.
"The health and safety of our diplomatic personnel is a high priority for me," McCaul said in a statement Friday. "But suspending visa operations at the U.S. Embassy in Kabul at this critical juncture only further exacerbates the situation for those awaiting their Special Immigrant Visas."
Meanwhile, a bipartisan group of senators introduced a bill Friday that would add 20,000 visas to the SIV program — nearly double the number Congress has authorized since 2014 — and make applying for them easier.
"This legislation would make important updates to the Afghan Special Immigrant Visa program to help more vulnerable aides and their families escape before it is too late," Roger Wicker, R-Miss., one of the senators who introduced the bill, said in a statement. "The U.S. owes these courageous men and women a debt of gratitude — we cannot leave them behind." 
Afghanistan's Health Ministry said this week that it expected coronavirus cases to hit their peak in the country within the next four weeks.