CENTCOM head says talks between Afghan government and Taliban are 'critical' as US drawdown reaches halfway mark
by
Caitlin Doornbos
Stars and Stripes
June 7, 2021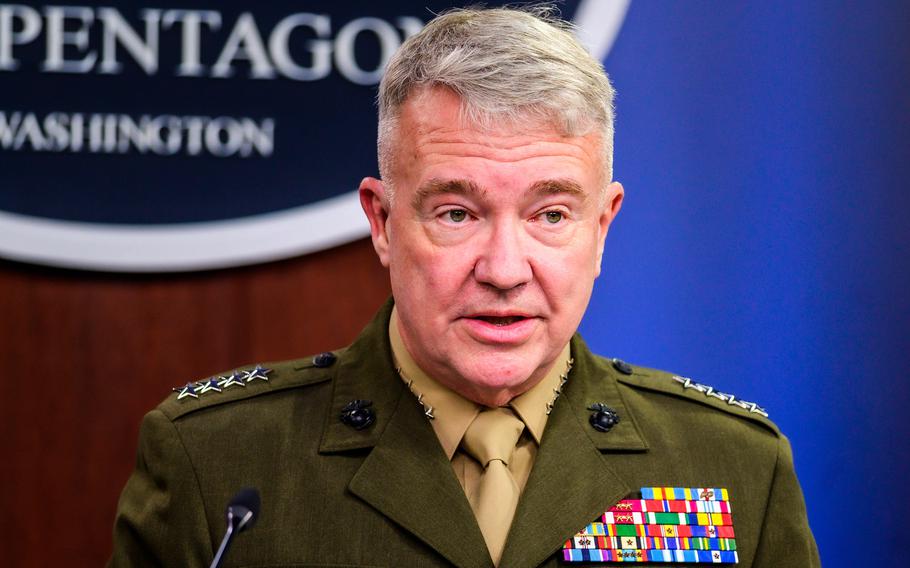 WASHINGTON — U.S. forces are now halfway through their withdrawal from Afghanistan, leaving little time for the country's government and the Taliban to resume peace talks before foreign troops are no longer there, the top U.S. commander in the Middle East said Monday.
About five weeks into U.S. withdrawal efforts, the "time is now becoming very short" for talks between the Taliban and the Afghan government to ensue before American forces leave after nearly two decades in the country, Marine Gen. Ken McKenzie, the commander of U.S. Central Command, told reporters Monday during a teleconference.
"It is critical that the parties come together," McKenzie said. "I believe the government of Afghanistan is ready to talk. I think the Taliban needs to show an equal commitment to talking very honestly in a straightforward way and try to find a political solution as we go forward."
The Taliban met with the Afghan government for peace negotiations in September, but the talks have since stalled, causing some Afghan officials to suspect the group "will capitalize on their advantage on the battlefield to seize control of the country by force" once foreign forces leave, according to a Congressional Research Service report issued March 25.
"As we pull out, there needs to be something political that's left in place," McKenzie said. "I think the government of Afghanistan is willing to do that. I'm not sure the Taliban is willing to do that now."
The U.N. Security Council in a report last week warned Taliban militants were preparing to take over the country after U.S. and NATO forces leave.
"The Taliban's intent appears to be to continue to strengthen its military position as leverage," the Security Council wrote in its June 1 report. "It believes that it can achieve almost all of its objectives by negotiation or, if necessary, by force."
The drawdown, which began on May 1, is expected to end by Sept. 11 – a deadline McKenzie said his forces will meet. While U.S. troops will no longer be in the country, the Pentagon has said it will maintain remote counterinsurgency capabilities.
"We're still going to maintain an embassy [in Afghanistan], and we will be continuing to support the Afghan security forces and we will continue to conduct counterterrorism operations from over the horizon [after the withdrawal]," McKenzie said.
The Defense Department is still working on what those "over the horizon" efforts will be, but chief Pentagon spokesman John Kirby on Wednesday said the majority of U.S. support after the withdrawal will be financial and logistical, such as providing maintenance for Afghan forces' aircraft.
"We already have at our disposal over-the-horizon counterterrorism capabilities to support our desires that no additional threats to our homeland can emanate from Afghanistan," Kirby told reporters at the Pentagon. "That said ... we want to have additional capabilities, and we're working through that."
As of Tuesday, U.S. forces had turned over six facilities to the Afghan Ministry of Defense and about 13,000 pieces of equipment to the Defense Logistics Agency for destruction, according to CENTCOM's most recent update. U.S. forces had also removed the equivalent of about 500 C-17 Globemaster III loads of material from the country.
In CENTCOM's weekly updates released each Tuesday of the drawdown, it has not said how many U.S. troops remain in Afghanistan, citing operational security. Before the drawdown began, there were approximately 2,500 troops in the country.
Doornbos.caitlin@stripes.com
Twitter: @CaitlinDoornbos