Pentagon works to move troops to countries near Afghanistan as military eyes drawdown's end by July
by
Corey Dickstein
Stars and Stripes
June 10, 2021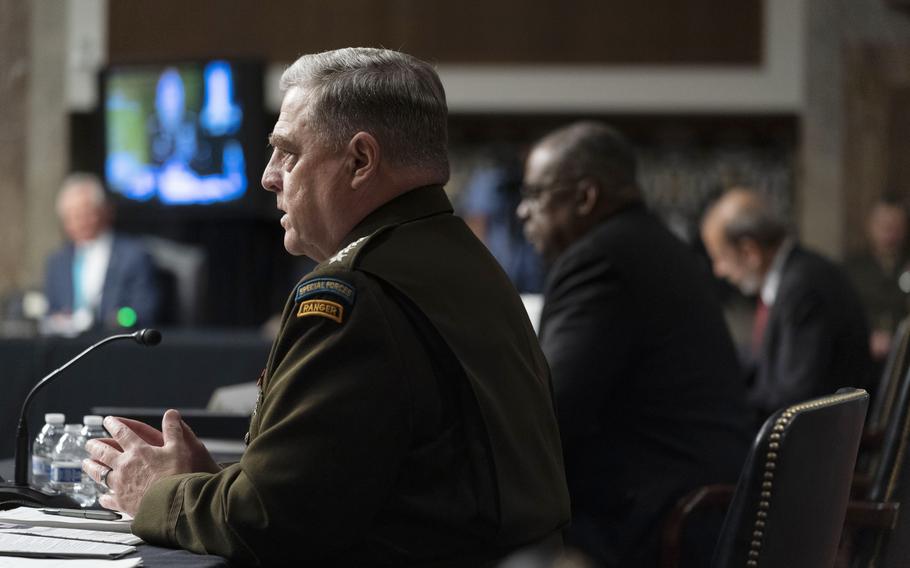 The Pentagon wants to put counterterrorism forces in nations neighboring Afghanistan to monitor terrorist activity in that country after U.S. troops end their two-decade fight there, top U.S. defense officials said Thursday.
Pentagon officials have yet to strike any agreements to place those troops near Afghanistan after the ongoing withdrawal, Defense Secretary Lloyd Austin told the Senate Armed Services Committee. That withdrawal, which the U.S. military said this week was about half completed, could be finished as early as July, Sen. Jack Reed, D-R.I., the committee's chairman, indicated during the hearing focused on the Pentagon's fiscal 2022 budget request.
"Those [counterterrorism] efforts will be focused on those elements that can possibly conduct attacks against our homeland," Austin said, singling out al-Qaida as his top concern. "As we have retrograded … a lot of our combat aircraft or missions are being conducted from platforms in the [Persian] Gulf [region]. And so, we have the capability now to do that. Now, what we are looking for is the ability to shorten the legs going forward by stationing some capability in neighboring countries, [and] that is still a work in progress."
Austin told senators that he and the State Department were working "as quickly as we can" to solidify plans, but he did not yet have a timetable on when an agreement might occur.
Pentagon officials have touted the U.S. military's ability to respond to problems in Afghanistan since President Joe Biden ordered in April the full withdrawal of American troops by Sept. 11, 2021. But Austin and others have not detailed precisely what so-called "over-the-horizon" capabilities they have in place or what forces they might add. They also have not publicly detailed scenarios in which they would send American troops or aircraft back into Afghanistan to respond.
Austin said Thursday that U.S. troops for now continued to support Afghan National Security Forces in their fight against the Taliban but doing so after withdrawing from Afghanistan would be "very difficult to do."
His remarks came just days after a new U.N. report warned the Taliban appeared poised to take back control of Afghanistan for the first time since it was ousted from power by the United States in 2001 in response to the 9/11 terrorist attacks. The U.N. Security Council report stated the Taliban believed its recent battlefield gains strengthened its negotiating position to regain power, and the insurgent group was also preparing to take the country back from the U.S.-supported government by force, if necessary.
Austin did not reveal Thursday whether the Pentagon had plans to intervene if the Taliban appeared positioned to overrun key locations in Afghanistan, including its capital Kabul, where the United States intends to maintain an embassy. A New York Times report Thursday quoted unnamed defense officials who said the Defense Department was considering scenarios in which it might send warplanes or armed drones to respond to Taliban attacks, including on Kabul. That report said no decisions had been made.
Austin did not directly address those alleged negotiations within the Pentagon when asked about the report by Sen. Jeanne Shaheen, D-N.H.
The 2022 Pentagon budget request does seek about $3.3 billion to support Afghan security forces next year. That money traditionally has paid for equipment and training. U.S. and NATO officials said last week that they were looking to continue training for Afghan commandos somewhere in Europe.
During the wide-ranging hearing on the Pentagon's $715 billion budget request for fiscal 2022, Austin and Army Gen. Mark Milley, the chairman of the Joint Chiefs of Staff, repeatedly defended the first funding proposal under Biden's administration as adequate to ensure short-term and long-term national security.
Republicans attacked the submission as too small. While the request seeks a modest $11 billion funding boost over the Pentagon's 2021 budget, it represents an essentially flat spending plan when adjusted for the about 5% inflation rate since last year.
"This is an inadequate defense budget," said Sen. Roger Wicker, R-Miss., who encouraged his Senate colleagues to "reverse this and to get our troops and our nation the national security budget that they need."
Sen. Jim Inhofe of Oklahoma, the committee's top Republican, said the budget failed to keep pace with the Congress-mandated 2018 National Defense Strategy Commission's recommendation of an annual 3-5% of real growth in the defense budgets to ensure the U.S. military remained ahead of China.
"Since then, the threats have gotten worse," Inhofe said. "And this administration gave us a budget that cuts spending when we need real growth. And they want the military to do more on climate change and pandemic response. More missions — but with fewer resources."
Even Reed called Biden's budget submission merely "a starting point for Congress."
Milley strongly defended the proposal. He noted the budget was somewhat biased toward the future combat environment that top Pentagon war-planners predict — a full-scale, highly deadly war across air, land, sea, space and cyberspace domains. The budget request seeks more than $112 billion for research, development, testing and evaluation, an about 5% boost over the Pentagon's 2021 RDT&E budget, which had been its largest ever to focus on future weaponry. That money, Milley said, is meant to ensure the U.S. military maintains its ability to overmatch its top priority, the rapidly improving Chinese military.
Austin listed hypersonic missiles, artificial intelligence, modern nuclear weapons and other next-generation weapons and capabilities as the critical infrastructure that the budget invests in to deter and, if necessary, defeat the Chinese military, which he has labeled the Pentagon's "pacing threat" and top security concern.
"We're going after the capabilities that allow us to be not only competitive [with China], but actually dominant in this competition," Austin said. "Let me be clear. This is the most lethal force that has ever occupied the planet and it will remain so going forward. That's what we remain focused on in the Department of Defense — defending this nation, and we're going to go after the capabilities required to do so."
Twitter: @CDicksteinDC