NATO chief expects speedy approval of Swedish and Finnish membership bids
By
Stars and Stripes
July 5, 2022
---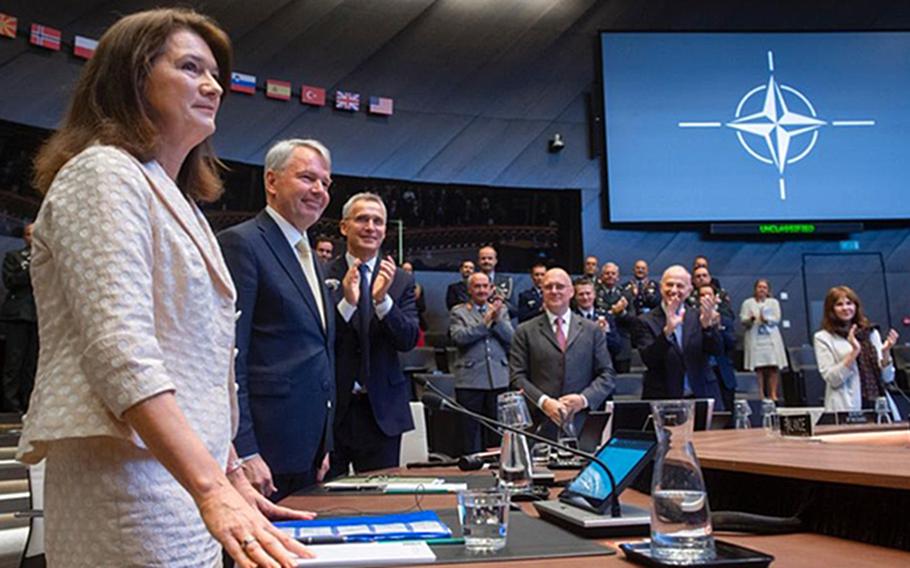 NATO's top official said Tuesday that he wants swift approval of Sweden's and Finland's application for alliance membership, as allies launched a ratification process that demands the backing of all 30 members.
Historically, entry into NATO is a lengthy endeavor, taking years in some cases. But for Finland and Sweden, "we speak about months," Secretary-General Jens Stoltenberg said.
Stoltenberg said he expects a speedy entry for the two Nordic states, even as Turkey says it remains willing to derail alliance plans if its demands aren't met.
"There were security concerns that needed to be addressed," Stoltenberg said Tuesday. "And we did what we always do at NATO; we found common ground."
NATO ambassadors formally signed accession protocols for Sweden and Finland on Tuesday, which means the next step is for the U.S. Congress and allied parliaments to vote on the matter.
Normally, once a prospective ally has been officially invited into NATO, ratification is a formality.
But after last week's NATO summit in Madrid, Turkish President Recep Tayyip Erdogan said Ankara still could refuse Sweden and Finland if they don't follow through on a memorandum that calls for more cooperation on terrorism between the countries.
In particular, Erdogan wants Finland and Sweden to extradite Kurdish suspects and members of other groups that Turkey accuses of involvement in a failed coup in 2016.
Swedish and Finnish officials said Tuesday that they are prepared to meet the terms of a trilateral memorandum that calls for more cooperation on security matters.
But while Erdogan has made specific demands, saying in Madrid that Sweden had vowed to extradite 73 suspects, Swedish Foreign Minister Ann Linde said Tuesday that no such promises were made.
Sweden has a legal process in place via which such requests will be handled, she said, adding that Swedish officials "will honor the memorandum fully."
---
---
---
---