Sweden, Finland set to formally be invited into NATO after Turkey lifts objections
By
Stars and Stripes
June 28, 2022
---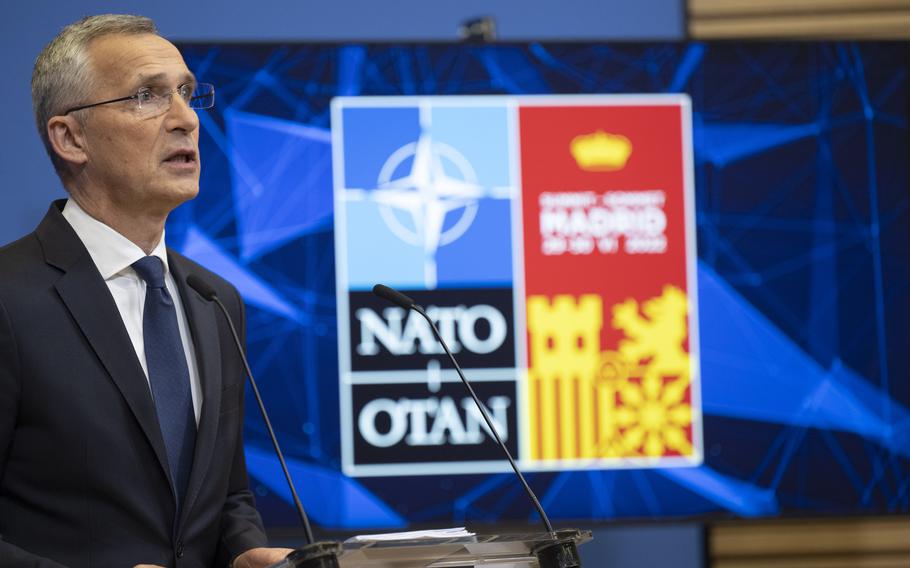 STUTTGART, Germany — Sweden and Finland are poised to formally be invited into NATO after breakthrough negotiations Tuesday with Turkey, paving the way for one of the most significant alliance expansions in years.
Turkish opposition to the two Nordic states' membership bids threatened to derail NATO plans, but hours before an alliance summit in Madrid was set to begin, Ankara got on board.
NATO Secretary-General Jens Stoltenberg, who led negotiations between the three countries, said Turkey, Finland and Sweden signed off on a trilateral memorandum that dealt with Ankara's concerns.
"Finnish and Swedish membership of NATO is good for Finland and Sweden, it is good for NATO, and it is good for European security," Stoltenberg said.
With NATO ready to formally extend an invitation to Finland and Sweden, the next step will be for parliaments of the other NATO states to grant final approval. Typically, once a country has been invited into NATO, membership is a virtual done deal. But the process can be somewhat lengthy, often taking at least a year.
But given current security conditions in Europe, it is possible allies could seek to fast-track Sweden and Finland's entry.
U.S. Sen. Jeanne Shaheen (D-N.H.) and Sen. Thom Tillis (R-N.C.) in a joint statement said allies should "accelerate Finland and Sweden's accession into NATO."
The addition of Finland and Sweden is certain to upset Russia given the historic military neutrality of the Nordic states, which dates all the way back to the early days of the Cold War when tensions between Moscow and the West were at their highest. But Russia's full-fledged war on Ukraine changed the calculus for Finland and Sweden, which over the years has steadily developed closer military ties to NATO.
Ultimately, the war in Ukraine was a turning point in the Nordic states' quest for NATO's Article 5 security guarantee that an attack on one member demands a collective response from the entire miltary alliance.
In Finland and Sweden, NATO also gets two of Europe's most more modern militaries that also are strategically positioned along the alliance's northeastern flank and into the Arctic.
Finnish President Sauli Niinisto said the trilateral agreement reached Tuesday confirms that Turkey will support the invitation of Finland and Sweden into NATO.
"The concrete steps of our accession to NATO will be agreed by the NATO Allies during the next two days," said Niinisto, adding the decision "is now imminent."
Turkish opposition to the addition of Turkey and Sweden stemmed from Ankara's view that the countries have not taken into account its security concerns regarding Kurdish militant groups.
Ankara also has complained about weapons embargoes as part of its objection to Finland and Sweden. The agreement, signed by the foreign ministers of all three countries, states that there are now no national arms embargoes in place between the countries. In addition, Finland and Sweden will address Turkey's "pending deportation or extradition requests of terror suspects," the agreement states.
Niinisto in a statement acknowledged Turkey's concerns.
"Finland has constantly taken these concerns seriously. Finland condemns terrorism in all its forms and manifestations. As a NATO member, Finland will commit fully to the counterterrorism documents and policies of NATO," Niinisto said.
Stoltenberg, during a news conference after Tuesday's deal, said all three countries agreed to enhance their cooperation on counterterrorism.
"As NATO Allies, Finland and Sweden commit to fully support Turkey against threats to its national security," Stoltenberg said. "This includes further amending their domestic legislation. Cracking down on PKK (Kurdish Workers Party) activities. And entering into an agreement with Turkey on extradition."
---
---
---
---