Pentagon: Finland and Sweden would bolster NATO's defense against Russia, strengthen burden sharing
By
Stars and Stripes
June 24, 2022
---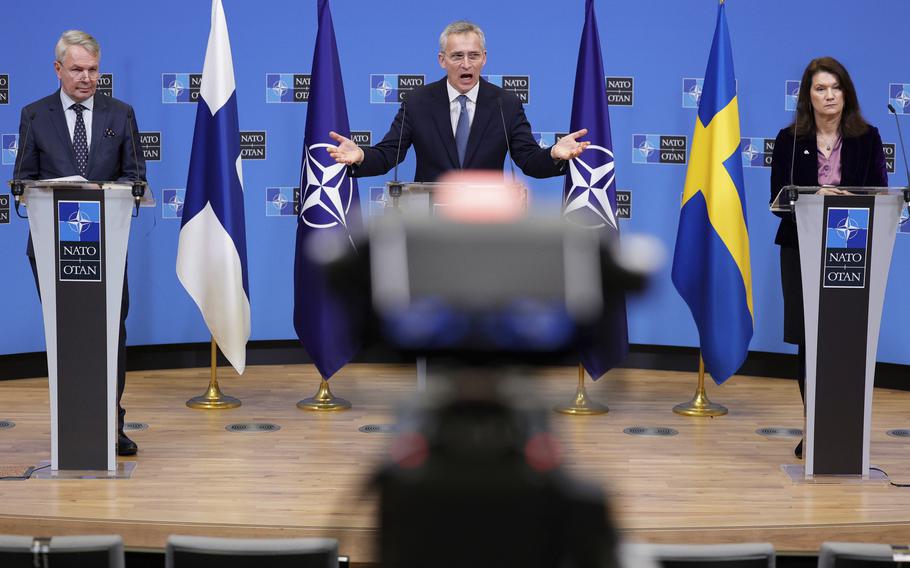 WASHINGTON – The Pentagon recommends Finland and Sweden be permitted to join NATO as alliance leaders ready for a historic summit next week in Spain because the two countries would bolster the military strength of the alliance and help share the cost of defending against an increasingly aggressive Russia, senior U.S. officials said.
The historically neutral countries are close to becoming members of NATO, which includes 30 nations in Europe and North America that pledge to come to one another's defense if a member is attacked, Assistant Secretary of Defense for International Security Affairs Celeste Wallander said Wednesday during a Senate Foreign Relations Committee hearing.
"Both countries maintain a high degree of interoperability and cooperation with NATO and are capable military partners whose values align closely with that of the United States," she said. "[The Defense Department] strongly assesses that the membership of both Sweden and Finland would be an asset to [NATO] as a values-based organization for defensive security."
Interoperability is the Defense Department's term for militaries being able to work together and on each other's defense systems.
Senators on the committee largely offered support for the prospect of Finland and Sweden joining the alliance during the hearing as NATO leaders ready to meet for its 2022 summit in Madrid on June 29. Discussing the membership of the countries will be a key item during the summit, NATO Secretary General Jens Stoltenberg said Wednesday during a livestreamed Politico event.
NATO requires unanimous agreement among its members before allowing new countries to join the alliance, which has not yet been secured for Finland and Sweden. Turkish President Recep Tayyip Erdogan stands in the way, demanding the two northern European countries develop concrete stances against the Kurdistan Workers' Party, which Turkey considers a terrorist group.
"We're now working actively on the next steps in the accession process for both Finland and Sweden, and addressing Turkey's security concerns," Stoltenberg said. "My aim is to find a common way forward so that both countries can join our alliance as soon as possible."
Putin's demands
The possible addition of Finland and Sweden to NATO comes as Russia's war on Ukraine enters its fifth month, Wallander said. In that time, tens of thousands Ukrainian and Russian troops have died, according to both countries' defense ministries, and countless Ukrainian homes, infrastructure and entire villages and cities have been destroyed.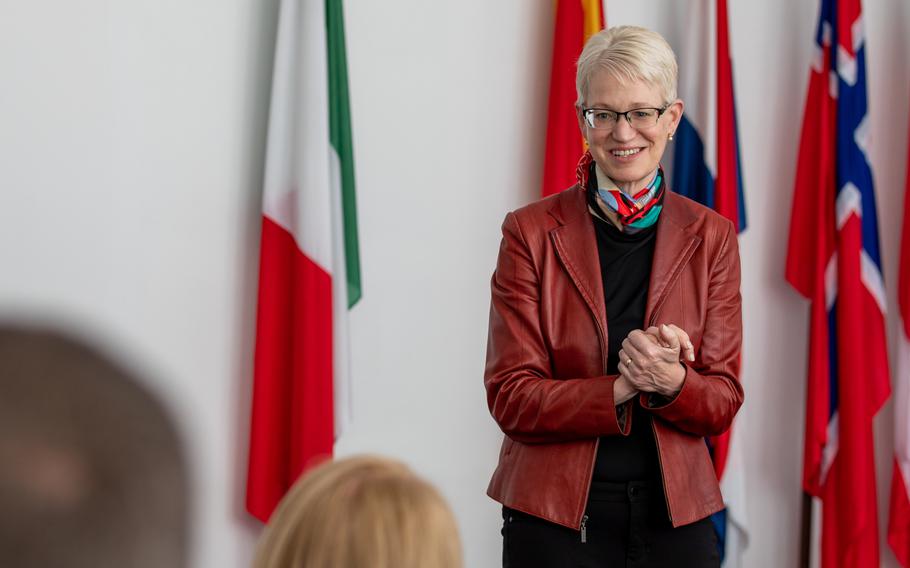 Russian President Vladimir Putin's invasion of Ukraine in late February likely sparked the desire of Finland and Sweden to apply for membership, she said, noting one of her European Union colleagues likened Russia's sweeping assault of Ukraine as "Europe's Sept. 11."
"For many Europeans, it was unthinkable before Feb. 24 that Russia would unleash a full-scale, brutal, unprovoked assault of its neighbor, Ukraine. And that action fundamentally shifted security perspectives," Wallander said.
Ukraine is not a NATO member, though leaders from countries in the alliance held repeated diplomatic talks with Russia prior to its invasion. Russia demanded NATO prohibit Ukraine from ever joining the alliance. It also wanted NATO to return to its 1996 boundaries and remove all foreign troops and military equipment from the 14 countries who joined since that time.
Those countries, which make up nearly half of NATO's membership, include the former Soviet Union states of Estonia, Latvia, Lithuania, as well as the Czech Republic, Hungary, Poland, Bulgaria, Romania, Slovakia, Slovenia, Albania, Croatia, Montenegro and North Macedonia.
The alliance declined, citing its charter's "open door" policy of allowing any country to apply for membership. Putin invaded, in a move described by senior U.S. defense officials as an attempt to overthrow the Ukrainian government and intimidate NATO.
Adding two additional countries to NATO would fly in the face of Putin's pre-war intentions of shrinking the alliance, bringing NATO's borders even closer to Russian territory, Wallander said.
"The accession of Sweden and Finland to NATO would significantly complicate Russian military planning … by doubling the length on the Russia's front border with NATO allies, and by strengthening NATO allied capabilities in the Baltic region, in the Arctic and the north," she said. "There's no question this accession of Finland and Sweden is something that is not welcomed in Moscow, as it plans for a hostile relationship with NATO."
Sen. Chris Van Hollen, D-Md., urged the alliance to remedy Turkey's hesitance because adding Finland and Sweden after Putin's invasion would "send a strong signal that what he's doing is an attack on democracy and rule of law."
"This moment … would underscore the fact that Putin's invasion of Ukraine was a strategic failure because it actually encouraged Sweden and [Finland] in the sense of alliances," he said Wednesday during the hearing. "I would hate to see that moment squandered because of an inability to address the issues that we're talking about."
The U.S. is "confident" Turkey's issues will be "resolved in a positive way" during the upcoming meeting in Madrid, Assistant Secretary of State for European and Eurasian Affairs Karen Donfried told the senators.
"On Monday, there were meetings with the parties, which we heard were quite constructive," she said.
If the Turkish issue is settled next week, Donfried said the Senate could move forward "immediately" with a vote to sign off on the countries' acceptance to NATO.
Because the Senate is the final authority for all U.S. treaties, the upper chamber must approve the membership of Sweden and Finland in NATO.
Membership requirements
To become a member, nations must "uphold democracy" and maintain a market economy, have a civilian-controlled military, "respect sovereignty outside their borders" and keep its military equipment and training compatible with other those of other NATO forces, according to the alliance.
Additionally, countries must work toward contributing a minimum of 2% of its gross domestic product to defense spending, which Stoltenberg said, "more and more allies see as a floor, not a ceiling."
"More allies now reach or exceed this target, and the majority have clear plans to reach it," he said.
Finland already plans to spend about 2.16% of its GDP on defense this year, while Sweden has committed to meeting the 2% minimum "as soon as possible and no later than 2028," Wallander said.
That financial commitment helps ease the cost burden of supporting NATO's defense for other member countries including the U.S., which spends roughly 3% of its GDP on defense spending, according to the Pentagon.
Finland and Sweden also meet NATO's standard of spending at least 20% of their defense budget on purchasing modern military capabilities, which is already helping align their militaries with NATO forces.
For example, Finland in February inked a $12 billion deal to purchase 65 F-35A Lightning II fighter jets – the largest national defense procurement in its history, Wallander said. The first jets will be delivered in 2026.
"That will give Finland a significant military capability, increase interoperability with the United States and other NATO allies, have a positive economic impact on U.S. and Finnish economies [and] enhance NATO's situational awareness and capabilities in the high north," she said.
Such capabilities, combined with Finland and Sweden's geography, would further the alliance's ability to defend itself against Russian aggression should the invasion of Ukraine boil over into NATO territory, Donfried said.
"If Finland and Sweden join NATO, the Baltic littoral, with the exception of the Russian coast, ... would be allied territory [and allow] NATO to better monitor activity and put in the defense for the entire vital region."
doornbos.caitlin@stripes.com
Twitter: @CaitlinDoornbos
---
---
---
---