Russian forces strike two airfields in western Ukraine as invasion expands
By
Stars and Stripes
March 11, 2022
---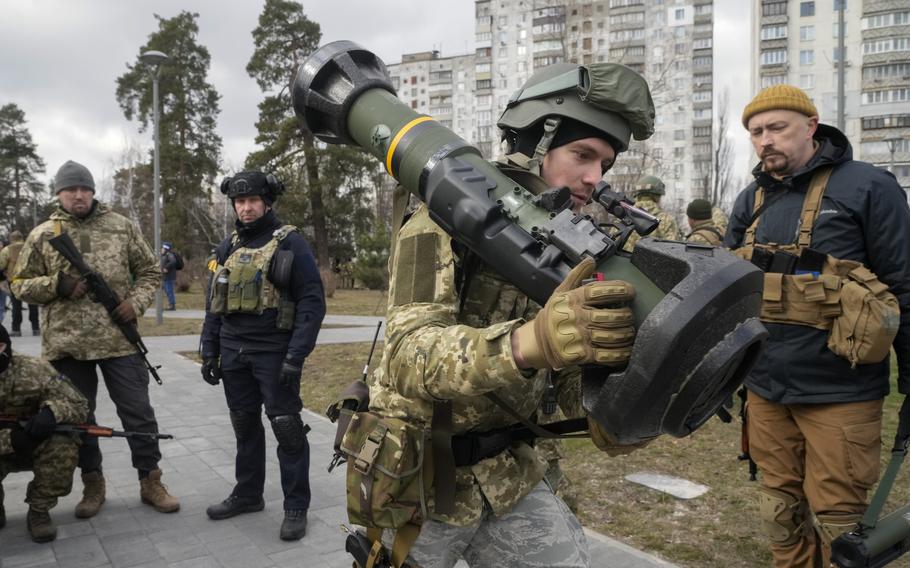 WASHINGTON — Russian troops launched long-range ballistic missiles Friday at two airfields in western Ukraine, which could indicate invasion forces are preparing to push deeper into that region of the country, chief Pentagon spokesman John Kirby said.
The Russian Defense Ministry on Friday said it launched missile attacks on military airfields in Luska and Ivano-Frankivsk, which are about 70 and 130 miles from the Polish border, respectively.
While it wasn't the first time Russia has targeted areas in western Ukraine, its forces have largely stayed away from the part of the country that borders NATO nations such as Poland and Slovakia, and their ground forces remain in the east.
"It's not like there hasn't been any airstrikes in western Ukraine since the beginning of this operation 16 days ago, it's just that we haven't seen that as a routine," Kirby said. "Now you've got two in one day. That's notable."
The Pentagon spokesman said it's unclear whether the Russians struck the two western Ukraine airfields in response to international attention placed on Poland's offer of MiG-29 fighter jets to the U.S. with the expectation American forces would deliver them to Ukraine. U.S. officials rejected the plan, but they said they cannot stop Poland from providing the aircraft to Ukraine on its own.
More so, a senior U.S. defense official said Friday that Pentagon officials do not believe the jets would make much difference in the war, as the Ukrainians still have about 80% of their fixed-wing fighter aircraft available — only a fraction of which are flying daily.
"It's not clear to us that additional fixed-wing aircraft are actually going to be a contributing factor in helping Ukraine mount the defense that they've been mounting so effectively," said the official who spoke on condition of anonymity. "They have 56 available to them now fully operational, and then only flying five to 10 a day."
The official said other weapons such as surface-to-air missiles, man-portable air-defense systems, anti-armor weapons and drones are being used against the Russian forces with "great effect."
"I think we all understand that [Ukraine is] being careful in marshaling their fixed-wing inventory," the official said. "But it's [unclear] to us how additional fixed-wing aircraft is going to have somehow solve all this problem."
The U.S. continues to send security-assistance packages to Ukraine, including during the past 24 hours, Kirby said.
Russia has launched nearly 810 missiles since the start of the war — almost half have been fired from inside Ukraine and the other half from Russia and Belarus, the official said. Six were shot from Russian vessels in the Black Sea.
To this point in the war, the Belarus military has not invaded Ukraine, though that country has allowed Russia to launch missiles from its territory and move troops into Ukraine.
On Thursday, Belarusian President Alexander Lukashenko told his defense ministry in a note that the army must prevent rear attacks on Russian forces advancing south from Belarus into Ukraine.
"That's the first time that he's ever said anything about Belarus getting involved, but [there are] no indications at this time that they have," Kirby said. "We haven't seen any indications that Belarusian troops or forces have moved inside Ukraine."
Russia's challenges
Lukashenko was referring to the Russian troops who have been stuck for nearly two weeks in a 40-mile convoy outside the Ukraine capital of Kyiv, Kirby said. On Friday, some forces started to slowly disperse off the road.
However, the movement doesn't mean the convoy is making progress toward Kyiv or regrouping for a renewed mission, Kirby said. It might be they are simply taking cover from Ukrainian attacks.
"I don't want to make too much of the fact that there's satellite imageries … [of] the convoy moving off into tree lines or dispersing," he said. "That could just be force protection because Ukrainians have continued to threaten that convoy and its progress."
U.S. officials have said they believe food and fuel shortages, as well as Ukrainian resistance, have stalled the convoy. A defense official on Friday criticized Russia's poor planning and execution of its invasion, especially with logistics and sustainment of its forces during the invasion.
"I think what you're seeing is poor planning running up against actual execution ... this is not a military that has great expeditionary experience or capability," the official said. "This is an operation that they've never [done] before — not since World War II."
That inexperience also led to challenges for Russian forces with integrating its ground and air forces. For a military operation of the size and scope that Russia has launched in Ukraine, the official said ground operations must be supported by air forces.
"For all [Russia's] advanced capabilities — and they have resourced their military fairly well, they have bought sophisticated systems — it doesn't appear ... they have developed the proper operational concepts to use these modern capabilities," the official said.
Russian advance
Kyiv was under heavy fire Friday from several Russian lines of attack, but there are still no indications that Russian forces have further progressed toward Ukraine's capital city, the official said.
The closest line of advance remains about 9 miles from the Kyiv's center, but Russia has "moved rear elements up closer to the advanced elements [headed for Kyiv,] so they're still trying to make some progress there."
In northeastern Ukraine, Russia continues "closing in on" Kharkiv, the official said. Invading forces are "on the outskirts" of Ukraine's second-largest city, but Ukrainian troops continue fighting them to prevent Russia from taking control of Kharkiv.
"We are seeing more reports of internet outage there," the official said. "It seems to be part of the [Russian] playbook, right? When you encircle a town … you start shutting off the communication so that people can't communicate outside of it."
In southern Ukraine, where Russian forces have had more success, Russian troops have isolated Mariupol and they are trying to "increase their pressure" with heavy bombardment as the Ukrainians fight back to defend the city of about 450,000 people.
Russia is also increasing pressure on Mykolaiv in southern Ukraine, though it has not taken control of the city, the official said.
"The Ukrainians are continuing to defend the city, and the Russians are just outside the city, mostly to the northeast," the official said. "But it continues to be heavily fought over."
Kirby said Ukrainians are "fighting skillfully, bravely, quite creatively" throughout the country as the war drags into its third week.
"The fighting isn't just by their armed forces — average citizens ... [are] getting arms [from] the government and learning how to use them and using them," he said. "Some of the resistance has been nonviolent ... with crowds of Ukrainians blocking city streets and actually stopping in their tracks some Russian units."
---
---
---
---