Pentagon warns Russian claims of US bioweapons in Ukraine could signal Putin plans to use biowarfare
By
Stars and Stripes
March 10, 2022
---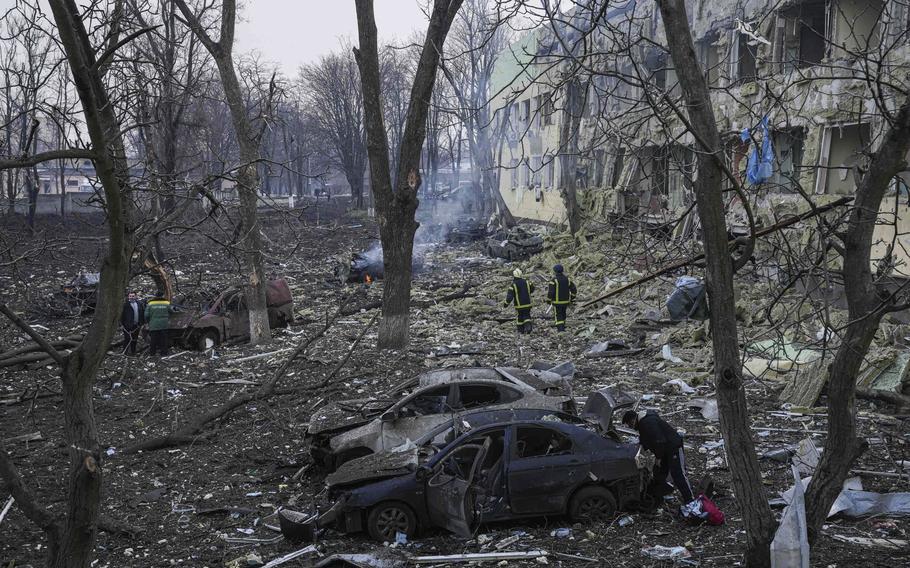 WASHINGTON — U.S. officials on Thursday warned Russia could be airing false claims of having discovered a U.S.-supported biological weapons program in Ukraine as cover to launch a bioweapons assault of its own.
Russian Foreign Ministry spokeswoman Maria Zakharova on Thursday announced Russia had discovered "components of biological weapons were being developed in Ukrainian laboratories in direct proximity to Russian territory."
"During the special military operation in Ukraine, the Kyiv regime was found to have been concealing traces of a military biological program implemented with funding from the United States Department of Defense," she said.
Russia found messages directing Ukrainian biolaboratory staff to eradicate "hazardous pathogens of plague, anthrax, rabbit-fever, cholera and other lethal diseases" from "stored reserves of highly hazardous pathogens" from Feb. 24 — the day Russia invaded Ukraine, Zakharova said.
She claimed the messages proved the U.S. was supporting biological weapons development in Ukraine.
The Pentagon and White House have each denied the claims repeatedly.
"We have picked up indications that the Russians could be making these false claims about U.S. and Ukrainian work in biodefense as a way of creating a pretext of their own to perhaps use these kinds of agents in an attack," a senior U.S. defense official said Thursday, declining to provide evidence of such indications.
The U.S. is one of 183 states — including Russia and Ukraine — that signed on to the Biological Weapons Convention that "effectively prohibits the development, production, acquisition, transfer, stockpiling and use of biological and toxin weapons," a senior U.S. intelligence official said Thursday.
Both officials spoke on condition of anonymity.
Biological research
While Russia asserts the documentation proves the existence of a biological weapons program, the claim might stem from Ukraine's five biological research laboratories in Kyiv that focus on "diagnostics, therapeutics, treatment prevention and vaccines," the intelligence official said.
"They're looking at pathogens that infect humans and animals with an emphasis on those that are endemic to Ukraine: anthrax, tularemia, tuberculosis, botulism, classic swine fever, Crimean hemorrhagic fever, avian flu, those types of things," the official said.
The U.S. has contributed about $200 million to support Ukrainian labs, health facilities and diagnostics sites since 2005 as part of the Pentagon's Cooperative Threat Reduction Program activities in Ukraine, the intelligence official said. However, no U.S. personnel work in the Ukraine labs.
"[The Defense Department's] CTR program began its biological work with Ukraine to eliminate the remnants of the Soviet Union's illegal biological weapons program," the intelligence official said. "There are no DOD bioweapon labs in Ukraine or anywhere else in the world."
On Wednesday, the White House and Pentagon issued similar statements accusing Russia of using the propaganda to justify its future use of biological weapons.
"We have seen one of [Russia's] playbooks is to accuse the other [of] what you are doing or what you plan to do and to create a narrative that of victimhood and blaming somebody else for something that you're in fact going to do," chief Pentagon spokesman John Kirby said.
Hours later, White House Press Secretary Jen Psaki on Twitter said Russia could be using the false narrative as cover to launch a similar initiative, noting she'd "also seen Chinese officials echo these conspiracy theories."
"Now that Russia has made these false claims, and China has seemingly endorsed this propaganda, we should all be on the lookout for Russia to possibly use chemical or biological weapons in Ukraine, or to create a false flag operation using them," she said. "Russia has a track record of accusing the West of the very violations that Russia itself is perpetrating."
Psaki also said Russia accused the U.S. in December of "deploying contractors with chemical weapons in Ukraine."
President Joe Biden's administration for weeks has been warning the world of possible Russian plots to launch a "false flag" operation in Ukraine, first to justify an invasion and more recently to create reason to overthrow the government.
Psaki said the biological weapon accusation is the latest attempt of such an operation, and the U.S. "does not develop or possess such weapons anywhere."
Russia advances
The claims of bioweapons come as Russia's war on Ukraine enters its third week.
Nearly all 170,000 troops and combat equipment that Russian President Vladimir Putin had spent months stacking along Ukraine's borders with Russia and Belarus before Feb. 24 have been in Ukraine since Monday.
Russia is making multiple lines of advance toward Kyiv, the defense official said Thursday. After some stagnation, Russian forces approaching from the northwest moved about 3 miles closer to Kyiv since Wednesday.
However, the closest line of advance remains about 25 miles from the city's center, where it has been for days, according to the official.
"We don't assess that major [Russian troop] elements are in Kyiv, and it'd be very difficult to predict with any certainty how long it's going to take the Russians to move closer to the city and eventually to get in there," the defense official said. "The Ukrainians are putting up a very stiff resistance."
About 90% of Russia's inventory of surface-to-air missiles remain available to them inside and outside Ukraine as of Thursday, the defense official said.
"There's very little territory of Ukraine that is not covered in some way or in some fashion [umbrellaed] by Russian surface-to-air missile systems," the official said.
As Russians advance toward cities such as Chernihiv, Russia has increased their long-range missile fires "from aircraft as well as from mobile launchers on the ground … [that are] hitting populated areas and [causing] a lot of damage," the official said.
The increase in long-range fires come as Russia has "struggled to overcome the challenges in momentum that they suffered in the first couple of weeks" when logistics and sustainment problems, as well as the Ukrainian resistance, slowed its advance, the official said.
"As we said back then, we expected them to adapt and to try to overcome these challenges," the official said. ""You're starting to see a little bit of that happening in just the last 24 hours as they begin to creep a little closer toward Kyiv ... and certainly even around Mariupol."
Still, the official said Russia has not taken Mariupol, but its forces have encircled the southern Ukrainian city where Russian troops on Wednesday killed and injured children and pregnant women when they launched a missile strike at a maternity hospital.
"It remains to be seen whether and to what degree these long-range fires have contributed to this ability for [Russia] to achieve a sense of momentum in certain places," the defense official said.
---
---
---
---