German army chief says service 'stands bare' from neglect as its forces are placed on deployment alert
By
Stars and Stripes
February 24, 2022
---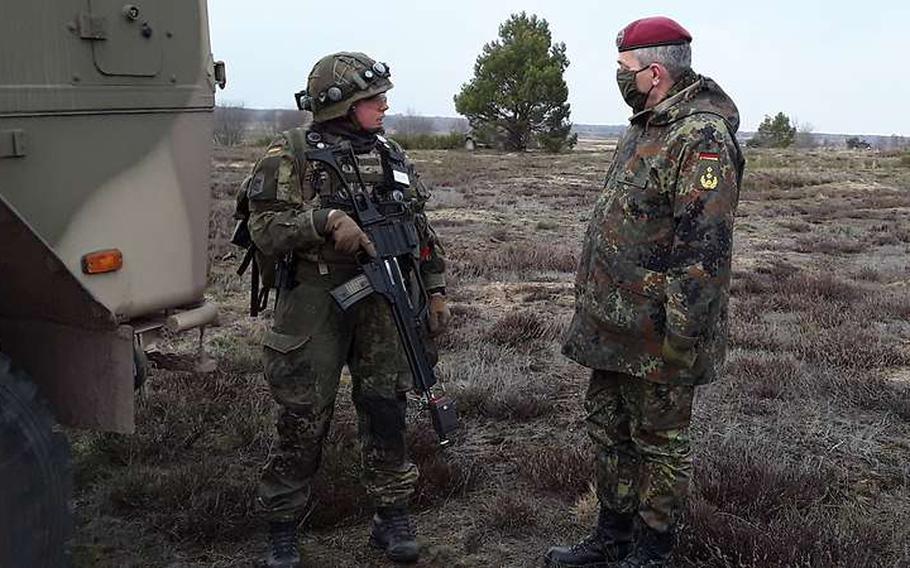 KAISERSLAUTERN, Germany — The highest ranking officer in the German army on Thursday publicly lamented years of fiscal neglect and the army's deteriorating readiness, as the U.S. and NATO allies mobilize in response to Russian aggression in Ukraine.
"In my 41st year of service in peace, I would not have thought I would have had to experience another war," Inspector of the Army Lt. Gen. Alfons Mais posted on his personal LinkedIn account.
"And the army that I am allowed to lead, is more or less standing bare," Mais wrote.
Mais' comments Thursday morning came ahead of Defense Minister Christine Lambrecht's announcement that Germany's defense forces were being placed on national alert in preparation for a possible NATO deployment.
But Mais cast doubt on Germany's capabilities.
"The options we can offer policymakers to support the Alliance are extremely limited," Mais wrote.
As chief of German land forces, Mais is responsible for 60,000 soldiers and supporting materiel in his service.
It wasn't a lack of foresight that caught the army off guard, according to the general. Mais, who condemned Russia's attack on Ukraine, effectively criticized the decisions made by his country's leadership in recent years.
"We all saw it coming and were unable to penetrate with our arguments to draw and implement the conclusions of the annexation of Crimea," he wrote.
While no NATO member nation has been attacked as part of Russia's invasion of Ukraine, allies who fell under Soviet domination during the Cold War "feel the constantly growing pressure," Mais wrote.
"When, if not now, is the time to leave the Afghanistan mission behind us structurally and materially and to reposition ourselves?" he wrote. "Otherwise, we will not be able to implement our constitutional mandate and our alliance obligations with any prospect of success."
Annegret Kramp-Karrenbauer, who served as former Chancellor Angela Merkel's defense minister until last year, also expressed regret Thursday over the German military's lack of preparedness to counter Russia.
"I'm so angry at ourselves for our historical failure. After Georgia, Crimea, and Donbas, we have not prepared anything that would have really deterred (Vladimir) Putin," Kramp-Karrenbauer wrote in a Twitter post, referring to earlier Russian conquests.
German law under the Soldier's Act of 2005 places limits on free speech by service members. It was not immediately clear whether Mais will face consequences for his remarks.
"There is nothing to add to the statements made by the Inspector of the Army on LinkedIn," a German army spokeswoman told Stars and Stripes by email on Thursday.
It was not the first time the German army's most senior uniformed leader has spoken out.
In 2020, Mais said in an interview that not a single brigade-sized unit in the German army was ready for deployment.
In a December 2021 year-end letter to the force, Mais wrote the service would again encounter challenges in its core tasks of providing homeland defense and support to alliance partners in the year ahead.
Mais posted his LinkedIn comment before visiting the U.S. Army's 56th Artillery Command in Mainz for discussions. The unit was reconstituted in November to help the Army counter potential Russian aggression.
"Especially in these times, the exchange with our closest allies is all the more important," Mais wrote on Twitter on Thursday, accompanied by the hashtag #StrongEurope.
Mais' frank comments also come a day after he joined units throughout Germany during the army's first "Day of Values," held on Wednesday.
Service members conducted group discussions about the services' core values, social media use, ethics and other issues. The effort was launched to improve personnel development by refocusing soldiers on the German constitution, a military statement said.
"At (the day's) core was the question 'What do we serve for?'" he wrote on LinkedIn. "It has never been easier to make this clear to the generation that did not live through the Cold War."
---
---
---
---