North Korea's proclamation on preemptive nuclear strikes was no surprise, South says
By
Stars and Stripes
September 13, 2022
---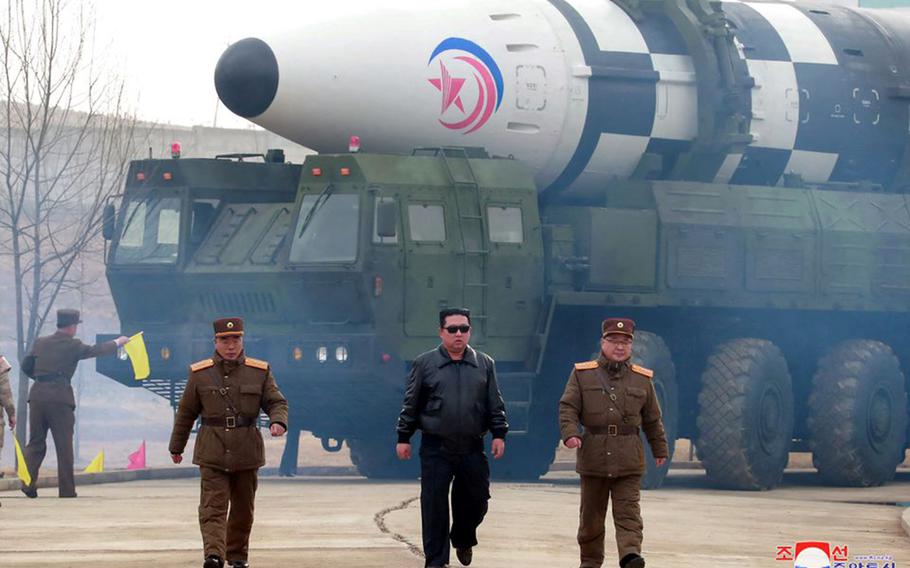 South Korea's military was not surprised by the North's latest threats and will take appropriate countermeasures if the communist regime conducts its first nuclear test since 2017, a Ministry of National Defense spokesman said Tuesday.
The ministry expected Pyongyang to announce new legislation that codified the development and use of nuclear weapons, acting spokesman Moon Hong Sik said during a press briefing in Seoul.
"[North Korea's] announcement … shows off that [it] is a nuclear power at home and abroad, expressed it will not give up nuclear weapons and shifts the responsibility on the situation in the Korean Peninsula to South Korea and the [United States]," he said.
But the U.S. and South Korea, which remain "firm" on their goal of denuclearizing the North, had "already anticipated" Pyongyang's desire to pursue its nuclear program, Moon added.
Pyongyang will not negotiate or discontinue its nuclear weapons program, state-run media announced Friday.
The regime will "automatically" attack hostile forces using nuclear weapons if its leaders are also attacked, according to the Korean Central News Agency.
The updated nuclear plans were codified into law Thursday during a Supreme People's Assembly session presided over by North Korean leader Kim Jong Un, according to KCNA.
The North has conducted six nuclear tests and is preparing for its seventh, according to U.S. and South Korean officials.
Commercial satellite images have picked up activity around the sites where North Korea previously carried out its tests, according to recent reports by 38 North, a website devoted to analysis about North Korea, and the Center for Strategic and International Studies, a Washington, D.C.-based think tank.
The growing evidence has prompted the International Atomic Energy Agency and other nuclear watchdog groups to warn against the threat throughout the year, including in June, when Director General Rafael Grossi said the "conduct of a nuclear test would contravene U.N. Security Council resolutions and would be a cause for serious concern."
The regime has conducted 18 rounds of weapons tests – more than 30 missiles launched – so far this year, a record.
North Korea's stance will only "further strengthen deterrence and reaction capabilities" from the U.S. and South Korea, and cause more suffering for the regime's people, Moon said.
"If North Korea tries to use nuclear weapons, the North will face overwhelming responses of the [South Korea]-U.S. alliance, and we warn that the North Korean regime would walk into a path to self-destruction," he said.
Moon did not elaborate on what South Korea would do in response to a North Korean nuclear attack but said Seoul will work closely with Washington.
Minister of Defense Lee Jong-sup on Aug. 11 said a new North Korean nuclear test would evoke an "entirely different" response from South Korea.
The results of North Korea's parliamentary meeting basically rejects South Korean President Yoon Suk Yeol's self-proclaimed "audacious" offer last month. He offered North Korea significant economic assistance in exchange for denuclearization.
Kim Yo Jong, the North Korean leader's sister and a senior party official, described Yoon's offer as the "height of absurdity" and accused the leader of the democratic state of trying to score political points to boost his record-low approval ratings.
---
---
---
---