North Korea will reap 'infinite' benefits by abandoning nukes, South defense chief promises
By
Stars and Stripes
September 8, 2022
---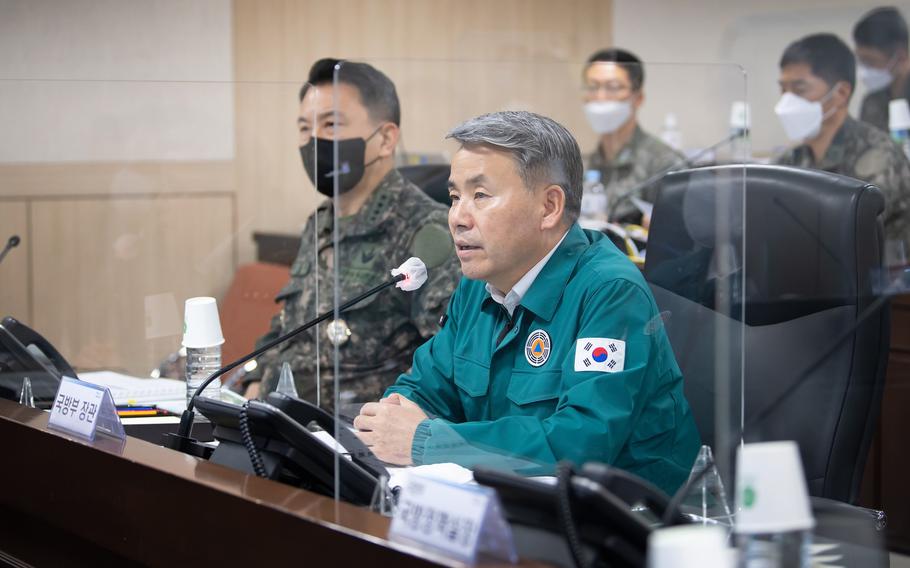 SEOUL, South Korea — South Korea's defense minister on Wednesday promised "infinite" benefits for North Korea if it sheds its nuclear weapons, but "overwhelming costs" if it continues to develop them.
Defense Minister Lee Jong-sup, speaking at the Seoul Defense Dialogue 2022, said international efforts to persuade North Korea to ditch its nuclear arms have failed.
"North Korea continues to advance its nuclear and missile capabilities, now directly threatening the security of not only the Korean Peninsula but also the entire world," Lee said to an audience of military officials and diplomats from over 50 countries. The annual defense expo is sponsored by the ministry.
North Korea has conducted an unprecedented 18 rounds of missile tests so far this year and has prepared to hold its seventh nuclear test, its first since 2017, according to U.S. and South Korean officials.
Lee in August said South Korea's response to another test by the North would be "entirely different" compared to previous episodes.
In Tokyo on Wednesday, diplomats from the United States, South Korean and Japan met to discuss the anticipated nuclear test. The three countries will discuss ways to cooperate in the event of a test and the communist regime is still invited to negotiations without preconditions, State Department spokesman Vedant Patel said at a press briefing in Washington the same day.
In his speech at the defense dialogue, Lee said South Korea's military is preparing to respond to nuclear and missile threats from the North by improving its missile defense system and staying in close communication with allies like the U.S.
Despite taking further defensive measures, the government remains committed "to provide profound economic and civilian support" to North Korea if it "chooses practical denuclearization," Lee said.
"I ask for your continued cooperation with the international community so that North Korea can realize that the new route of denuclearization will present infinite benefits, whereas the conventional route of nuclear and missile development will only present overwhelming costs," Lee told the audience.
South Korean President Yoon Suk Yeol last month unveiled a self-described "audacious initiative" for North Korea. Yoon offered help in modernizing North Korea's agricultural and medical sectors, as well as providing "international investment and financial support initiatives" in exchange for halting its nuclear program and taking earnest steps towards denuclearizing.
North Korea has so far rejected the South's offer. Kim Yo Jong, a senior party official and North Korean leader Kim Jong Un's sister, described Yoon's proposal as "ridiculous" and criticized him for suggesting the communist regime needed help with its infrastructure problems, according to the state-run Korean Central News Agency.
---
---
---
---