North Korea dismisses aid offer as 'absurd dream'; South finds rejection 'very regretful'
By
Stars and Stripes
August 19, 2022
---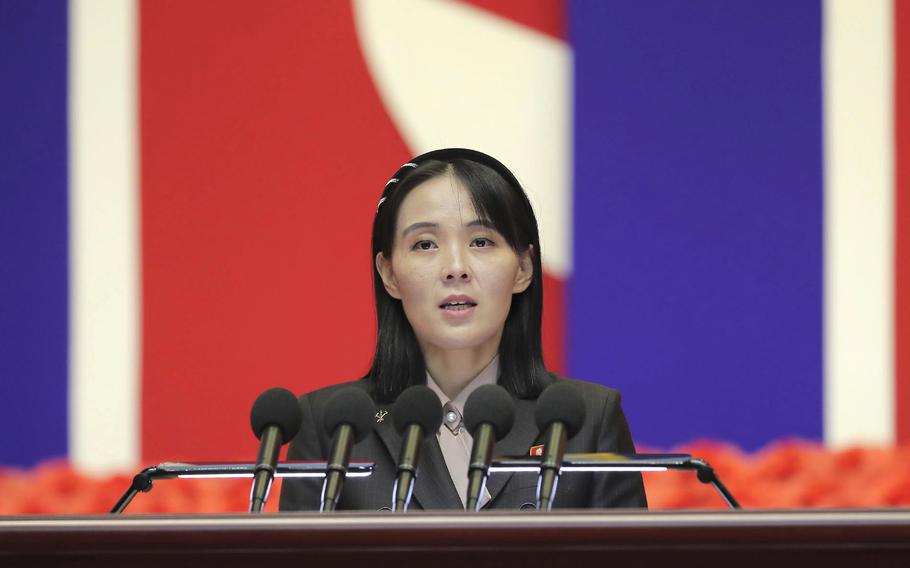 CAMP HUMPHREYS, South Korea — The sister of North Korea's authoritarian leader on Friday dismissed as "ridiculous" and the "height of absurdity" an offer of economic assistance from South Korea in exchange for the North abandoning its nuclear weapons.
South Korean President Yoon Suk Yeol during a Liberation Day speech on Monday offered to help lift North Korea's standard of living and improve its infrastructure if its leaders laid aside their nuclear ambitions. Yoon called the offer an "audacious initiative."
But Kim Yo Jong, the sister of North Korean leader Kim Jong Un and a high-ranking government official herself, rejected Yoon's proposal as an "absurd dream" and said he should "shut his mouth, rather than talking nonsense."
Kim Yo Jong, in remarks published in the state-run Korean Central News Agency, said: "The most repulsive point was when he recited absurd words impertinently, proposing us a 'bold and broad-based plan' to radically improve the economy and public welfare if we would stop nuclear development and turn towards substantial denuclearization."
She described Yoon's plan as "the height of absurdity as it is an impracticable one" and accused him of belittling Pyongyang by bartering with food and other aid.
Yoon's office responded Friday that it found "very regretful" the "rude remarks" by Kim about the president.
"North Korea's attitude, like this, is never helpful to its future and peace and prosperity on the Korean Peninsula and it only hastens North Korea's international isolation," according to a statement from the presidential office. 
It said Yoon is still pursuing ways to denuclearize North Korea and develop positive relations with the regime.
The U.S. supports the Yoon administration's goal of "serious and sustained diplomacy" with North Korea, State Department spokesman Ned Price said during a news briefing in Washington, D.C., on Tuesday. 
Kim's remarks come after North Korea on Wednesday fired two cruise missiles toward the Yellow Sea on Yoon's 100th day in office. While North Korea is banned from developing ballistic missiles and nuclear weapons by the U.N. Security Council, the organization's resolutions do not explicitly prohibit cruise missile tests.
South Korea's Ministry of Defense determined that the missile was launched from the city of Onchon in the South Pyongan province but the ministry provided no further details as of Friday. 
Kim claimed the South's analysis was erroneous and the missiles launched from Anju, a city north of Onchon. If South Korea truly knows the cruise missiles' flight trajectory and data, it "will be so bewildered and afraid," according to Kim's statement. 
"I am curious to know why those always talking about … preparedness under the close cooperation between South Korea and the U.S. could not indicate the launching time and place properly," she added. 
Stars and Stripes reporter Yoo Kyong Chang contributed to this report.
---
---
---
---