Okinawa prefecture sues Tokyo in latest bid to halt construction on Marine Corps runway
By
Matthew M. Burke and Hana Kusumoto
Stars and Stripes
August 15, 2022
---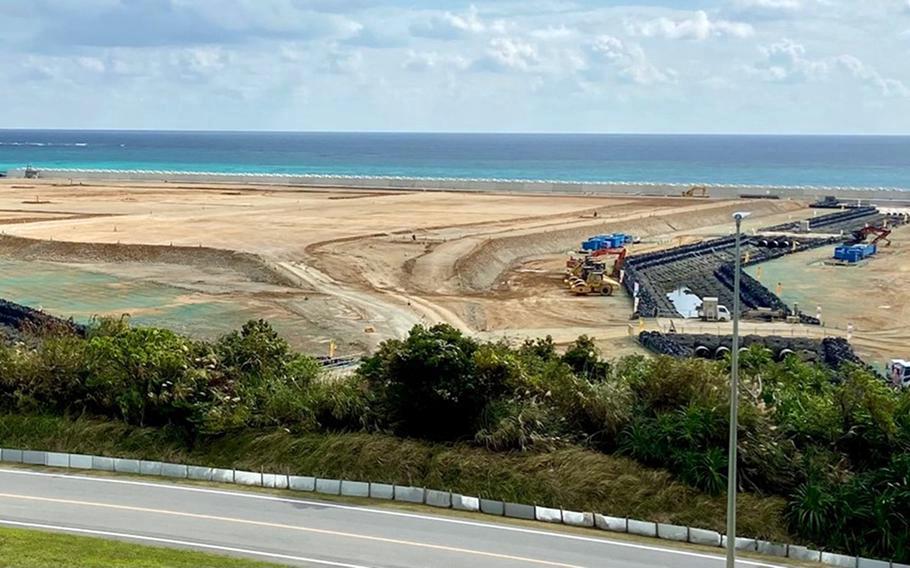 CAMP FOSTER, Okinawa — Okinawa prefecture on Friday sued the Japanese government to again try to block further construction of a Marine Corps runway into Oura Bay at Henoko.
The prefecture's suit, filed in Fukuoka High Court in Naha, seeks to reinstate Okinawa's decision to reject a construction change application by the runway builders, a spokesman for the prefecture's Henoko Base Construction Countermeasures Division told Stars and Stripes on Monday.
Tetsuo Saito, Japan's minister of land, infrastructure, transport and tourism, overruled the prefecture earlier this year at the request of the Ministry of Defense.
The central government's appeal to the minister was "illegal," according to a statement from Okinawa Gov. Denny Tamaki on Friday. The prefecture's lawsuit demands that Saito annul his decision, the statement said.
The quarrel with Tokyo began in November when Tamaki withheld approval of updated construction plans for the site. Japan's Ministry of Defense then appealed to Saito, who ruled for the ministry in April.
Denial of the change application was one of several attempts under Tamaki's administration to delay or stop the project in the Henoko district of Nago, the municipality that's home to Camp Schwab. All the attempts have thus far failed.
The runway at Schwab, a Marine base on Okinawa's rural northern coast, is decades in planning and behind schedule. It is meant to replace Marine Corps Air Station Futenma in urban Ginowan, which Japanese officials consider inherently dangerous due to its central location in a densely packed area.
Government spokespeople in Japan typically speak to the media on condition of anonymity as a condition of their employment.
---
---
---
---