Japan's new prime minister won't stop MCAS Futenma relocation on Okinawa
by
Matthew M. Burke and Mari Higa
Stars and Stripes
November 8, 2021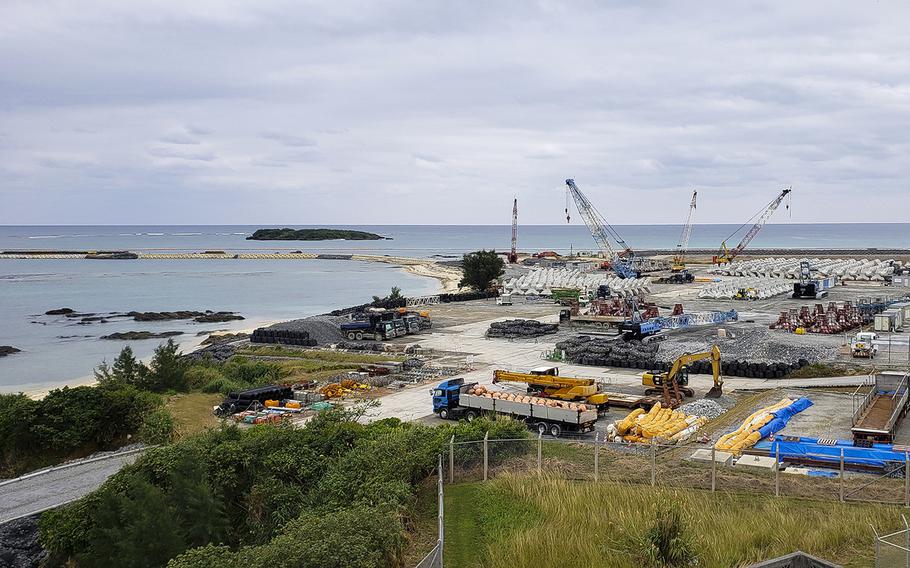 CAMP FOSTER, Okinawa — Japan's new leader vowed this week to push ahead with relocating Marine Corps air operations on Okinawa, dealing a blow to the prefectural governor and other activists who stridently oppose the move.
Prime Minister Fumio Kishida dispatched Chief Cabinet Secretary Hirokazu Matsuno to Okinawa on Saturday to meet with Gov. Denny Tamaki and relay the government's position, a prefectural spokesman told Stars and Stripes by phone Monday.
The meetings were part of Kishida's strategy to engage Okinawa and its people while pushing forward with bilateral agreements, he told Japan's governing body, the Diet, on Oct. 8.
"To maintain the U.S.-Japan alliance for its deterrent power and to remove the danger related to [Marine Corps Air Station] Futenma, I think that relocation of the base to Henoko is the only solution," Matsuno told Tamaki, according to a video posted online by Japanese public broadcaster NHK. He asked for the "understanding" of the Okinawa people.
Kishida's hand was strengthened by the Oct. 31 Lower House election of Liberal Democratic Party candidate Aiko Shimajiri, a former minister overseeing Okinawa affairs, to represent Nago. Shimajiri's district includes Henoko, the area around Camp Schwab, where the new Marine airfield to replace MCAS Futenma is under construction.
Shimajiri defeated vocal anti-base incumbent Tomohiro Yara of the Constitutional Democratic Party of Japan.
Tamaki had hoped the new administration would change course and move Marine air operations off Okinawa altogether, a position supported by a majority of the island's voters, according to a February 2019 referendum that saw 72 percent of residents vote in opposition. Just over half the prefecture's 1.15 million registered voters turned out.
"The construction of a new base in Henoko, that many Okinawa citizens are against, will take 12 years for completion and will not lead to the immediate removal of danger related to Futenma Air Station," Tamaki told Matsuno. "Therefore, the construction must be stopped immediately."
The Marines are building a new runway into Oura Bay at Schwab, home of the 4th Marine Regiment and 3rd Reconnaissance Battalion, to replace MCAS Futenma.
Matsuno also met with residents of Ginowan, where MCAS Futenma is located, as well as Nago Mayor Taketoyo Toguchi and members of a local residents' association, the Asahi newspaper reported Monday. Matsuno vowed to push forward with the relocation project.
"I don't think Prime Minister Kishida will be much different from former Prime Minister (Shinzo) Abe," a prefectural spokesman from the Henoko Base Construction Countermeasures Division told Stars and Stripes by phone Monday. Government officials in Japan customarily speak to the media under condition of anonymity.
"Okinawa prefecture thinks dialogue is very important," the spokesman said, "and we welcome that the Chief Cabinet Secretary Matsuno had a dialogue with citizens of Ginowan city."
The spokesman said the prefectural administration hopes Kishida listens to the voice of the Okinawan people.
Kishida, 64, was elected president of the ruling LDP in a runoff vote Sept. 29. He replaced Yoshihide Suga as prime minister five days later.
Kishida served as minister of state for Okinawa and Northern Territories affairs under consecutive administrations before becoming Japan's acting defense minister and longest serving post-war foreign minister, according to his government biography.
During a policy speech before the Diet on Oct. 8, Kishida vowed to raise the U.S.-Japan alliance to "even greater heights" and called it the "foundation for the peace and prosperity of the Indo-Pacific region and of the world," according to a video of the speech on the Diet's website.
"While maintaining the deterrence of the Japan-U.S. alliance, we will work to alleviate the impact of U.S. military bases in Okinawa while building trust together with the residents of Okinawa through thorough explanations and dialogue," he said. "We will press ahead with the construction work for the relocation to Henoko in order to realize the total return of Marine Corps Air Station Futenma at the earliest possible time."
---
---
---