Japan starts work on new section of Marine Corps airfield over Okinawa's objections
by
Matthew M. Burke and Mari Higa
Stars and Stripes
August 25, 2021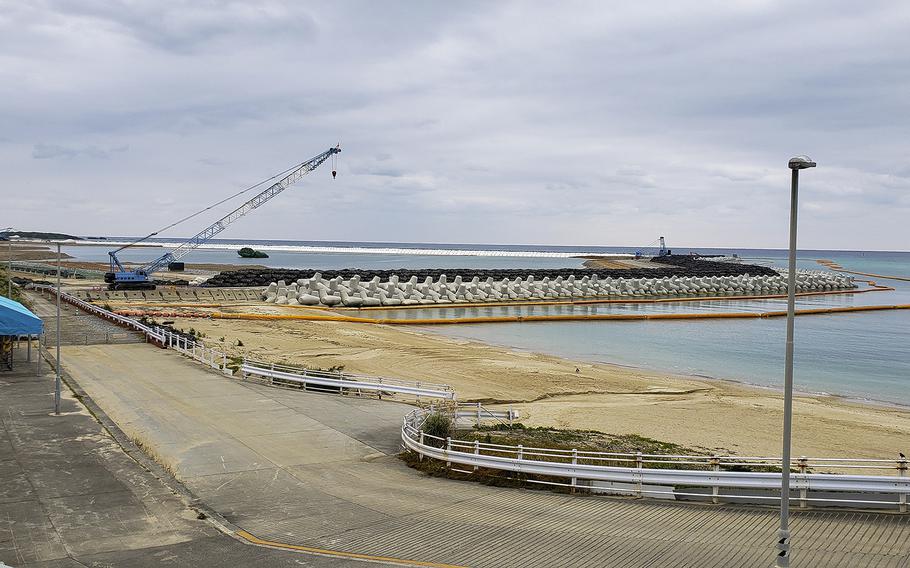 CAMP FOSTER, Okinawa — The Japanese government completed the relocation of 830 colonies of endangered coral off the coast of Okinawa this week and plans to start construction on a new portion of a contentious Marine Corps airfield, according to local media reports.
The coral is in Oura Bay, just off Camp Schwab, where a runway is being built to relocate Marine Corps Air Station Futenma from crowded Ginowan city.
The Japanese government finished transplanting coral Tuesday from a small site in the construction zone known as N2, the Okinawa Times reported the following day.
It now plans to start work this week on a seawall to keep water from the construction site. Once completed, that section will make it easier to offload landfill, thus speeding up the project's completion.
An Okinawa prefectural official on Wednesday said the Okinawa Defense Bureau, an arm of the Japan Defense Ministry, is not sharing information about work at the N2 site.
The defense bureau "didn't inform us about the construction," a spokesman from Okinawa prefecture's Henoko Base Construction Countermeasures Division told Stars and Stripes by phone Wednesday. "We asked them not to rush and proceed with dialogue with the prefecture."
A bureau spokesman declined to comment when reached by phone on Wednesday. The defense bureau is leading construction efforts.
A bureau representative at an environmental monitoring committee meeting Aug. 10 said construction would start at the N2 site as soon as the coral could be successfully moved, Okinawa Times reported.
Plans for the site have been in the making for decades; however, construction didn't begin until 2017. Okinawa leaders, including Gov. Denny Tamaki, have tried to use the courts and administrative challenges to block the work. So far, they have only delayed the project.
The Japanese government requested fresh permits from Tamaki in April 2020 after it found a softer than expected seabed at the site, which requires further stabilization. Tamaki has said he will refuse the request.
The prefectural spokesman said it would be "a waste" for the bureau to start construction at the N2 site without those permits. The bureau does not need permitting for the site since the area does not have a soft bottom, Okinawa Times said, citing unnamed bureau officials.
In July, Tamaki was forced by the country's Supreme Court to approve the relocation of 40,000 colonies of endangered coral from the site. He asked the bureau for dialogue "instead of transplanting the coral quickly," along with other conditions, Tamaki said at the time.
The Japanese government largely ignored his request and started Aug. 6, one day after their Ministry of Agriculture, Forestry and Fisheries agreed to uphold the court decision.
Completion of the runway is now expected to take at least 10 more years. Costs have ballooned from $2.2 billion to at least $8.7 billion.