Japanese court decision forces Okinawa to approve coral transplant project for Marine base
by
Matthew M. Burke and Mari Higa
Stars and Stripes
July 29, 2021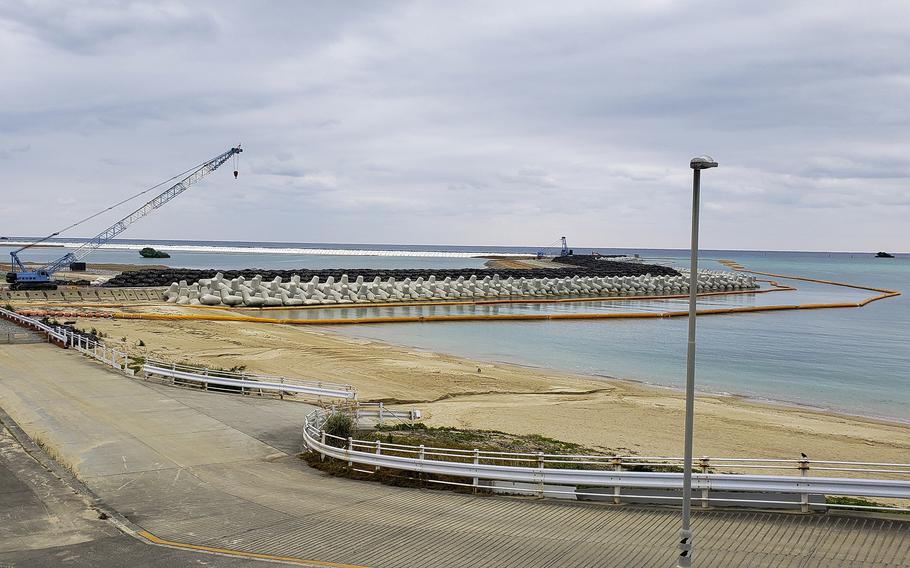 CAMP FOSTER, Okinawa — The prefectural government on Okinawa has given reluctant approval to the Japanese government to relocate 40,000 colonies of endangered coral from a U.S. military construction site.
Forced by a decision by Japan's Supreme Court, Okinawa Gov. Denny Tamaki announced the prefecture's acquiescence to a plan to move the colonies from Oura Bay, just offshore of the Marine Corps' Camp Schwab. The Marines are building a runway into the rural bay to relocate its airfield from crowded Ginowan city.
"Since the final decision of the judiciary, it is necessary for the prefecture to approve it," Tamaki said at a news conference Wednesday evening. There is no need to hurry, he implied.
Turning his comments to the Okinawa Defense Bureau, which represents Japan's Ministry of Defense and will oversee the project, Tamaki said: "I want you to respond to the dialogue with the prefecture instead of transplanting the coral quickly."
Moving the coral should not occur during typhoon or breeding seasons, he said, nor during a period of high sea temperatures, to give the coral the best chance at survival.
Okinawa prefecture opposed transplanting the endangered coral species, Porites okinawensis Veron and others, and filed a suit to block the project, which the high court dismissed July 6.
An attempt at relocation in July and August 2018 ended with five of nine colonies dying, a prefectural spokesman from the Henoko Base Construction Countermeasures Division told Stars and Stripes by phone Wednesday.
The prefecture refused to sign off on another attempt by the government the following year.
"The survival rate of transplanted coral is low," the prefectural spokesman said. "Transplantation needs to be done very carefully."
The defense bureau will be required to follow guidelines set by experts and carefully monitor the coral, he said.
Government officials in Japan customarily speak to the media on condition of anonymity.
Relocating the coral is tied to the Marines' airfield project which Tamaki has long opposed. Without a permit from the prefecture for changes to the site plan, all work at the site will be shut down, he said Wednesday.
"In the case that we do not approve the changes" he said, "it is meaningless to proceed with the transplantation."
The fight over relocating coral is the latest in the decades-long saga regarding the relocation of Marine Corps Air Station Futenma from a densely packed urban area in the central part of the island to its northern coast at Schwab.
Work finally began on the runway in April 2017. But cost overruns and delays have pushed the completion date past 2014 to 2030 and the cost from $2.2 billion to at least $8.7 billion.
The Japanese government supports the plan, but Tamaki is a staunch opponent of the Marines' relocation within the prefecture.