Only 36 people attend pandemic-abbreviated commemoration for Battle of Okinawa
by
Matthew M. Burke
Stars and Stripes
June 23, 2021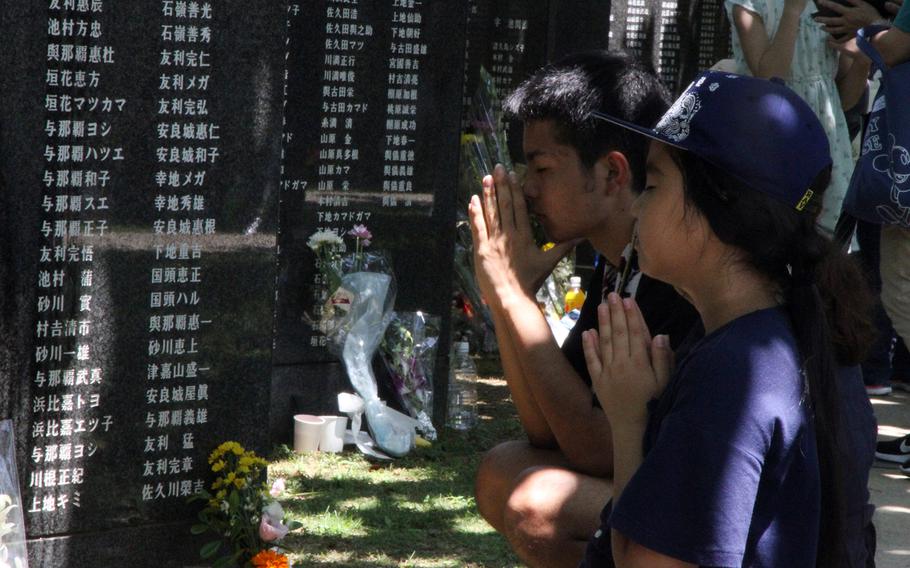 CAMP FOSTER, Okinawa – Only 36 people attended a Wednesday ceremony commemorating the Battle of Okinawa's 76th anniversary, even as cases of the respiratory disease continued to decline across Japan.
The annual Irei no Hi ceremony, which takes place at Okinawa Peace Memorial Park in Itoman every June 23, was scaled-back for the second consecutive year due to the pandemic, Kyodo News reported shortly after the ceremony. Attendees included family members of those killed in the 82-day World War II battle.
The ceremony usually draws upwards of 5,000 people. Last year, 160 attended the first pandemic-abbreviated tribute.
Okinawa prefecture remains in a state of emergency until July 11.
Prime Minister Yoshihide Suga, in a video message played at the ceremony, attributed Japan's modern-day peace and prosperity to the more than 200,000 lives lost in the battle, the Kyodo report said. He also acknowledged Okinawa's burden in hosting the lion's share of the approximately 54,000 U.S. troops stationed in Japan.
"We need to change the current situation by any possible means," he said, according to the report.
The Battle of Okinawa began April 1, 1945. More than 14,000 Americans, about 110,000 Japanese troops and at least 140,000 Okinawan civilians were killed during or after the fighting.
Okinawa Gov. Denny Tamaki used Wednesday's ceremony to lobby the Japanese government to collect the remains of Japan's war dead and to recover and dispose of unexploded ordnance that still litter the island prefecture to this day, the Kyodo report said.
He also urged the U.S. and Japanese governments to set up a new body to reconsider plans to relocate air operations from Marine Corps Air Station Futenma to the northern coastal base of Camp Schwab, a move that is already ongoing.
Okinawa prefecture reported another 96 new infections Wednesday, 19 fewer than the same day last week, according to public broadcaster NHK.
Japan overall reported 1,779 new coronavirus infections as of 6 p.m. Wednesday, 443 more than the same day last week, NHK and the World Health Organization reported. There were 58 deaths nationwide.
The government has counted 785,000 COVID-19 cases during the pandemic and more than 14,000 deaths, the WHO said.
New cases in Japan and South Korea
The U.S. military in Japan and South Korea reported nine new COVID-19 cases as of 6 p.m. Wednesday.
Kadena Air Base on Okinawa had one infection on Tuesday, according to a base Facebook post that evening. The patient was tested prior to traveling to the United States. Contact tracing has been completed and close contacts have been placed in quarantine, the post said.
On the Korean peninsula, seven service members and one family member tested have positive since numbers were last reported on June 17, U.S. Forces Korea said in a statement Tuesday evening.
Four service members assigned to Camp Humphreys and two from Camp Casey in Dongducheon tested positive on June 17 and June 18 after being identified as close contacts of infected individuals, the statement said.
Another service member assigned to Humphreys tested positive on June 17 after developing COVID-19 symptoms, according to the statement. A family member tested positive on Sunday prior to traveling to the United States.
All eight individuals are in isolation at Humphreys, the statement said.
South Korea added 645 new cases at midnight Tuesday and one death, according to the Korea Disease Control and Prevention Agency's Central Disease Control Headquarters.
Twitter: @MatthewMBurke1