Tokyo orders Okinawa governor to approve changes for Marine Corps runway
By
Matthew M. Burke and Mari Higa
Stars and Stripes
April 11, 2022
---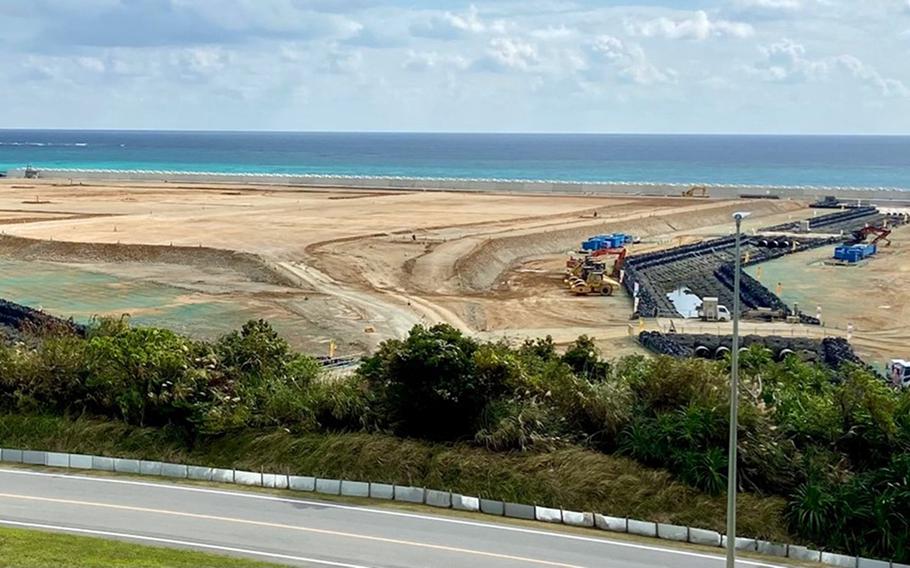 CAMP FOSTER, Okinawa — The Japanese government has ordered Okinawa Gov. Denny Tamaki to approve design changes for an airfield that will replace Marine Corps Air Station Futenma on the southern island prefecture.
Tetsuo Saito, Japan's minister of land, infrastructure, transport and tourism, on Friday overruled Tamaki's November decision to withhold approval of updated construction plans for the runway being built into Oura Bay at Camp Schwab.
Tamaki argued that the soft seabed in the construction zone posed a hazard and that Tokyo had failed to consider the environmental impact on the endangered dugong, a cousin of the manatee protected by Japanese law and whose numbers are dwindling.
Saito called Tamaki's permit denial "illegal and unreasonable," a spokesman for the ministry's water and disaster management bureau told Stars and Stripes by phone Monday.
Tamaki has until April 20 to approve the changes, the spokesman said.
Okinawa prefecture may appeal through the Japanese courts, but its administration has not yet decided the best course of action, a spokesman for the prefecture's Henoko Base Construction Countermeasures Division said by phone Monday.
"We will check the details of their decision once we receive it and plan what we are going to do next," the prefectural spokesman said.
The Okinawa Defense Bureau, which represents Japan's Ministry of Defense, expects the prefecture to "respond appropriately" and approve the permitting, a bureau spokesman told Stars and Stripes by phone Monday.
The bureau would like to see construction at Schwab move forward to relocate MCAS Futenma as early as possible, the bureau spokesman said.
Government spokespeople in Japan are typically required to speak to the media only on condition of anonymity.
The defense bureau submitted the amended construction plans to Okinawa prefecture in April 2020 after crews discovered a softer-than-anticipated seafloor in Oura Bay, the prefectural spokesman said.
Tamaki denied the application in November, citing a lack of site testing and the dugong. The bureau appealed Tamaki's decision to the land minister under the Administrative Appeal Act in December.
The permit denial was Tamaki's latest attempt to stop the relocation of MCAS Futenma from a densely populated urban area in Ginowan to Schwab, a coastal Marine base farther north.
Successive governors have argued against keeping Marine air operations in the prefecture, where 18,000 Marines, sailors and their families are based. The U.S. and Japanese governments have said Schwab is the only viable option.
Tamaki previously revoked a permit to transplant coral from the construction site in July 2021. That move was reversed in December by the minister of agriculture, forestry and fisheries.
The coral transplantation was completed March 18, a bureau spokesman told Stars and Stripes on March 22.
---
---
---
---