South Korea's Yoon in military meeting vows to punish North Korean provocations
By
Stars and Stripes
July 6, 2022
---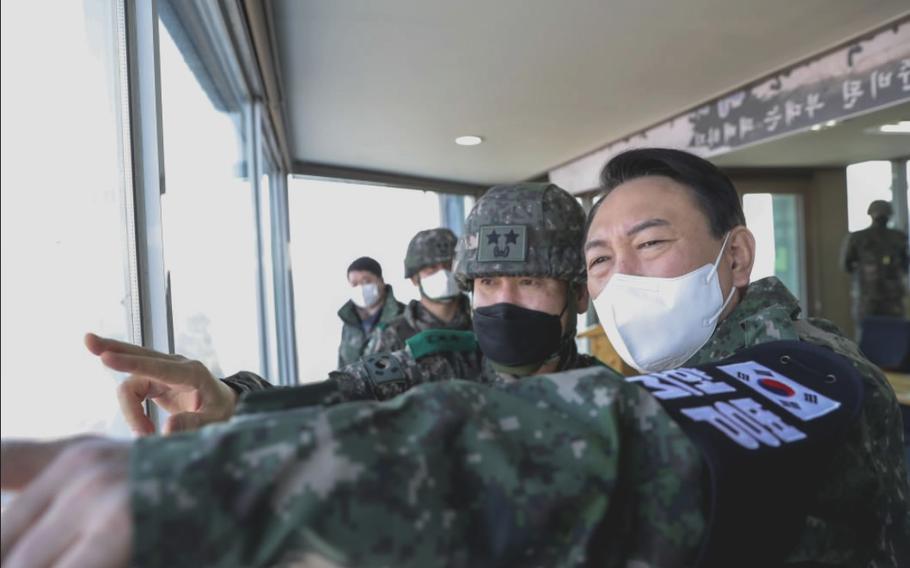 CAMP HUMPHREYS, South Korea — North Korea may expect swift punishment in the event its communist rulers compromise the security of their neighbor to the south, the president of South Korea said Wednesday.
"First, we should punish North Korea swiftly and adamantly in case of North Korean provocations," President Yoon Seok Youl told military officials Wednesday, according to a readout of their meeting. "The protection of the people's safety, property, territory and sovereignty is the military's fundamental mission."
Yoon's remarks are his strongest yet on North Korea since he took office two months ago. A former prosecutor and member of the conservative People Power Party, Yoon campaigned on stronger ties with South Korea's ally the United States and on a stiffer response to North Korean provocations. 
So far in his short administration, the South and the U.S. on June 6 launched missiles and on June 7 sortied fighter jets in response to North Korea firing eight short-range missiles on June 5.
Yoon cited North Korea's record number of missile tests so far this year and the threat of it resuming nuclear weapons tests, as well as the "incompleteness of the security situation in Northeast Asia," as proof of a need for a "strong national defense power."
Yoon suggested additional, "fundamental," but unspecified measures against North Korea.
North Korea has launched 17 rounds of missiles in tests so far this year, including an unprecedented barrage in June.
Yoon during the meeting also encouraged the military alliance between Seoul and Washington.
"We need to raise the effectiveness of the extended deterrence based on the [South Korea]-U.S. alliance," he said, according to the readout.
Yoon's comments come seven weeks after his meeting in Seoul with President Joe Biden, during which the two agreed to reconsider joint exercises by the two nations' militaries. Field maneuvers by the two countries' militaries were suspended in 2018 in favor of computer simulations under South Korean President Moon Jae-in and U.S. President Donald Trump. 
Trump and Moon at the time were negotiating with North Korean leader Kim Jong Un. North Korea's state-run media characterizes large-scale exercises by the allies as a rehearsal for an invasion of the North.
On Tuesday, U.S. Forces Korea and the Ministry of Defense announced the start of a 10-day military exercise in South Korea that includes F-35A Lightning II stealth fighters. The training is the first time F-35s from both countries will exercise together.
Ahead of Biden's visit in late May, U.S. authorities warned that North Korea was preparing its first test of a nuclear device since 2017. The International Atomic Energy Agency, which was expelled from North Korea in 2019, afterward described evidence of an upcoming nuclear test as "deeply regrettable."
"The conduct of a nuclear test would contravene U.N. Security Council resolutions and would be a cause for serious concern," Director General Rafael Grossi said in June.
Wendy Sherman, U.S. deputy secretary of state, on June 7 warned of a "swift and forceful response" in the event of a test. 
---
---
---
---