INDOPACOM chief calls North's Korean War aggression 'very similar' to Ukrainian conflict
By
Stars and Stripes
June 28, 2022
---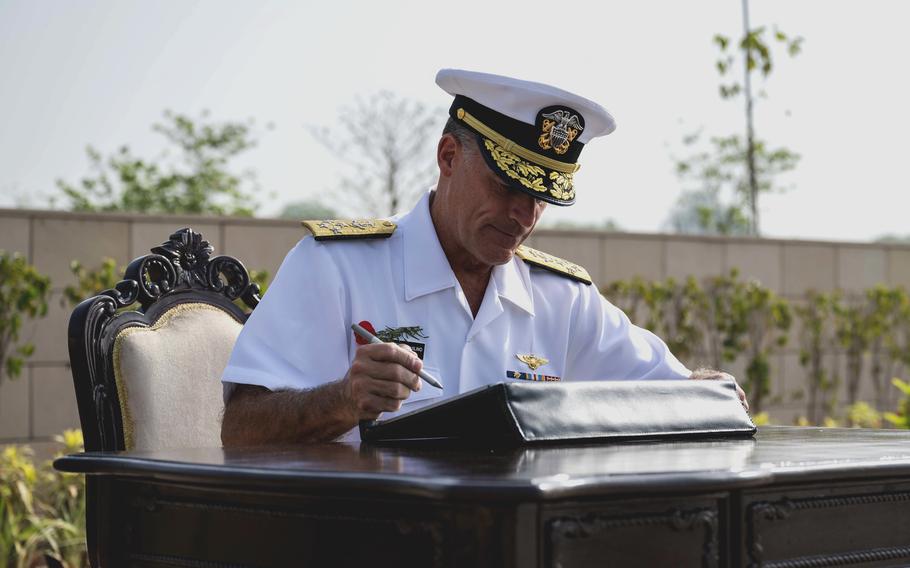 Russia's invasion of its neighbor Ukraine bears similarities to North Korea's invasion of its neighbor 72 years ago, the U.S. commander in the Indo-Pacific said over the weekend.
The two conflicts grew from a "desire to dominate a peaceful neighbor's territory and people," Adm. John Aquilino said during a memorial service Saturday in Honolulu marking the anniversary of the Korean War.
The 1950-53 war, still unresolved, "started as an act of aggression, very similar to what we see in the Ukraine today," said Aquilino, the head of Indo-Pacific Command, which is headquartered in Hawaii. Aquilino leads roughly 380,000 U.S. troops in 36 nations.
On Jun 25, 1950, North Korean forces, backed by Russia, crossed the 38th parallel into South Korea. Counterattacks by the 21 allied nations led by the U.S. pushed the North Koreans back almost to the Chinese border, prompting China's entry into the war and an eventual stalemate.
A "broad alliance of countries and shared values" joined forces on the Korean Peninsula to "preserve the freedom that we enjoy, as well as the rules-based international order," Aquilino said. 
"It is altogether fitting and proper we reflect on this conflict and consider how we might avoid such events in the future," he said.
Aquilino spoke four months after Russian President Vladimir Putin ordered his nation's armed forces into Ukraine. The U.S. and NATO members have hurried arms and other supplies to Ukraine to help it fend off the Russian forces.
"Just like we saw 72 years ago, the Soviet Union and [China] approved and supported the North Korean plans," Aquilino said at the National Memorial Cemetery of the Pacific. "Authoritarian regimes in North Korea and [China] approved of the Russian invasion of [Ukraine]."
Around 10,506 civilians were killed in the conflict as of June 23, according to a report from the Office of the U.N. High Commissioner for Human Rights. The U.N. believes that most of those casualties were due to heavy artillery, air strikes and other explosives across wide areas.
Chinese officials have called for calm and claim they do not materially support Russia's campaign. The two countries held a large-scale military exercise in the South China Sea and the Sea of Japan in May. 
"China-Russia relations is a partnership, not an alliance," Chinese Defense Minister Wei Fenghe said during the 2022 Shangri-La Dialogue in Singapore on June 12. "It does not target any third party."
North Korean state-run media support Russia's campaign against Ukraine. Russia made a "legitimate demand" against Ukraine, the North Korean Foreign Ministry said in February.
---
---
---
---