Raptors, Lightning IIs 'critically important' deterrence factors, says INDOPACOM chief
By
Stars and Stripes
June 27, 2022
---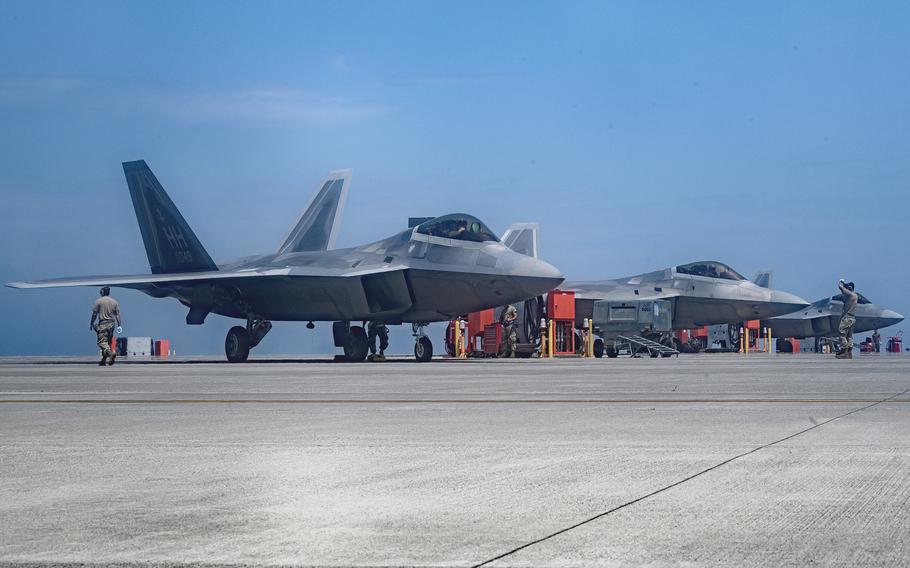 A permanent contingent of Air Force fifth-generation fighters west of the International Date Line is a "desirable" option as the U.S. seeks to deter an increasingly assertive China, the head of U.S. Indo-Pacific Command said Friday.
China's ongoing military buildup and February commitment to a "no-limits" partnership with Russia presents a serious threat to the Indo-Pacific region, Adm. John Aquilino said Friday. He was interviewed by Bradley Bowman of the Washington, D.C.-based Foundation for Defense of Democracies.
"That buildup encompasses all domains and all capabilities, whether it's naval ships, whether it's fifth-generation aircraft, whether it's missile forces, whether it's cyber capability or capability in space, to include strategic nuclear capability," Aquilino said. "The concern for all Americans should be the pace, scale and scope that China is growing and what does that mean with regard to intent for a future peaceful globe."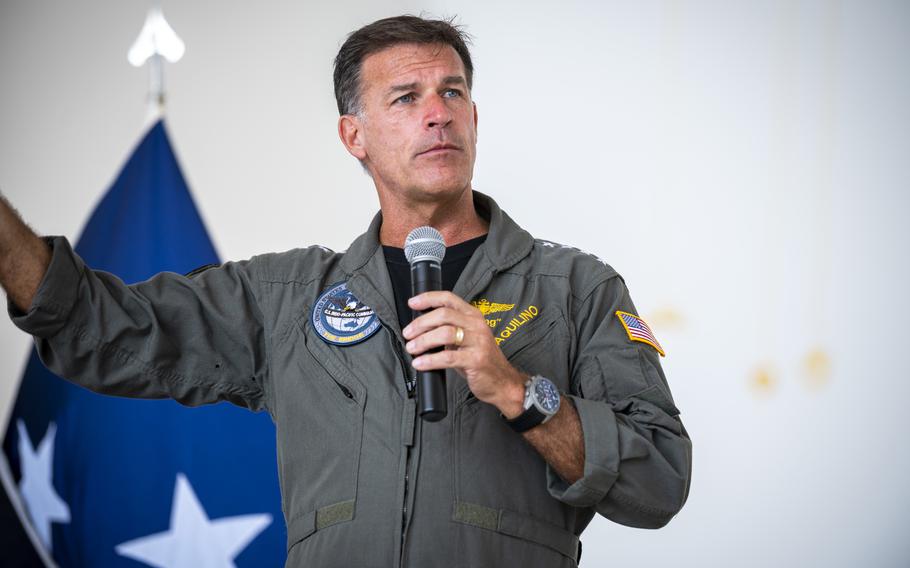 Aquilino emphasized the importance of deterrence through the presence of U.S. troops in Guam, Japan and South Korea and through investment in new technologies such as fifth-generation aircraft like the F-22 Raptor or F-35 Lightning II.
The U.S. Marine Corps has established two squadrons of F-35Bs at Marine Corps Air Station Iwakuni, Japan, and the Navy has deployed F-35Cs aboard aircraft carriers, starting with the USS Carl Vinson in August. 
But the Air Force has thus far only deployed F-35s or F-22s into the region on a short-term basis, Aquilino said.
F-35As from Eielson Air Force Base, Alaska, and F-22s from Joint Base Pearl Harbor-Hickam, Hawaii, took part this month in an Agile Combat Employment exercise at Iwakuni, for example.
Aquilino said the two types of aircraft have a wider role to play, and the possibility exists for a permanent presence in the region.
"I would envision that that capability is certainly — well, it's certainly desirable, but we would like to get to that," he said. "That ability to, like I said, operate in contested space, fifth-generation capabilities, whether they be F-22, F-35, are critically important to the ability to deliver deterrence."
Despite the Russian invasion of Ukraine, the U.S. believes China remains its "pacing threat" and the Indo-Pacific its "priority theater." In addition, U.S.-China relations are strained over Taiwan. 
China regards Taiwan as a breakaway province that must be reunified with the mainland at some point, possibly through force. The U.S. officially maintains a "One China policy" that acknowledges Beijing's claim on the island but considers Taiwan's status unresolved. The U.S. supports Taiwan through economic ties and weapons sales.
In May, during his first presidential visit to Japan, President Joe Biden said the U.S. would help defend Taiwan against an attack from China. 
Similarly, China consistently rebukes freedom-of-navigation operations by U.S. Navy warships in the South China Sea, over which China claims large portions, and Navy transits through the Taiwan Strait. 
"The key here, as we look at this pretty dangerous national security environment, is I don't think we can operate under a 'business-as-usual' mindset," Aquilino said Friday. "I think we have to understand the concern of, you know, what does the future look like based on the security environment and the objectives of some of our competitors? And I don't think that future is something any of us would be happy with, right?"
---
---
---
---