Alaska-based F-35As are employing Air Force's agile combat strategy in Japan
by
Alex Wilson and Hana Kusumoto
Stars and Stripes
December 13, 2021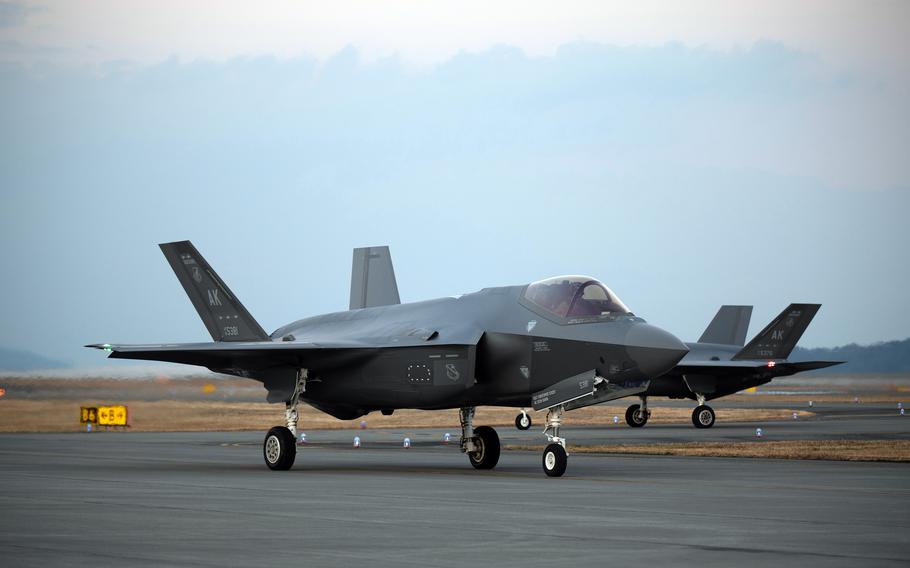 TOKYO — A group of Air Force fifth-generation fighter jets from Alaska are in Japan to train alongside Marine Corps and Japanese aircraft and demonstrate their ability to disperse and fight far from home.
F-35A Lightning IIs from Eielson Air Force Base's 354th Fighter Wing arrived at Marine Corps Air Station Iwakuni on Dec. 3 for Operation Iron Dagger, according to a Thursday news release from Pacific Air Forces.
The pilots are training with the III Marine Expeditionary Force and the Japan Air Self-Defense Force to improve teamwork and communication, according to the release.
"Operation Iron Dagger supports U.S. Indo-Pacific Command's dynamic force employment concept through Agile Combat Employment, which supports the National Defense Strategy effort to conduct training with allies while maintaining global peace and security," a PACAF spokeswoman, Capt. Veronica Perez, told Stars and Stripes via email on Thursday.
Agile Combat Employment, or ACE, focuses on the ability to move aircraft rapidly to a network of smaller airfields in the Western Pacific to avoid being targeted by Chinese missiles in the event of war.
Perez, citing operation security, said she could not disclose many of Iron Dagger's details, including the number of F-35As or their expected length of stay. However, a spokesman for Japan's Ministry of Defense, speaking Monday on a customary condition of anonymity, said the fighters are expected to remain in the area for several weeks.
"This operation gives our Airmen an opportunity to train with the Marines and their 5th generation aircraft, as well as potential opportunities to integrate and fly with allies in the region," Perez said.
The 1st Marine Air Wing, the aviation combat element of III MEF, has two squadrons of fifth-generation aircraft at MCAS Iwakuni, Marine Fighter Attack Squadron 121 and Marine Fighter Attack Squadron 242. Both fly the F-35B, the short-takeoff, vertical-landing version of the Lightning II. The Air Force's F-35A is a conventional aircraft that requires a runway to take off and land.
In October, Marine F-35Bs made the first fighter landings aboard the JS Izumo, a Japanese helicopter carrier whose flight deck was upgraded to withstand the higher temperatures of vertical operations.
Japan has about 20 F-35A stealth fighters stationed at Misawa Air Base in the northeast. Japan is committed to purchasing 147 of the stealthy, multirole fighters, including as many as 42 F-35Bs.
Perez referred all questions about Japan's Iron Dagger participation to the Japanese military. A JASDF spokesperson told Stars and Stripes in a Monday phone call that they weren't aware of the exact number or types of Japanese aircraft involved in the exercise.
The Iron Dagger exercise is operating from MCAS Iwakuni but may involve other locations due to the nature of the training, according to Perez.
Citizen groups in Iwakuni objected to the exercises, claiming they are "making residents anxious," according to Japanese newspaper The Mainichi on Thursday. One group complained that the Japanese government didn't issue prior notification about the exercises, while another cited concerns over noise pollution.
---
---
---
---