US and South Korean stealth fighters train together for the first time
By
Stars and Stripes
July 5, 2022
---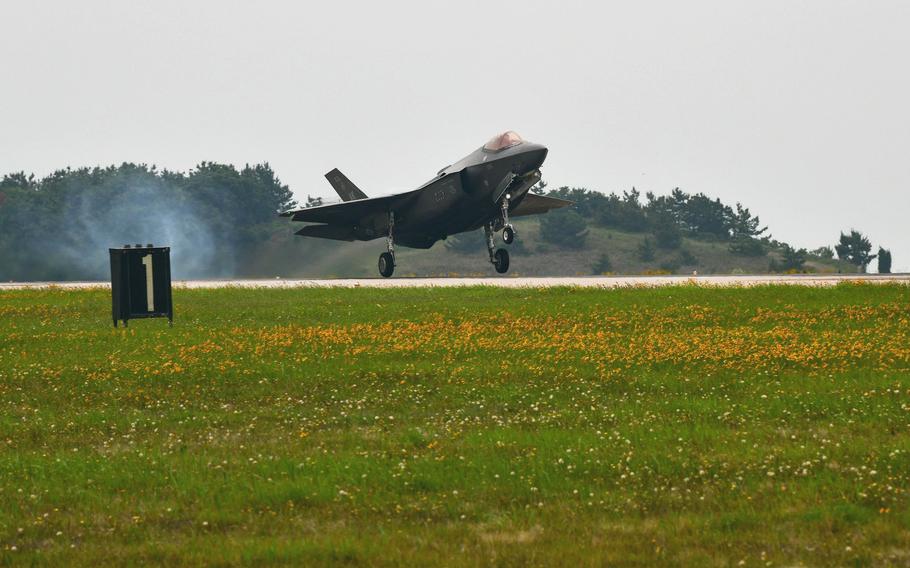 CAMP HUMPHREYS, South Korea — U.S. F-35A Lightning II stealth fighters arrived Tuesday in South Korea for a 10-day stay and their first training exercises with F-35s from South Korea, the South Korean Defense Ministry said.
Six F-35s from Eielson Air Force Base, Alaska, flew to an undisclosed location in South Korea "to display the strong deterrence and a joint defense posture" of the South Korea-U.S. alliance and to "improve interoperability" between the two countries, the Defense Ministry said in a news release Tuesday.
The military uses "interoperability" to describe the ability of a country's armed forces to use another country's training methods and military equipment.
The F-35s will be flying with several different U.S. and South Korean aircraft for "familiarization and routine training" in and around South Korea, according to a news release Tuesday from U.S. Forces Korea.
"The aviation training is also an opportunity for the aircrews to perform sustainment and maintenance duties to support the latest in military aircraft technology," according to USFK.
U.S. F-22 Raptors, an older fifth-generation fighter, have exercised with South Korean aircraft over the Korean Peninsula, but this exercise marks the first time F-35s from both countries will operate together, 7th Air Force spokeswoman Lt. Col. Kelley Jeter told Stars and Stripes by phone.
South Korea's military maintains roughly 40 F-35As purchased from the U.S. for $7 billion in 2014.
The Lightning IIs arrive six weeks after President Joe Biden and newly elected South Korean President Yoon Seok Youl held their first summit. Biden and Yoon agreed to reinforce their countries' strategic ties in the wake of North Korea's unprecedented missile tests this year.
The two presidents also agreed to "expand the scope and scale" of their joint military exercises, which were partially frozen after North Korean leader Kim Jong Un's meetings with then-President Donald Trump and former South Korean President Moon Jae-in.
"We are going to step up our exercises," Yoon said during a press briefing with Biden in Seoul in May.
At least four South Korean F-35s exercised with four U.S. Air Force F-16 Fighting Falcons on June 7, two days after North Korea fired eight short-range missiles in its 17th round of missile tests so far this year.
---
---
---
---