US, South Korea respond to North Korea's latest missile tests with launches of their own
By
David Choi and Hana Kusumoto
Stars and Stripes
May 24, 2022
---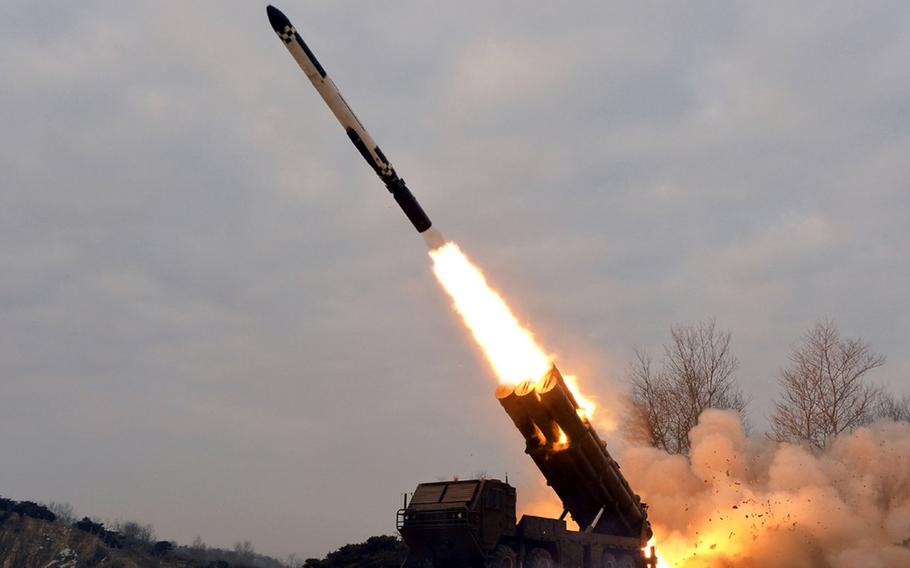 CAMP HUMPHREYS, South Korea — North Korea fired three ballistic missiles Wednesday morning off its eastern coast, prompting the United States and South Korea to respond with a show of force of their own launches.
North Korea's missiles, fired hours after President Joe Biden wrapped up his first presidential trip to Seoul and Tokyo, came from the Sunan area, where the regime's airport is located, according to the South's Joint Chiefs of Staff.
The three missiles were fired at 6 a.m., 6:37 a.m. and 6:42 a.m. The first, believed to be an intercontinental ballistic missile, flew roughly 224 miles at a peak altitude of 336 miles; the second "disappeared" at an altitude of 12 miles; and the third, believed to be a short-range ballistic missile, flew about 472 miles at an altitude of 37 miles, according to South Korea's military.
The Japan Ministry of Defense confirmed at least two ballistic missiles were fired Wednesday morning and landed outside of the country's exclusive economic zone, Minister Nobuo Kishi told news reporters.
U.S. Indo-Pacific Command in an unsigned press release Wednesday said the incident did not pose "an immediate threat to U.S. personnel or territory" and that it highlights the "destabilizing impact of [North Korea's] illicit weapons program."
Following the launches, U.S. Forces Korea announced in an unsigned press release that it had fired surface-to-surface missiles toward its eastern coast "to demonstrate the ability of the combined [U.S.-South Korea] force to respond quickly to crisis events."
USFK, which is responsible for roughly 28,500 troops on the Korean Peninsula, said in the release it used the Army's Tactical Missile System and South Korea's Hyunmu-2 missile system for the live-fire exercise.
South Korea's military also conducted an armed exercise consisting of 30 South Korean F-15K jets, the South's Joint Chiefs of Staff said in a statement Wednesday.
"This armed protest by our military showed our will to firmly deal with any provocation, including North Korean ICBM launches," the statement said. "We have the ability and the posture to conduct pinpoint strikes on starting points of provocations with our overwhelming fighting power."
North Korea's launches mark the regime's 16th round of missile tests so far this year. It last conducted a missile test on May 12, roughly a week before Biden arrived in South Korea as part of his five-day trip to Asia.
U.S., South Korean and Japanese officials have warned in recent weeks that the North could conduct another missile or nuclear test as soon as this month. South Korean government officials braced for a possible weapons test during Biden's visit and said they prepared adequate countermeasures.
South Korean President Yoon Suk Yeol on Wednesday condemned the North's tests and described them as a "grave provocation."
Pyongyang's continued provocations will inevitably lead to "stronger and swifter [South Korea]-U.S. joint deterrence and invite only its international isolation," Yoon's office said in a statement.
Yoon, who was inaugurated this month, pledged with Biden to initiate talks to increase the scope and scale of U.S.-South Korea joint military exercises due to North Korea's "evolving threat."
"We are going to step up our exercises," Yoon said during a press briefing with Biden on Saturday.
Yoon, a member of the country's conservative People Power Party, has vowed to increase cooperation with the U.S. military and respond decisively against North Korea's provocations.
---
---
---
---