Stronger ties to US are no threat to China, says South Korea's foreign minister
By
Stars and Stripes
May 24, 2022
---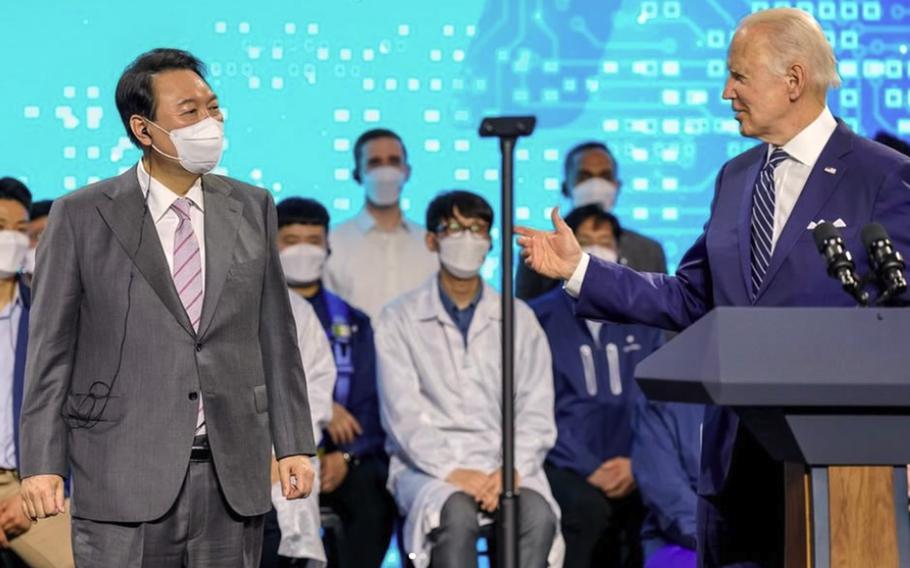 CAMP HUMPHREYS, South Korea — South Korea's military and economic partnership with the United States, reaffirmed during President Joe Biden's recent trip to the peninsula, will not compromise its ties with China, according to its foreign affairs minister.
South Korean Foreign Minister Park Jin told reporters Monday that Biden's three-day trip to the country cemented the U.S.-South Korea alliance.
Biden kicked off his first trip to Asia as president on Friday in South Korea, where he and South Korean President Yoon Suk Yeol in a joint statement pledged to start talks to "expand the scope and scale" of joint military exercises that were paused since 2017.
The leaders also agreed to build stronger economic ties. South Korea's Hyundai Motor Group announced on Sunday it will invest over $5 billion to build an electric vehicle and battery facility in Georgia by 2025 and employ 8,100 workers.
"Manufacturing jobs are coming back to America," Biden said in a speech with Hyundai chairman Chung Eui-sun.
Park stressed that despite closer military and economic ties with the U.S., Seoul will not overlook its relationship with Beijing.
"It does not mean that we neglect our ties with China because the [U.S.-South Korea] alliance has been strengthened," Park said. "The relationship between the U.S. and China is not a zero-sum game to South Korea."
Despite those assurances, Yoon's administration is expected to balance its U.S. alliance against its interests in China, which is South Korea's largest trading partner and accounts for roughly a quarter of Seoul's exports.
During Biden's Asia trip, the U.S. unveiled its new Indo-Pacific Economic Framework — a 13-nation plan that includes South Korea — to set regional rules on the digital economy, supply chains, energy and taxes. During a press call on Monday, Commerce Secretary Gina Raimondo described the framework as "an alternative to China's approach to these critical issues."
"I would say, especially as businesses are beginning to increasingly look for alternatives to China, the countries in the Indo-Pacific Framework will be more reliable partners for U.S. businesses," Raimondo said during the call.
While the economic framework is expected to counter Beijing's economic influence in the region, it will be difficult for China to single out and retaliate against South Korea as it had in the past, according to North Korean studies professor Park Wongon of Ewha Womans University in Seoul.
"To join the IPEF means that South Korea is also participating in some kind of counter-China network," Park told Stars and Stripes by phone Tuesday.
Park juxtaposed China's attitude toward South Korea's new economic partnership with its retaliatory response following the deployment of a U.S.-made missile defense battery to South Korea. The $800 million Terminal High Altitude Area Defense system, or THAAD, was deployed in 2017 as a defensive measure against North Korea. That prompted China, the North's ally, to initiate a state-sanctioned boycott against South Korean businesses and resulted in an estimated $7 billion loss for Seoul.
"If China decided to have some kind of retaliatory measure as they did in the THAAD issue, it will definitely turn South Korea's back against China," Park said. An anti-Chinese public sentiment has grown in South Korea in recent years, he added.
The Yoon administration does not intend to stand up against China, but its partnership in the Indo-Pacific Economic Framework and future agreements with the U.S. and Japan have "the characteristic of greatly excluding China," according to professor Hwang Jaeho of Hankuk University of Foreign Studies in Seoul.
"The [U.S.-South Korea] cooperation comes up to China as a new strategic burden," Hwang told Stars and Stripes on Tuesday. "I think the Yoon government would have a strong pro-American tendency, but China has not been reacting very strongly against [South Korea] as it has had a lot of exposure in the media."
---
---
---
---