Biden arrives in Tokyo for talks with Japanese allies and a Quad summit
By
Seth Robson and Joseph Ditzler
Stars and Stripes
May 22, 2022
---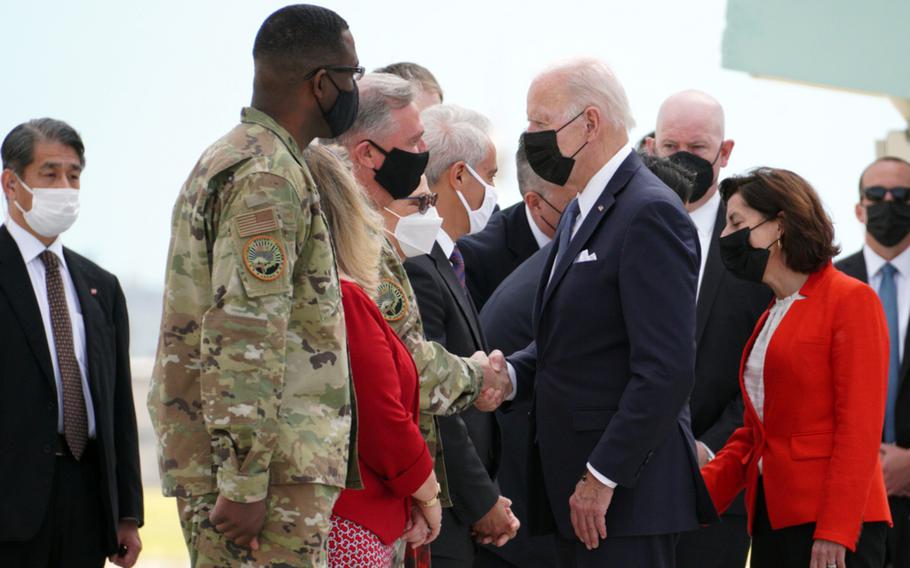 YOKOTA AIR BASE, Japan – Thousands of Americans and Japanese greeted President Joe Biden as Air Force One landed here Sunday in the midst of an annual base festival that celebrates the two countries' partnership.
Biden, fresh off two days of talks with South Korea's new president and a visit with U.S. troops there, arrived just after 5 p.m. for three more days of meetings with Japan's leaders and two other key Indo-Pacific partners.
Biden touched down during the waning hours of Yokota's annual Friendship Festival, the first since the global coronavirus pandemic took hold in March 2020.
Thousands of people, most of them Japanese, in rows six deep lined the flight line for hundreds of yards. They waited hours like concertgoers anticipating the overdue headliner.
"Voodoo Chile," played by a tribute band, wafted over the concourse as Air Force One materialized in the sky to the south. As the jumbo jet rolled down the runway, the crowd began to clap and then to cheer.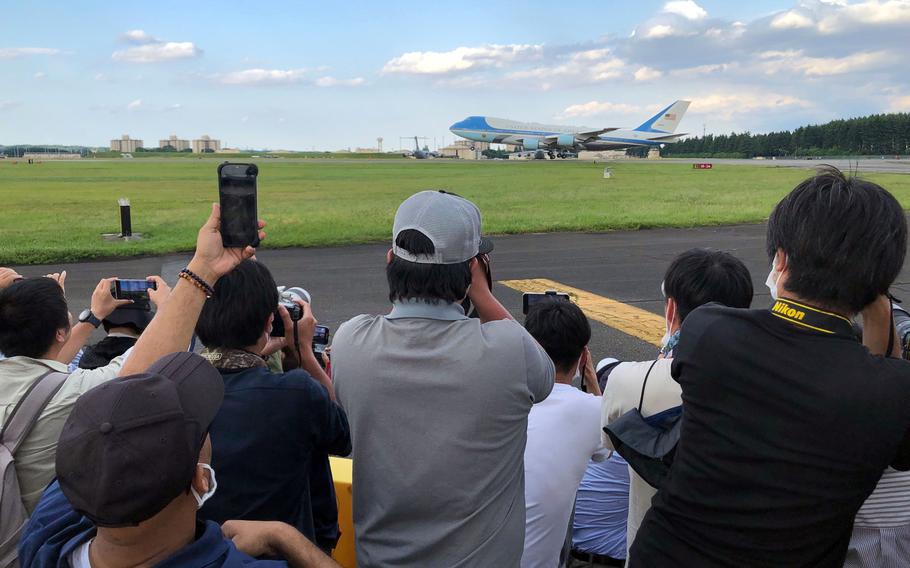 Marine Brig. Gen. James Wellons, deputy commander of U.S. Forces Japan, and Maj. Gen. Leonard Kosinski, deputy commander of 5th Air Force, stood behind the crowds as Biden's plane touched down. Both commands are headquartered at Yokota.
"Just look around you at the thousands of people who are here enjoying this opportunity to learn more about each other and to regain contacts that might have been lost over the past two years," Wellons told Stars and Stripes. "And to be able to watch Air Force One land while we participate in this great event is, I think, a powerful sign of the strength of our alliance and where we are right now."
Japanese Foreign Minister Yoshimasa Hayashi, U.S. Ambassador to Japan Rahm Emanuel and U.S. Forces Japan commander Lt. Gen. Ricky Rupp were among those who welcomed the president after he exited the plane.
Biden shook hands with members of the party, embraced Emanuel and appeared to hand a coin to a service member before boarding his Marine One helicopter to fly to central Tokyo.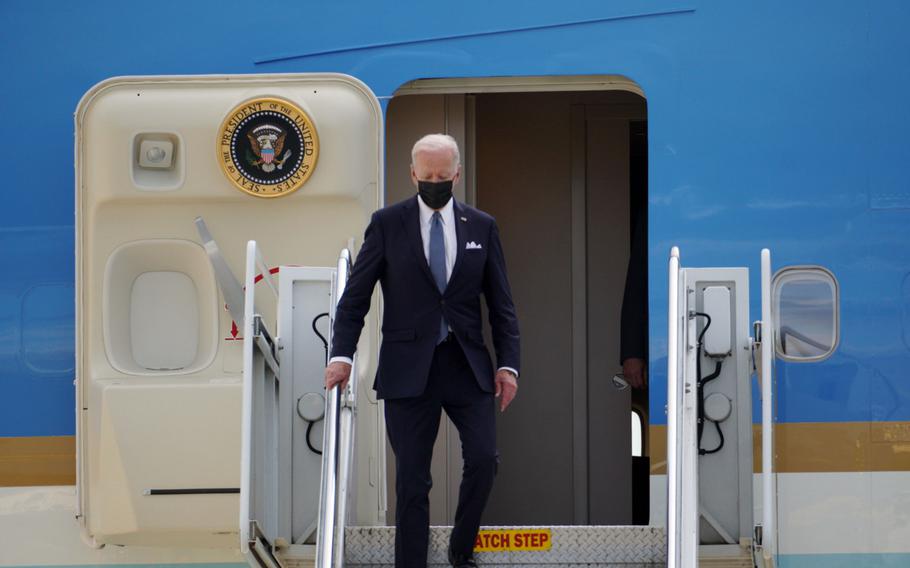 The president began the five-day Asia trip on Friday, and the next day met with South Korean President Yoon Suk Yeol. The two agreed to strengthen their nations' collective defense and expand their combined military exercises in light of a series of missile tests by North Korea.
Biden is scheduled to meet Japanese Emperor Naruhito and Prime Minister Fumio Kishida on Monday and attend a summit with Kishida and the leaders of India and Australia on Tuesday.
Kishida told reporters on Saturday that he wants frank discussions with Biden. He mentioned security, Ukraine, the economy, climate change and nuclear disarmament as topics, Japan's national broadcaster NHK reported Sunday. Kishida, elected from Hiroshima, the first city to suffer an atomic bombing, has made global disarmament a goal, according to The Mainichi newspaper on Friday.
The two leaders are expected to confirm that their countries will cooperate with South Korea in responding to North Korea, which is intensifying its nuclear and missile programs, the broadcaster reported.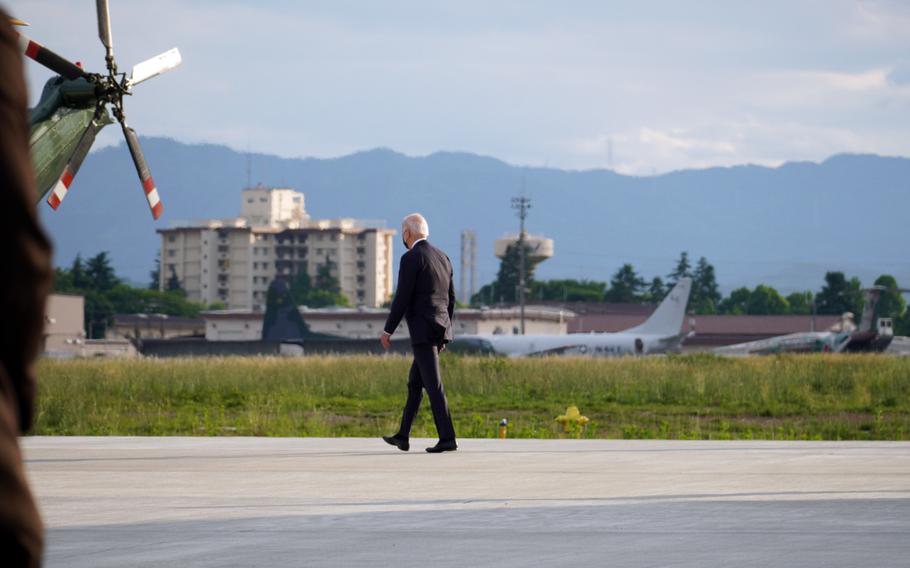 National security officials in the U.S. and South Korea warned last week that North Korea could launch a long-range missile, or even conduct an underground nuclear test, during Biden's Asia tour.
The U.S. is prepared for the possibility that the North will carry out a missile test soon, Biden told reporters Sunday before departing the peninsula.
"We are prepared for anything North Korea does. We've thought through how we would respond to whatever they do," he said, according to a Wall Street Journal report the same day. "I am not concerned, if that's what you're suggesting."
Pyongyang this year has conducted 15 missile tests designed to diversify and expand its arsenal, as part of leader Kim Jong Un's five-year plan to develop weapons designed to evade existing missile defense systems.
Biden and Kishida are expected to reaffirm their sanctions on Russia and their support for embattled Ukraine, NHK reported.
The pair are also likely to restate plans to strengthen their countries' deterrence and response capabilities. With China's economic coercion and activities in the East China Sea in mind, they may also warn that attempts to change the status quo by force are unacceptable, the broadcaster reported.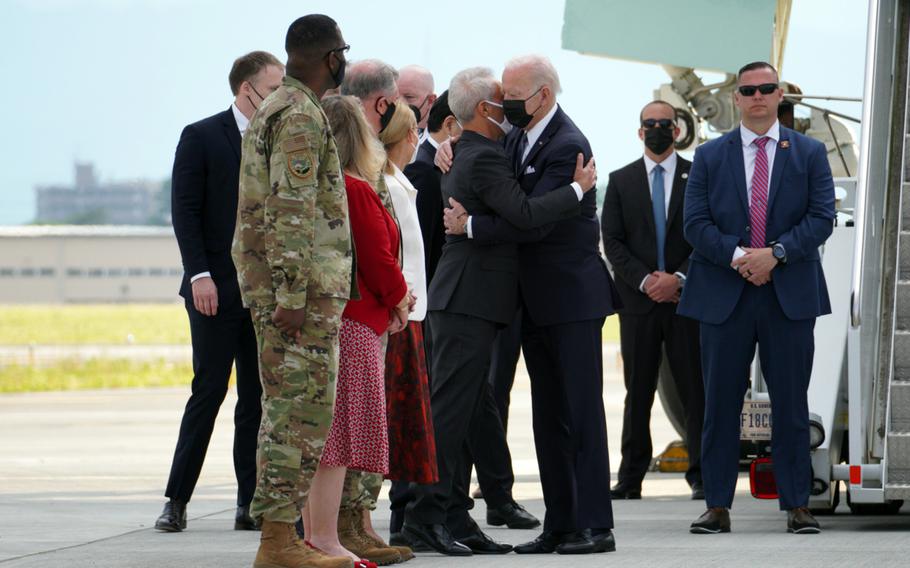 Taiwan scrambled fighter jets on Friday after China sent 14 warplanes, including bombers and fighters, into its air defense identification zone.
China regards Taiwan as a breakaway province that must be unified with the mainland, by force if necessary.
---
---
---
---