US, South Korea to discuss expanded joint military exercises
By
Stars and Stripes
May 21, 2022
---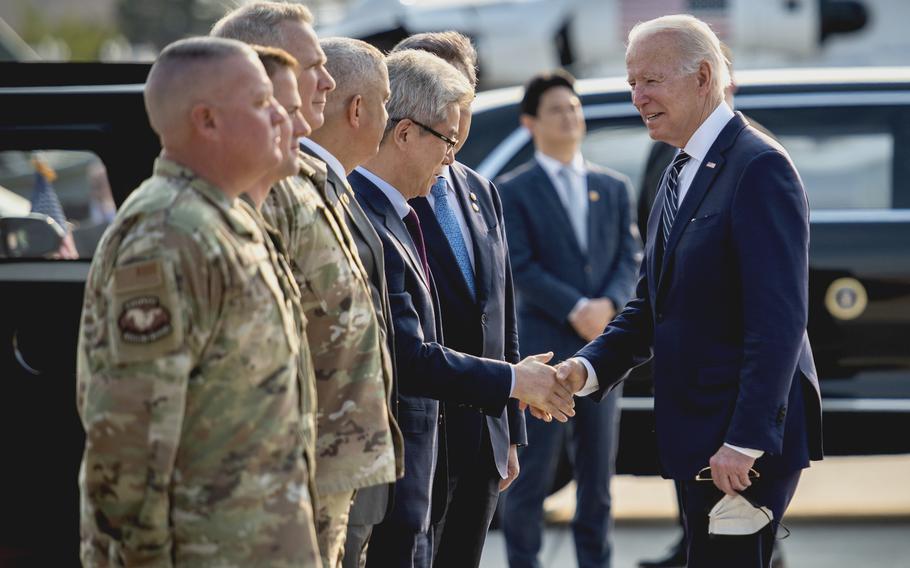 CAMP HUMPHREYS, South Korea — Citing the "evolving threat" posed by North Korea, Presidents Joe Biden and Yoon Suk Yeol of South Korea agreed Saturday to reinforce their defensive posture on the Korean Peninsula and discuss stepped-up training by their armed forces.
Biden, on day two of his first trip to South Korea and Japan, met with Yoon on a number of issues, including economic and energy security, according to a statement issued afterward.
The two chief executives reaffirmed "their mutual commitment" to defending South Korea. Biden acknowledged an "extended deterrence commitment" that includes the "full range of U.S. defense capabilities, including nuclear, conventional, and missile defense," according to the statement.
The two also agreed to start discussions to "expand the scope and scale" of joint military exercises that were suspended in 2018 after a series of summit meetings between North Korean leader Kim Jong Il, then-South Korean President Moon Jae-in and then-President Donald Trump.
Moon and Trump agreed to downsize their nations' combined exercises from field maneuvers involving large numbers of troops and equipment to tabletop computer simulations. Yoon, a conservative former prosecutor who took office May 10, campaigned on a pledge to strengthen ties with the U.S., including a return to field exercises.
"We are going to step up our exercises," Yoon said during a press briefing with Biden in Seoul, adding that it will "take some time" to determine specifics.
Roughly 28,500 U.S. troops are stationed in South Korea, the majority of them at Camp Humphreys in Pyeongtaek city.
The exercises were suspended in part to placate the North and draw it to negotiations aimed at ridding the communist regime of its nuclear weapons program. North Korea's leaders say the U.S-South Korean exercises are rehearsals for an invasion of their country.
Yoon and Biden said their goal remains the "complete denuclearization of the Korean Peninsula" and condemned North Korea's 15 missile tests so far this year, according to their statement.
They also agreed to deploy U.S. military assets to South Korea "in a timely and coordinated manner as necessary" and cooperate to combat North Korea's cyber threats.
North Korea is ready to conduct its seventh nuclear test, its first since 2017, according to U.S. and South Korean national security officials. A weapons test is possible even while Biden is in Asia, U.S. national security advisor Jake Sullivan said Wednesday.
However, the allied leaders offered "to work with the international community to provide assistance" to North Korea, which only recently acknowledged an outbreak that could be COVID-19, according to the joint statement.
North Korea reported nearly 2.5 million cases of an unspecified "fever" and 66 related deaths since late April, according to the state-run Korean Central News Agency on Saturday. KCNA characterized the infections as a "health crisis" and reported Kim viewed health officials as negligent in handling the situation.
---
---
---
---