Army activates new air cavalry squadron with latest Apache helicopters in South Korea
By
Stars and Stripes
May 17, 2022
---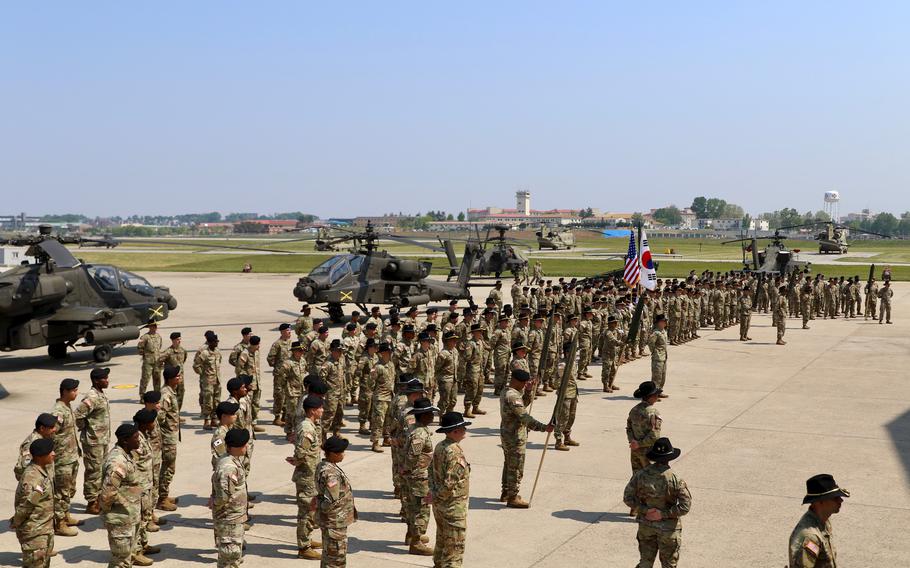 CAMP HUMPHREYS, South Korea — The Army on Tuesday activated a new air cavalry squadron tasked with providing permanent reconnaissance support to U.S. forces in South Korea.
The 5th Squadron, 17th Cavalry Regiment, 2nd Combat Aviation Brigade was activated in a ceremony on Camp Humphreys, the largest U.S. military base overseas.
The new squadron consists of roughly 500 soldiers and 24 AH-64E Apaches, the latest version of the Army's attack helicopter. The 5-17th air cavalry squadron also includes RQ-7B Shadows, unmanned aircraft systems that provide reconnaissance and surveillance assistance to aviation brigades.
The squadron will permanently replace the aviation units previously deployed to South Korea for nine-month tours.
"Here we are on the most fitting of dates — the fifth month and the seventeenth day — to finally restore the division's permanently assigned air cavalry squadron to its formation," brigade commander Col. Aaron Martin said during the ceremony.
Martin, who commands roughly 3,300 soldiers in the 2nd Combat Aviation Brigade, said activating the squadron took around three years. The unique environment in South Korea and the brigade's mission requires "more longevity" and experience than a standard nine-month tour, he told Stars and Stripes at the ceremony.
"Their expertise and experience over that time will make this air cavalry squadron more ready and more proficient to do their battle tasks," Martin said.
The squadron's commander, Lt. Col. Ian Benson, said he was honored to lead the new unit.
"I think the activation reflects the continued U.S. commitment to our [South Korea]-U.S. alliance, as well as the continued commitment to all of our partners and allies across the Pacific," he said.
Benson echoed Martin's remarks, saying he believed experience and continuity was important in military operations on the Korean Peninsula.
"I think that understanding the environment and terrain – and building those partnerships not only with U.S. ground forces but with our Korean counterparts – is incredibly important," Benson said. "It's the intangible that allows us to do our job much, much better."
The 5-17th traces its lineage to 1916, when U.S. troops patrolled the southern border during World War I.
As part of the 173rd Airborne Brigade, the squadron deployed to Vietnam as a ground reconnaissance unit in 1965. It took part in several battles, including the Battle of Dak To and the Tet Offensive.
---
---
---
---