Trump considered 'complete withdrawal' of US troops from South Korea, former defense chief says
By
Stars and Stripes
May 10, 2022
---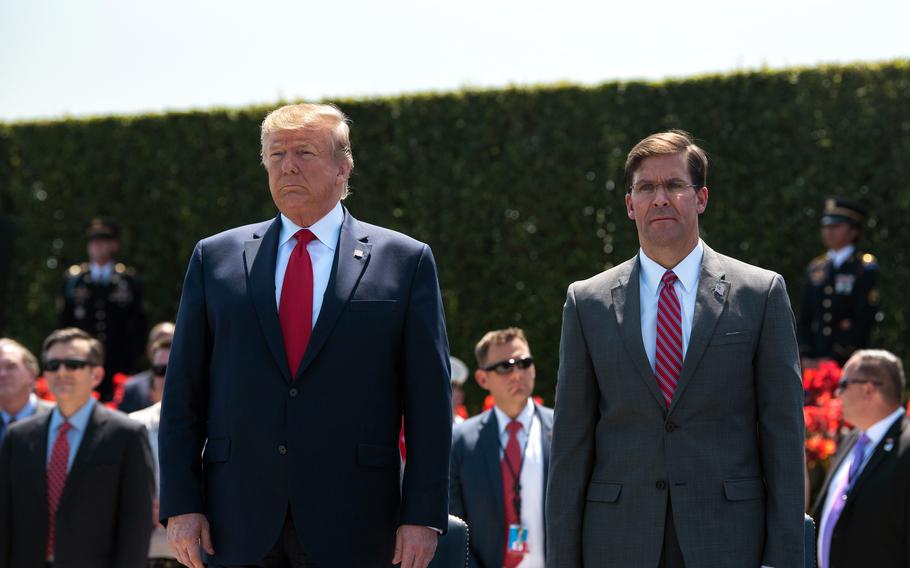 Former Defense Secretary Mark Esper in his new memoir said former President Donald Trump proposed the "complete withdrawal of U.S. forces from South Korea," according to an excerpt published Tuesday by Politico.
In his book, "A Sacred Oath: Memoirs of a Secretary of Defense During Extraordinary Times," Esper writes that he had been in the job for a only few weeks when Trump began proposing "outlandish" ideas, including shutting down embassies in Africa.
"None of this was in our nation's interests, and as I calmly responded with facts, data and arguments, I saw some irritation in him — I was the 'new guy' pushing back," Esper wrote, according to Politico.
Esper replaced Defense Secretary Jim Mattis in 2019 and served until he was abruptly fired after Election Day the following year. Esper previously served as Army secretary under Trump and was vice president for government relations at defense contracting firm Raytheon.
Esper's account corroborates previous reporting that Trump had considered pulling U.S. troops from the Korean Peninsula. Former national security adviser John Bolton, in his 2020 memoir "The Room Where It Happened," wrote that the president had ordered a pullout if South Korea did not pay more to keep U.S. troops in the country.
Trump was outspoken about his displeasure with the Special Measures Agreement with South Korea, a cost-sharing deal in which Seoul helps pay to station American forces in the country. Trump previously described South Korea's contribution as "peanuts" and pressured Seoul to pay as much as $5 billion, according to previous reports.
Former South Korean President Moon Jae-in, whose term ended on Tuesday, said that while Trump's demand was unacceptable, the president took the rejection in stride.
"A good thing about President Trump was that he did not take it personally at all, even though he demanded it while I never accepted it for a long time," Moon said in an interview with South Korean broadcaster Joongang Tongyang on April 25.
Under the current six-year year deal that took effect in 2021, South Korea agreed to spend $1.02 billion for that year, or about a 13.9% increase from the previous year. The payout varies from year to year and is based on the South's defense budget.
Roughly 28,500 U.S. troops are stationed in South Korea, the majority of them at Camp Humphreys, the largest U.S. military base overseas. Their deployment, according to U.S. Forces Korea, is to "deter aggression and if necessary, defend [South Korea] to maintain stability in Northeast Asia."
Trump also began proceedings to pull 12,000 of the 34,000 U.S. troops stationed in Germany and redeploy some of them elsewhere in Europe, citing Berlin's inadequate defense spending. The plan was put on hold under President Joe Biden's administration in February 2021.
---
---
---
---