Busy agenda awaits Biden on his first presidential trip to South Korea and Japan
By
David Choi and Alex Wilson
Stars and Stripes
May 19, 2022
---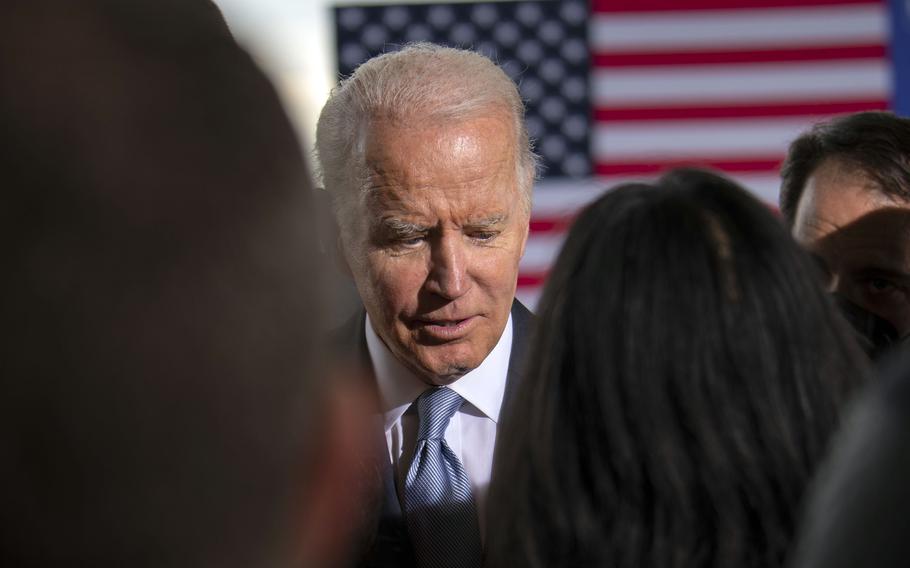 South Korea has a plan to protect President Joe Biden in case the North tests a nuclear weapon or ballistic missile during the initial leg of his first presidential trip to Asia, according to the White House.
Biden is meeting with the leaders of key allies in the Indo-Pacific region to reaffirm the U.S. commitment to security there, as global attention and NATO resources flow into Ukraine to counter the three-month-old Russian invasion.
"We think this trip is going to put on full display President Biden's Indo-Pacific strategy, and that it will show in living color that the United States can at once lead the free world in responding to Russia's war in Ukraine and at the same time chart a course for effective, principled American engagement and leadership in a region that will define much of the future of the 21st century," national security adviser Jake Sullivan said at a White House media briefing Wednesday.
Biden departs from Washington, D.C., on Thursday for South Korea. From there he'll continue to Tokyo to huddle with Japanese Prime Minister Fumio Kishida ahead of a Quad summit next week, a meeting of allied Indo-Pacific leaders from the U.S., Japan, Australia and India.
In South Korea, Biden is scheduled to meet President Yoon Suk Yeol, inaugurated May 10, who campaigned on a pledge to strengthen military ties with the U.S. and improve relations with Japan.
Biden "will highlight the truly global nature" of the U.S.-South Korea alliance, "from climate and energy and technology to economic growth and investment," Sullivan said.
"He will see American and Korean troops standing shoulder-to-shoulder in defense of our collective security and consult on the challenge posed by [North Korea's] nuclear and missile program," he said.
Biden will not visit the Demilitarized Zone, the fortified border between North and South Korea, said White House press secretary Karine Jean-Pierre at the briefing. That includes the Joint Security Area, where President Donald Trump met with North Korean leader Kim Jong Un in June 2019.
U.S. intelligence agencies indicate a "genuine possibility" of a North Korean weapons test during Biden's visit to Seoul and Tokyo, Sullivan said.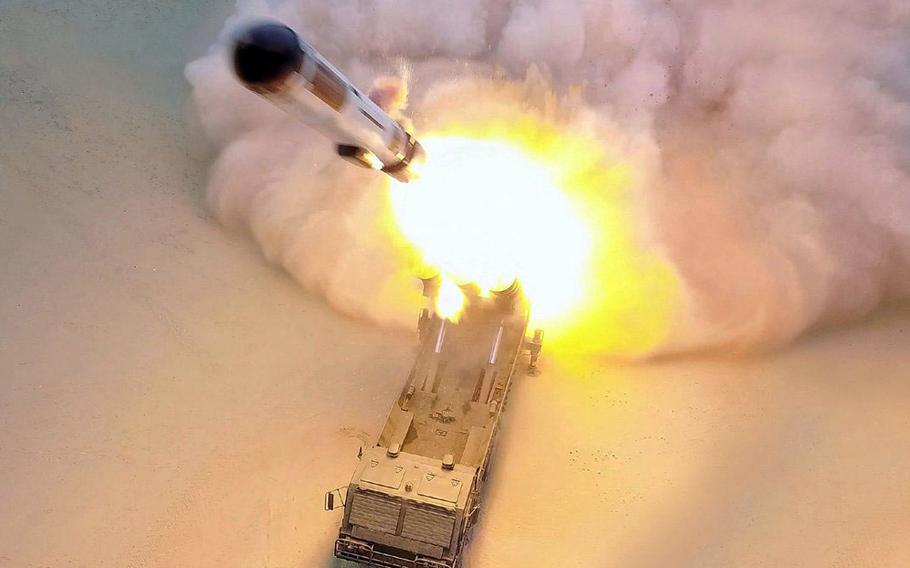 Another missile test may be "imminent," Kim Tae-hyo, first deputy director of the South Korean National Security Office, said Wednesday at a press briefing in Seoul. North Korea has fired 15 short- and long-range tactical and ballistic missiles off its eastern coast so far this year.
A "relatively low" probability exists the North may test a nuclear weapon this week, Kim said.
In either event, U.S. and South Korean authorities have coordinated for Biden's safety, Kim said. He did not elaborate on those plans.
In Japan, Biden and Kishida will discuss economic and security issues in the Indo-Pacific region and beyond, Sullivan said.
He said Biden will announce a "new, ambitious economic imitative for the region, the Indo-Pacific Economic Framework." The framework is meant to set rules for a digital economy, manage energy transitions and improve global supply chains, Sullivan said.
"And we believe that the U.S.-Japan alliance at this moment under these two leaders is at an all-time high," he said.
From a military standpoint, Japan is spending a record amount on its defense budget, acquiring a fleet of F-35 Lightning II stealth fighters from the U.S. and meeting Chinese aircraft probes of its air defense identification zone with record numbers of its own fighter sorties.
It's also concerned with North Korea's missile tests, which fall in or just short of Japan's maritime economic exclusion zone.
"Japan's contributions as a security partner are rightly growing as the regional security picture becomes more challenging and dynamic," Sullivan said.
Biden's arrival coincides closely with the expected departure of the aircraft carrier USS Ronald Reagan for its summer patrol, and the expected arrival of the carrier USS Abraham Lincoln for a port call at Yokosuka Naval Base.
A slim chance remains that the president may personally return a "good luck" heirloom flag to the family of a World War II Japanese service member. U.S. Sens. Ron Wyden and Jeff Merkley of Oregon wrote Biden in late April on behalf of the Obon Society, which has helped repatriate hundreds of such flags taken by U.S. service members as battlefield souvenirs.
"For the President of the United States to carry and deliver a yosegaki hinomaru to a Japanese family would be a powerful cultural touchstone and we strongly encourage you to include this act in your upcoming trip," the senators wrote on April 27.
The White House has not replied to the senators' request, Hank Stern, a Wyden spokesman in Portland, Ore., told Stars and Stripes by email Thursday. Obon Society co-founder Rex Ziak in an email Thursday said the White House had denied the request but a source he declined to identify said the society may see an "11th hour miracle."
---
---
---
---