War in Ukraine casts shadow on land forces symposium in Hawaii
By
Stars and Stripes
May 18, 2022
---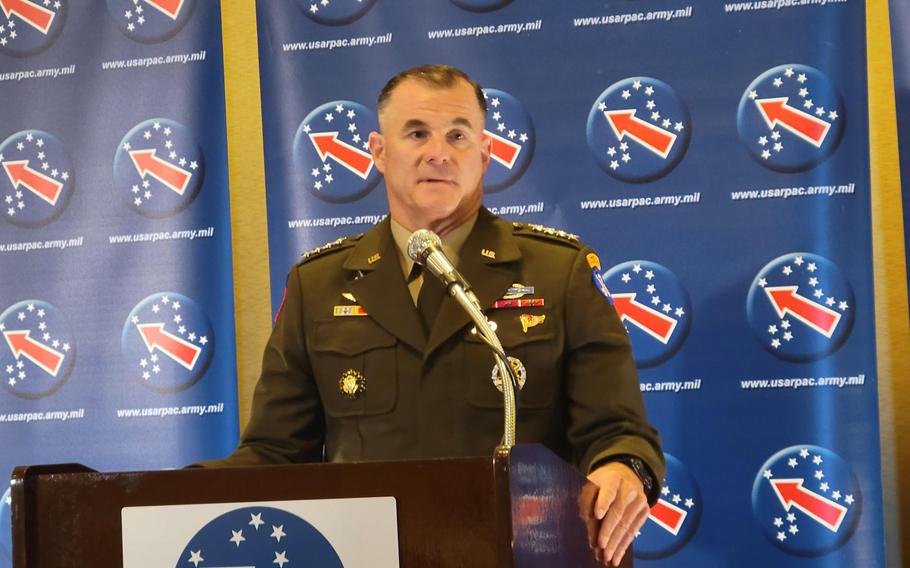 FORT SHAFTER, Hawaii  — The pall of war in Ukraine hung heavily over the Association of the United States Army's three-day conference that opened Tuesday on Waikiki Beach.
The summit this year focuses on how land forces contribute to maintaining a secure and open Pacific. But the opening speaker turned to events half a world away.
"The geostrategic weight of the world continues to concentrate here in Asia and across the Indo-Pacific," Gen. Charles Flynn, commander of U.S. Army Pacific, told an audience of almost 2,000 that overflowed from a Sheraton Hotel auditorium.
"But events in Europe reinforce one lesson, and it's a lesson that, unfortunately, every generation has to learn on its own," he said. "And it is this: Despite any wishful thinking, wars are long; they're very violent; they're very unpredictable; and they're very human. The U.S. Army must prepare for long wars."
The annual Land Forces of the Pacific, or LANPAC, symposium, which had gone virtual the past two years due to the COVID-19 pandemic, highlights the role of the U.S. Army and its allied and partner land forces in the Indo-Pacific in maintaining stability and perhaps preventing that long war.
"Land power is special because it's the glue," Flynn said. "It's the glue that binds the regional security architecture together. So even while the news may focus on Europe  — as tragic as Russia's unprovoked war against the Ukraine is – it doesn't change this fact."
Wars are waged on all domains  — air, sea, space and land — but they are "won or lost on land, where decisions are made and where humans live," Flynn said.
"But having said that, our measure of success here is no war," he said. "Let me say that again. No war."
That is best achieved by "strengthening our relationships, by tightening our connections, by building joint and combined readiness, by denying key human and geographical terrain to any adversary," he said.
Elbridge Colby, who served as deputy assistant secretary of defense for strategy and force development from 2017 to 2018, was more specific about that adversary.
"China, I think, clearly has hegemonic aspirations," said Colby, noting Beijing's "astounding military buildup."
"There's a universe in which China could have built a very advanced military that was clearly focused on territorial defense and is relatively modest," he said. "That's not the military they're building."
Colby said Pacific nations concerned about China's aim toward hegemony should take a lesson from Ukraine.
"The good news out of this tragedy is that it shows that if you are properly equipped, trained and ready to defend your territory from external invasion, then you are likely to hold on to your independence and autonomy," said Colby, addressing audience members coming from armies across the region. "And this is where the United States  — and I think especially the U.S. Army in the Pacific  — can be especially helpful to regional states."
"What I mean is the U.S. Army in the Pacific can be a highly effective force multiplier for your own defense, meaning for your own independence and autonomy," Colby said.
"And I think the Ukraine example is again illuminating here," he said. "It seems increasingly clear that one of the key lessons of the war is that Western  — and especially U.S.  — training and capacity-building has made a critical difference."
---
---
---
---