China sends 14 warplanes into Taiwan's air-defense zone as Biden arrives in Asia
By
Stars and Stripes
May 21, 2022
---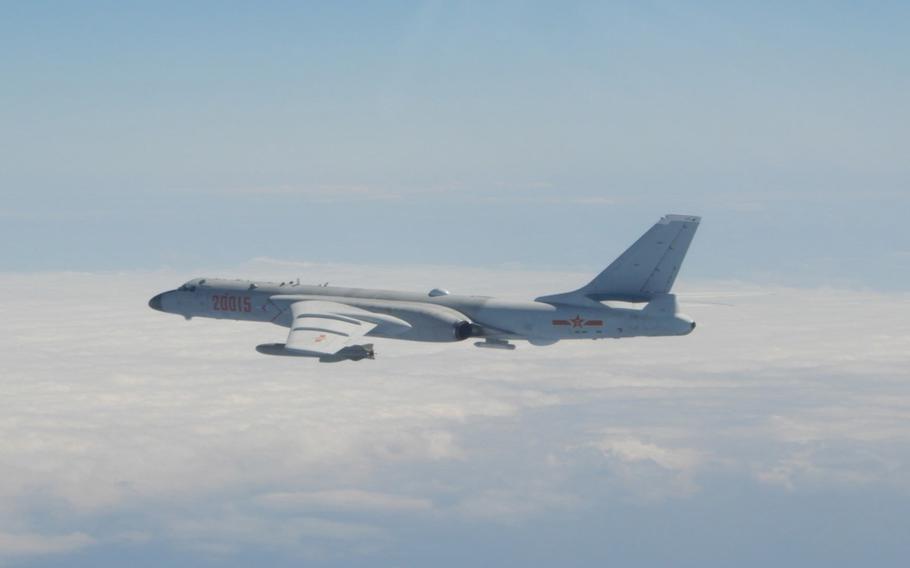 Taiwan scrambled fighter jets Friday in response to 14 Chinese aircraft entering its air defense identification zone, an incursion coming the first day of President Joe Biden's five-day visit to Asia.
Among the Chinese aircraft flying over the southwest corner of Taiwan's ADIZ were four J-11 fighter jets and five J-16 strike fighters, according to a news release posted Friday by Taiwan's Ministry of Defense.
The formation included three H-6 bombers, a Y-8 transport plane and a KJ-500, which is an airborne radar tracking system, the ministry said.
It is not unusual for China to fly military aircraft through Taiwan's ADIZ, airspace beyond a nation's territorial boundary over which it maintains air traffic control for the sake of national security.
China has been encroaching on the airspace with greater frequency over the past year.
Just hours after Russia invaded Ukraine on Feb. 24, nine Chinese aircraft crossed Taiwan's ADIZ, immediately raising alarm that Beijing would use the ensuing chaos in Europe to take Taiwan by force.
China regards Taiwan as a breakaway province and maintains that it must be unified with the mainland, by force if necessary.
Biden's visit to Asia, the first of his presidency, is an effort by the administration to show that it still has an eye on the Indo-Pacific — and China and North Korea — even as it has focused most of its attention this spring on supporting Ukraine.
Biden landed Friday at Osan Air Base south of Seoul for a three-day visit during which he'll meet with newly elected South Korean President Yoon Suk Yeol.
Biden then heads to Tokyo, where he will meet with leaders of Japan, India and Australia, an informal grouping dubbed the Quad.
The members of that security pact cooperate on security, economic and health issues, but in the past few years its emphasis has been countering China's growing ambitions of regional hegemony, particularly Beijing's claims over Taiwan and a huge swath of the South China Sea.
The United States formally switched diplomatic recognition from Taipei to Beijing in 1979. America has continued to supply military arms to Taiwan in the years since but has remained ambiguous about what the U.S. military would do in the event China moved militarily against the island.
"We have a commitment" to defend Taiwan if it were attacked by China, Biden said during a CNN "town hall" meeting in October. The comment incensed Chinese officials.
Defense and State department officials walked back the remark, saying that the U.S. had not officially altered its Taiwan policy. But a growing chorus of lawmakers and retired military officials now advocate more forthright support for the island.
Former Japanese Prime Minister Shinzo Abe said in February that America should "abandon this ambiguity strategy."
"The people of Taiwan share our universal values, so I think the U.S. should firmly abandon its ambiguity," he said.
---
---
---
---