North Korean media are staying silent on regime's latest missile launches
By
Stars and Stripes
May 9, 2022
---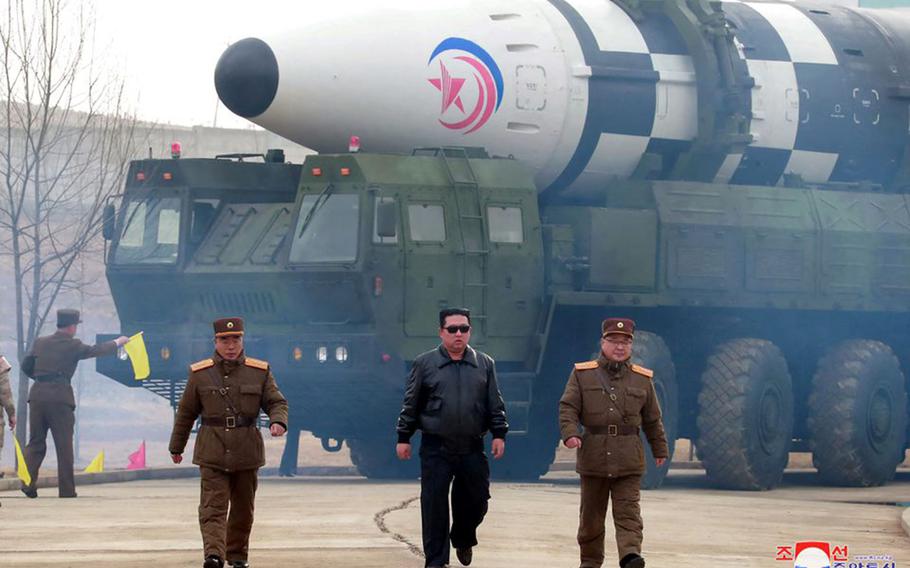 CAMP HUMPHREYS, South Korea — North Korea has remained relatively quiet following two rounds of missile launches last week, despite trumpeting previous tests in its state-run media outlets.
The communist regime last conducted a major weapons test on Saturday afternoon, in what the South Korean military suspects was a submarine-launched ballistic missile from the coastal city of Sinpo. The short-range weapon flew an estimated 373 miles at a peak altitude of 37 miles, according to South Korea's Joint Chiefs of Staff.
North Korea also test-fired a ballistic missile off its eastern coast on Wednesday. It flew an estimated 292 miles at an altitude of 485 miles.
News coverage of both tests has been noticeably absent in North Korean media. The Korean Central News Agency and its newspapers frequently publicize launches Pyongyang claims are for defensive purposes and its "reconnaissance satellite" program, and often include photographs and specifications of the delivery systems.
Following a submarine-launched ballistic missile test on Oct. 19, 2021, KCNA released photos of the weapon and said it included "lots of advanced control guidance technologies." It said the SLBM would "greatly contribute to putting the defense technology of the country on a high level and to enhancing the underwater operational capability of our navy."
On Sunday, KCNA released several articles that did not mention its recent missile tests. In one report, the state-run outlet said North Korea received messages from foreign entities who congratulated the country on the 90th founding anniversary of its armed forces on May 25.
North Korea's latest launch came three days before South Korea's president-elect is inaugurated in Seoul. Former chief prosecutor Yoon Suk Yeol will replace outgoing President Moon Jae-in and serve a single five-year term.
North Korea has conducted weapons tests in pivotal moments in South Korea's history. The communist regime conducted five tests in the month following Moon's inauguration in 2017.
While it is difficult to understand why Pyongyang did not publicize its latest missile tests, the timing of Yoon's inauguration may have played a factor, according to Yu Hoyeol, professor emeritus of North Korean studies at Korea University.
"I think it is not a good occasion for North Korea to announce their remarks on their recent missile test," Yu told Stars and Stripes by phone on Monday.
Yoon, a member of the conservative People Power Party, campaigned on reinforcing South Korea's alliance with the United States and responding firmly to North Korean provocations. He has criticized Moon's administration for being "subservient" to the North's interests and has vowed to bolster Seoul's defense against Pyongyang.
North Korea may "want to see the reaction from the new government about their missile tests … so therefore they do not want to make any news on that before the launching of the new government," Yu said.
Moon, in a farewell address released Monday by the presidential Blue House, said the "war crisis escalating" early during his presidency was averted, raising "hopes for the new era of peace and prosperity on the Korean Peninsula."
The outgoing president said progress in North Korean relations was still "an obstacle difficult to overcome" and called for "the resumption of inter-Korean talks."
---
---
---
---