North Korea fires ballistic missile off its eastern coast, South's military says
By
Stars and Stripes
May 4, 2022
---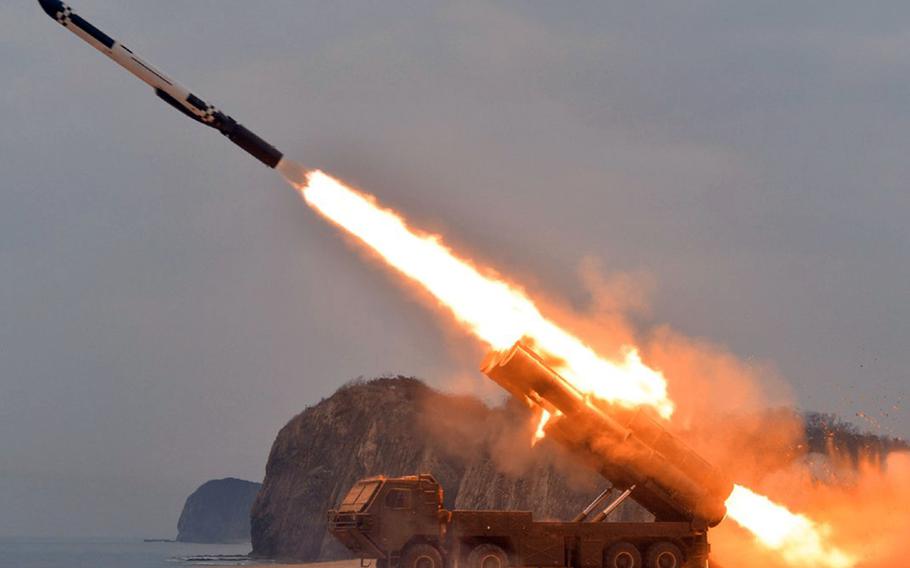 North Korea launched a ballistic missile Wednesday off its eastern coast, according to South Korea's military.
The missile, launched at 12:03 p.m., flew 292 miles toward the East Sea at an altitude of 485 miles, according to messages from the Joint Chiefs of Staff to reporters that afternoon. The East Sea is also known as the Sea of Japan.
The launch marks the 13th round of tests by North Korea this year and the first since April 16.
South Korea and the United States will "continue to maintain a robust combined defense posture," U.S. Forces Korea commander Army Gen. Paul LaCamera told South Korean military leaders during a videoconference after the launch, according to the Joints Chiefs.
The chiefs said South Korea's troops "are currently maintaining their readiness posture, tracking and monitoring movements related to it in preparation for an additional launch."
The Joint Chiefs described North Korea's missile launches as "grave threats to harm peace and stability on the Korean Peninsula and the international community." They added that the launches violate U.N. Security Council resolutions.
"We strongly urge North Korea to stop its ballistic missile launches immediately," the Joint Chiefs said.
The latest missile came down in the sea between Japan and the Korean Peninsula but outside Japan's economic exclusion zone, an area that reaches 200 miles from its shores, Japanese broadcaster TBS reported Wednesday, citing government sources.
Japanese Prime Minister Fumio Kishida's office identified the projectile as a possible ballistic missile.
Kishida ordered related ministries to put their best effort into gathering and analyzing information, and to be fully prepared for any unexpected situation, according to a post on the leader's website.
North Korea on April 16 fired two missiles that it described as part of a "new tactical guided weapon system." South Korea's military estimated the projectiles flew 68 miles at an altitude of 15.5 miles and reached a maximum speed of Mach 4.
Just over a week later, North Korean leader Kim Jong Un, at a parade to celebrate the 90th anniversary of the nation's army in Pyongyang, said he would speed development of his nuclear forces and use them if provoked.
Among the weapons displayed that day was the Hwasong-17, an intercontinental ballistic missile believed to be able to reach the continental United States.
State-run media claimed North Korea tested the missile March 24, though South Korea military experts cast doubt on that claim. Regardless of whether North Korea tested the Hwasong-17 or a modified version of the Hwasong-15, both missiles are theoretically capable of reaching the U.S.
Wednesday's launch comes less than a week before South Korea's presidential inauguration. President-elect Yoon Suk Yeol, a member of the conservative People Power Party, is scheduled to take office Tuesday.
Yoon, a former chief prosecutor, campaigned on taking a firm stance against North Korea while reinforcing Seoul's alliance with Washington.
Yoon, according to his presidential transition team, plans to address North Korea's threats "before everything else" and supports the development of a "super gap" in military technology between the North and South.
Yoon's transition team condemned North Korea's latest launch and vowed to "strongly respond to the provocations," in a statement Wednesday.
"Furthermore, the [Yoon] government will prepare more fundamental countermeasures against [North Korean] nuclear and missile threats," the statement said.
Stars and Stripes reporter Yoo Kyong Chang contributed to this report.
---
---
---
---