North Korea fires suspected submarine-launched ballistic missile, South's military says
By
Stars and Stripes
May 7, 2022
---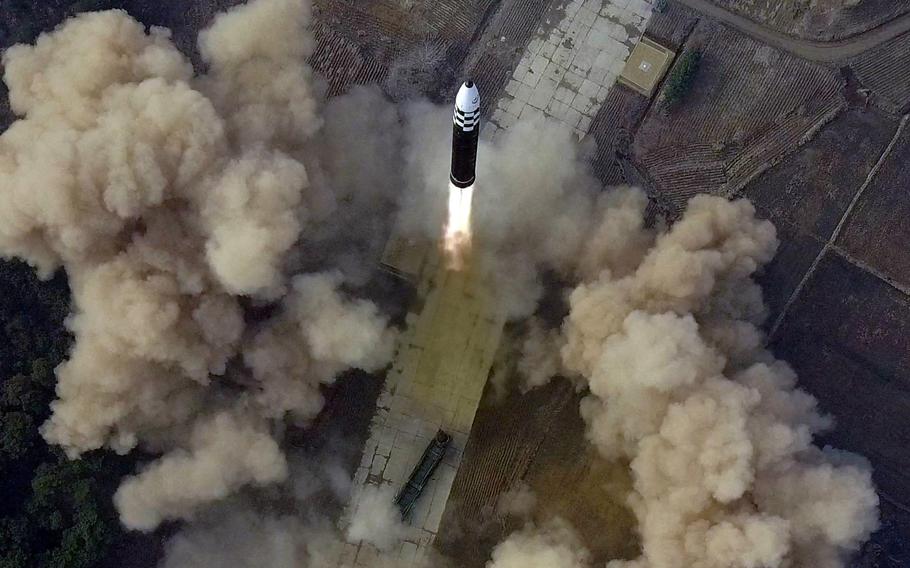 CAMP HUMPHREYS, South Korea — North Korea fired what is suspected to be a short-range ballistic missile off its eastern coast, according to a message sent to reporters from South Korea's Joint Chiefs of Staff on Saturday.
The Joint Chiefs said the suspected submarine-launched ballistic missile was fired at 2:07 p.m. from the coastal city of Sinpo. Military officials estimated the short-range ballistic missile flew about 373 miles at a peak altitude of 37 miles.
The Japanese Prime Minister's Office and Ministry of Defense in separate tweets said they suspected the projectile was a ballistic missile.
The launch would be North Korea's 14th round of missile tests so far this year. It last fired a ballistic missile on Wednesday afternoon, prompting the Joint Chiefs to issue a statement strongly urging "North Korea to stop its ballistic missile launches immediately."
North Korea last test-fired an SLBM in what the state-run Korean Central News Agency claimed was "a new type" of missile from a submarine on Oct. 19, 2021. The South Korean military assessed that the SLBM flew 279 miles at a maximum altitude of 37 miles. Experts have previously scrutinized North Korea's claims that it successfully launched a missile from a submarine, rather than a submersible test barge. 
Wednesday's launch comes amid speculation that North Korea could be conducting a nuclear test as early as this month. State Department principal deputy spokeswoman Jalina Porter on Friday confirmed to reporters that the U.S. believed the communist regime was preparing its seventh nuclear test in its underground facility in Punggye-ri, located in the northeast mountains.
Porter said the U.S.'s assessment was also "consistent" with North Korea's recent public statements and that Washington was closely coordinating with its allies.
KCNA reported on April 30 that Kim Jong Un would continue developing the country's nuclear capability and that it may "preemptively and thoroughly contain" aggression from "hostile forces."
North Korea last conducted a nuclear test from Punggye-ri on Sept. 3, 2017. The regime claimed it succussfuly conducted a hydrogen bomb test, which was measured as a 6.3 magnitude earthquake by the U.S. Geological Survey.
In September, one month prior to North Korea's last SLBM test, South Korea became one of seven countries to successfully develop its own SLBM. Seoul conducted another SLBM test from a submarine in April, when it launched two ballistic missiles from the Yellow Sea.
North Korea's launch comes three days before President-elect Yoon Suk Yeol's inauguration. Yoon, a member of the conservative People Power Party, vowed to address North Korea's threats "before everything else '' and to increase the country's defense capabilities.
Provocations from North Korea, particularly missile tests, have been "typical" following a South Korean president's inauguration, according to Yang Uk, an associate research fellow at the Asan Institute for Policy Studies in Seoul. In the month after South Korean President Moon Jae-in came into office, North Korea test-fired around five missiles, Yang told Stars and Stripes by phone on Saturday.
North Korea "wants to make this tension higher," Yang said. "For the threat to be more realistic, they must have a seventh nuclear test."
The White House on Wednesday announced it would send a U.S. delegation to Yoon's inauguration on May 10. President Joe Biden is also expected to visit Seoul in late May, according to Porter.  
---
---
---
---